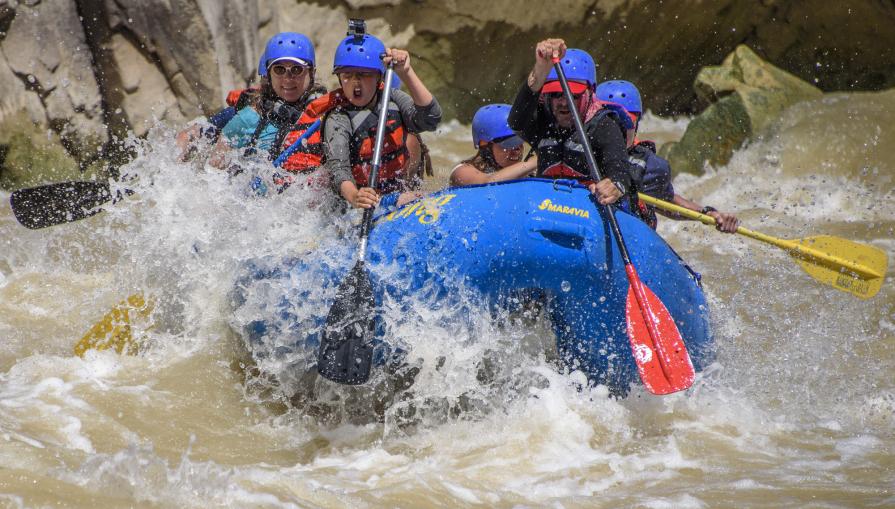 BLM Utah Recreation
Utah has an abundance stunning landscapes and outstanding recreational opportunities that attract visitors from around the world. From mountain biking Moab to canyoneering in the San Rafael Swell; river running Westwater Canyon to OHV riding Little Sahara; driving Nine Mile Canyon to hunting in the Henry Mountains, there are countless opportunities to explore. When visiting public lands always recreate responsibly follow the principles of Leave No Trace!
There are many outfitters permitted by the BLM to conduct commercial tours for many activities including river trips and hunting excursions. These experienced guides can help jumpstart your adventure into the outdoors.  
Go to Recreation.gov to reserve a sites or explore places to visit. You can also find great opportunities on BLM.gov.
Contact the local BLM field office for further suggestions and information. 
Plan Your Next Adventure
The wide variety of diverse landscapes across public lands in Utah offer unique opportunities and memorable experiences as vast as the land itself. Explore nearly 22.8 million acres of BLM-managed public lands in Utah and plan your next adventure on the Explore Your Public Lands page.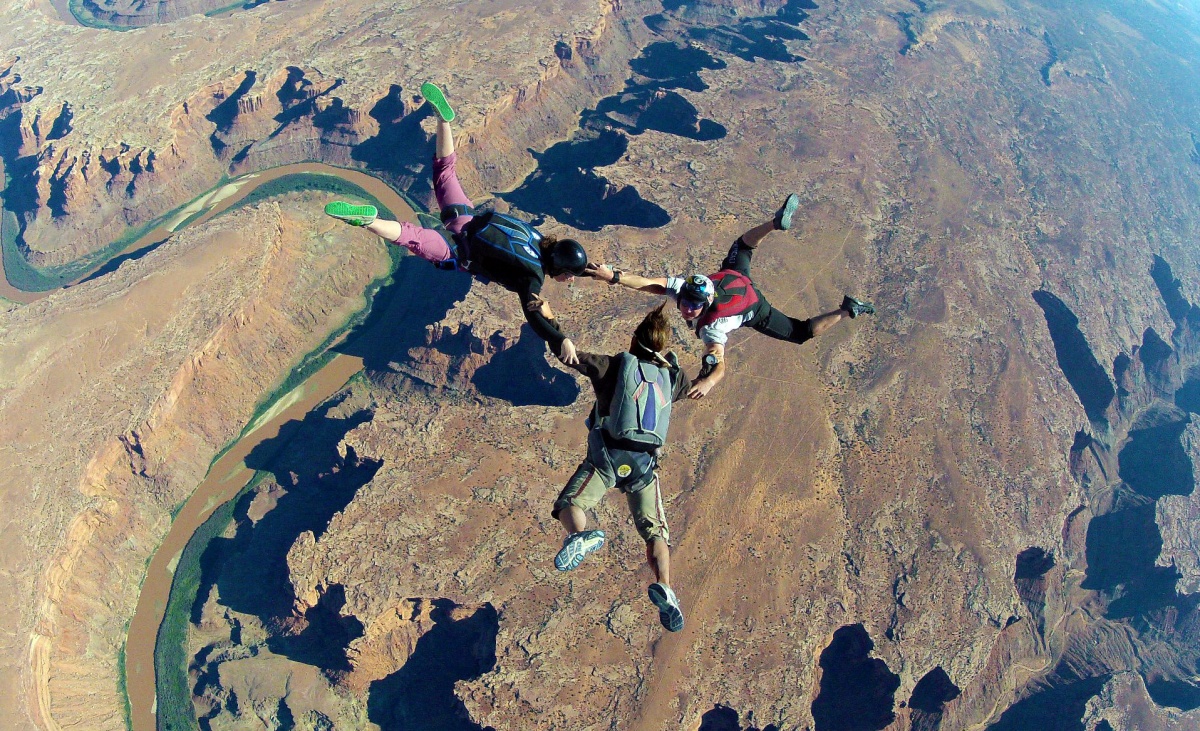 BLM Utah offers spectacular scenery and opportunities for adventure sports enthusiasts, limited mainly by your imagination, skills and preparation.  Skydiving, base-jumping, highlining, rappelling are all allowed in many of the cliffs and canyons of Utah. Adrenaline- fueled recreationalists enjoy the rush of wingsuit flying from the top of Notch Peak to skydiving into the Gemini Bridges area.  Moab offers two focus areas specifically for competitive base jumping: Tombstone and Mineral Canyon. 
Keep in mind that some areas are closed to certain activities to protect natural and cultural resources or the other users' experiences. Users that engage in these activities do so at their own risk and may be held responsible for any costs related to search and rescue. Help maintain the integrity of your sport by being respectful of other users, protecting natural and cultural resources, and following local regulations. Have fun and be safe!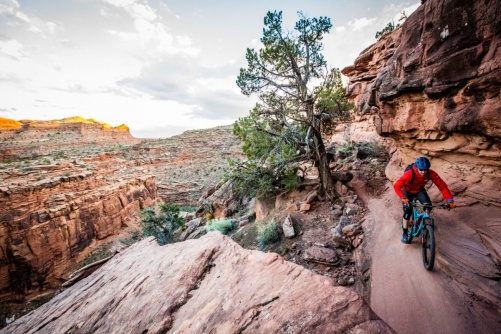 BLM Utah is a mecca for international mountain bikers who are attracted by the number and variety of trails across the state. With difficulty levels ranging from easy to extremely technical, BLM Utah has trails appropriate for every type of rider. Roads on BLM-managed lands also offer stunning rides for road cyclists.
View our popular BLM mountain bike opportunities for trail inspiration!
Events:
Permits are required from the BLM for commercial, competitive, or organized group bike events. For information on dates and permit requirements, contact the local field office.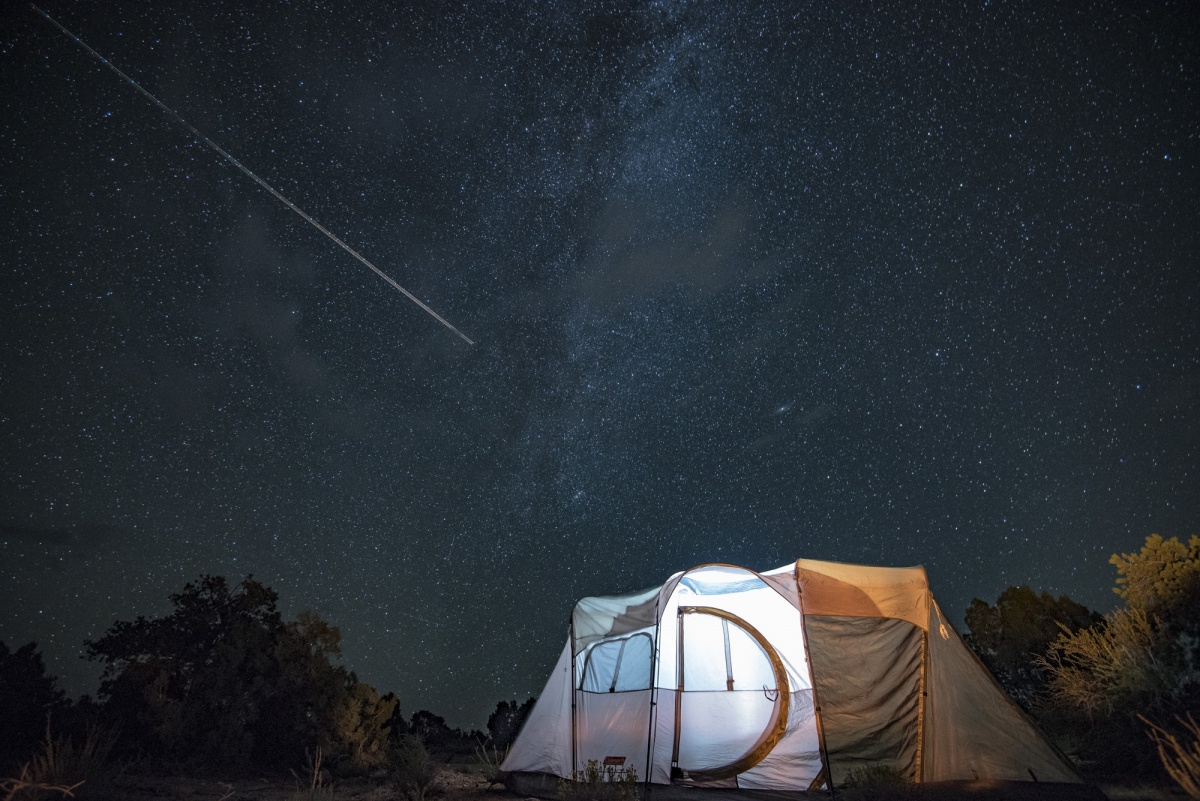 Looking for a retreat from the hustle of daily life - where the stars are bright, the air is clear, and the only noise is a nearby owl hooting into the night? BLM Utah provides outstanding camping opportunities for every comfort-level. From remote, backcountry camping to front-country developed sites, you will find the perfect campsite on BLM Utah-managed lands. BLM camping areas provide differing levels of services - plan ahead and be prepared, bring water, and the appropriate means to deal with your trash and human/dog waste.
Visit Recreation.gov to reserve group campsites. For all other campgrounds and dispersed camping inquiries, contact the local BLM Field Office (link to Utah directory). 
Keep in mind that popular camping areas, such as Moab, fill quickly. Please plan accordingly.
Cedar City 
There are great camping opportunities within the Cedar City Field Office. From dispersed camping sites to developed campgrounds, visitors can camp and relax in between popular and remote recreation sites. Have you visited the Three Peaks Recreation Area? Three Peaks offers disc golf, mountain biking, horseback riding, radio control flying, shooting, and OHV-riding in addition to camping.
GSENM
There are three small developed campgrounds located on the Monument. Campsites are first-come, first-serve with no advance reservations. A free over-night permit is required for dispersed camping outside developed campgrounds. Permits are available at all Monument visitor centers. 
Kanab
The Kanab Field Office currently maintains two developed campgrounds: the Ponderosa Grove Campground located near the Coral Pink Sand Dunes State Park, and the White House Campground near the Paria Canyon-Vermilion Cliffs Wilderness Area.
Moab 
The Moab Field Office maintains 38 campgrounds, over 600 campsites, for your enjoyment.  These campgrounds offer views of spectacular red rock cliffs amidst a green ribbon of vegetation. Most campsites are first come, first serve, although a few larger group sites may be reserved in advanced through Recreation.gov.  The Moab area serves more than 3 million visitors each year, and to protect resources, the BLM has found it necessary to restrict camping to campgrounds or designated sites in popular areas closer to town. For a map and more information about camping, please see our Moab Field Office Visitor Guide.  Campgrounds are found along or adjacent to Highways 128, 313 and 279, on the Kane Creek Road, at Ken's Lake, in the Canyon Rims Recreation Area, and in the Sand Flats Recreation Area.  Please see our Moab Daily Camping Map for information about camping along the Moab Daily section of the Colorado River.
Most of the field office remains open to primitive camping experiences, however dispersed camping is restricted to designated sites in certain areas, such as along the Dubinky Well Road, Gemini Bridges Road, the Black Ridge Road, and Pack Creek Roads, the area accessed by the Mill Canyon Road and the Blue Hills Road, and south of Moab in the Blue Hill/Picture Frame Arch area. There are a limited number of sites marked with a brown post and tent symbol. When dispersed camping please practice leave no trace principles such as packing out all trash and human waste.
Monticello 
Monticello Field Office contains its share of the Colorado Plateau's most spectacular landscapes. The office provides several developed campsites at Sand Island and in the Indian Creek area. Visit Recreation.gov for group reservations. There are opportunities for dispersed primitive camping throughout the field office, restrictions apply in some areas to protect resources, such as the Cedar Mesa area and along portions of the San Juan River as part of a permitted river trip.  Please Respect and Protect sensitive cultural sites and do not camp or build fires within them.  Contact the field office to learn more.
Price 
From the San Rafael Swell to the world's longest art gallery, the Price Field Office provides historic and adventure-filled camping opportunities. Looking for a well-developed campground? Visit the Price Canyon Recreation Area which offers cooler temperatures and the shade of large ponderosa pines. To learn more, contact the Price Field Office.
Richfield
Visitors have the option of choosing campsites in the heart of recreation areas or setting up camp in remote locations within the Richfield Field Office. Contact the office for more information.
St. George 
The St. George Field Office maintains two campgrounds for our visitors: Red Cliffs and Baker Dam. Both campgrounds are first come, first serve.  Visitors will normally find accommodations, except in the busy season of April - May, and fall hunting season when campsites fill up quickly. Visitors also have the option to disperse camp. Dispersed camping restrictions apply to: Red Cliffs NCA, Smithsonian Butte Backcountry Byway, Baker Dam Recreation Area, Red Cliffs Recreation Area, Santa Clara River Reserve, water source areas, riparian areas. Contact the field office for more information.
Salt Lake 
Opportunities abound in the Salt Lake Field Office for camping at developed sites and in primitive, dispersed settings within the Great Basin Desert, west of Interstate 15 and in the northeast corner of Utah near Bear Lake. 
Developed sites include: Clover Spring, Birch Creek, Simpson Spring, and Little Creek.
Popular dispersed camping locations include Fivemile Pass, Horseshoe Springs Knolls, Lookout Pass/Little Valley, Lone Rock, Soldier's Pass, Twelvemile Pass, Knolls Special Recreation Management Area.
Contact the Salt Lake Field Office to learn about group campsites. 
Vernal 
From floating to a remote campsite along the Green River to camping at a developed site next to a historic ranch, the Vernal Field Office provides camping opportunities for all recreationalists. Contact the field office to learn more.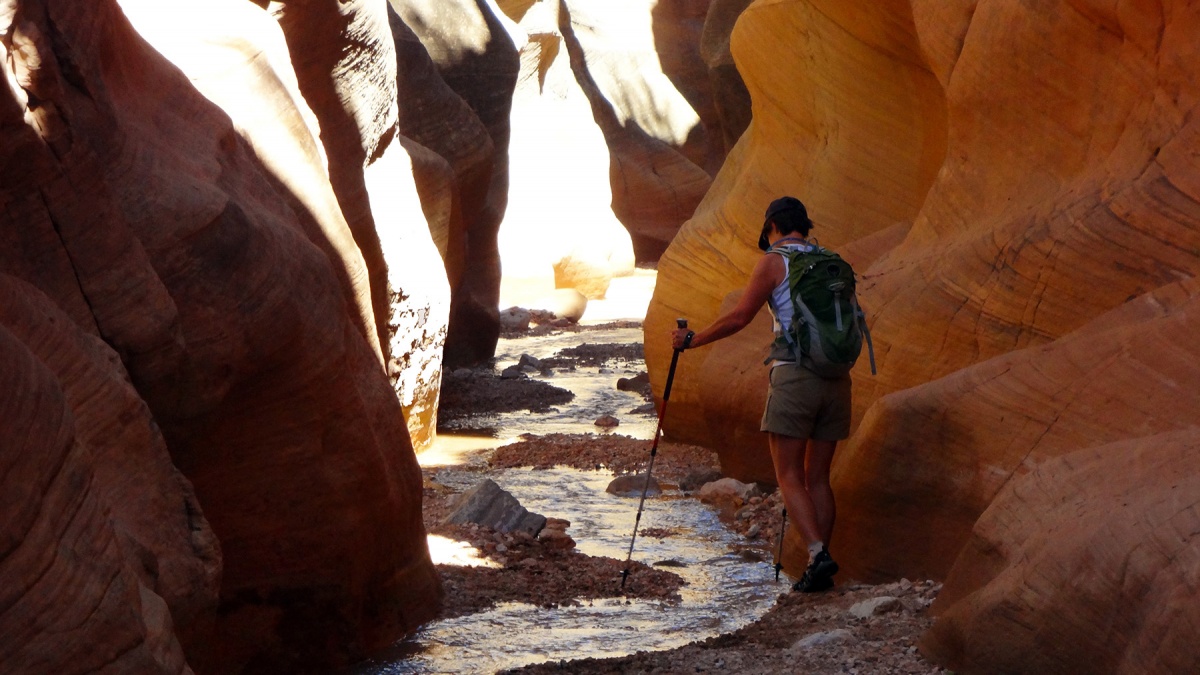 Utah is widely known for its large concentration of stunning canyons. Skilled canyoneers rappel into deep slot canyons while families looking for a new experience enjoy casual hikes between steep canyon walls. Before starting out, plan your route, assess your gear, and know your group's skillset. Contact the local field office for suggestions, maps, and current conditions.
Reminder: Flash floods are a constant danger and canyon conditions can change quickly. Check the weather forecast and flash flood potential before beginning your trip.
Little Wildhorse/Bell Canyon
Little Wild Horse and Bell canyons cut narrow slots through the San Rafael Reef.  A popular hiking route loop starts in Little Wild Horse Canyon and returns to the Little Wild Horse Canyon Trailhead via Bell Canyon.  The hike requires some scrambling over large boulders and squeezing through narrow spots. 
Crack Canyon
Deep within the San Rafael Reef lies a non-technical, narrow canyon. At 7.2 miles round trip, and a hiking time of 3 to 5 hours, this canyon is recommended for fit individuals. Looking for a longer adventure? Tack on Chute Canyon for a 13-mile round trip hike. Navigation skills are recommended for Chute Canyon. 
Coyote Gulch
Located in the Grand Staircase-Escalante National Monument, the route starts on a spur road of the Hole in the Rock Road. This canyon takes 8 to 12 hours, winds through red rock and joins with the Escalante River. The exit involves a solo 5.4 slab climb - making this canyon a recommendation for experience canyoneers.
Peekaboo/Spooky Gulch
This fun loop hike can be accessed from the Hole-in-the-Rock road in the Grand Staircase-Escalante National Monument. Accessible for hikers of all ages, this 3.5 mile loop requires sure footing, rock scrambling and the ability to squeeze through tight spaces. We recommend starting with the narrow swirls of Peek-a-boo Gulch and ending with the deep, dark twists of Spooky Gulch.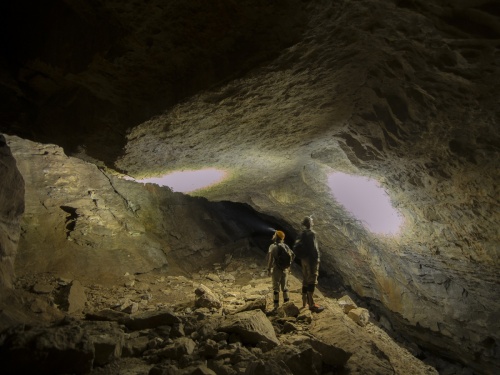 Cave and karst landscapes provide specialized habitats and environments – making them fascinating features of our landscape. It is important to remember that every human entry into a cave causes an impact. Please pack in, pack out; stay on established routes; respect wildlife; leave cultural artifacts; clean all gear and clothing before entering another cave.
Bloomington Cave
Bloomington Cave is the most extensive and well-known cave in the St. George Field Office. It is a large tectonic cave, and has at least six distinct levels and a maze of passages that are generally narrow, often with steeply dipping floors. The surveyed length of the cave is currently 1.39 miles (7,340 feet), making it the fifth longest cave in Utah.
This cave's difficulty level is currently unrated. However, many users who are not experienced cavers have found the cave much more difficult than expected. Bloomington Cave requires crawling, squeezing through tight passages, climbing, and moving on slippery surfaces. Five routes are marked within the cave. Take the virtual tour!
Anyone wishing to enter Bloomington Cave must have a permit. The permit is free and available from the St. George Field Office.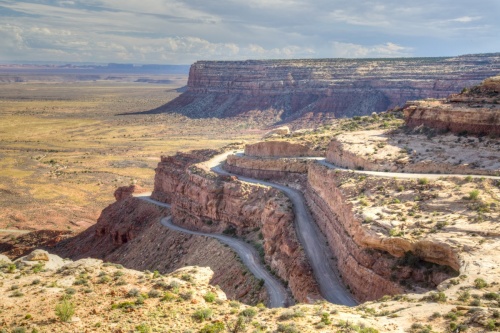 BLM managed lands in Utah offer nearly endless opportunities for astonishing views that can be enjoyed from your car or motorcycle. Utah's scenic and backcountry byways are a great place to start!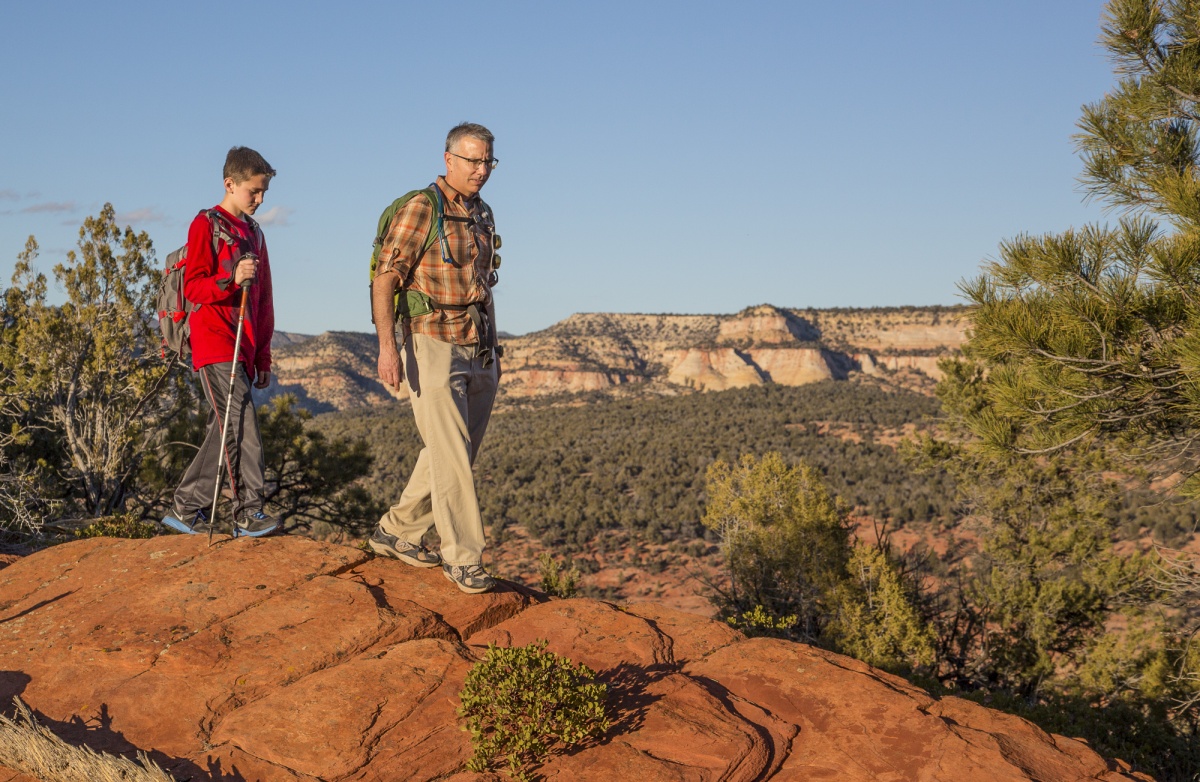 From easy day hikes to rugged backcountry trips, Utah boasts some of the most beautiful and diverse hiking in the country.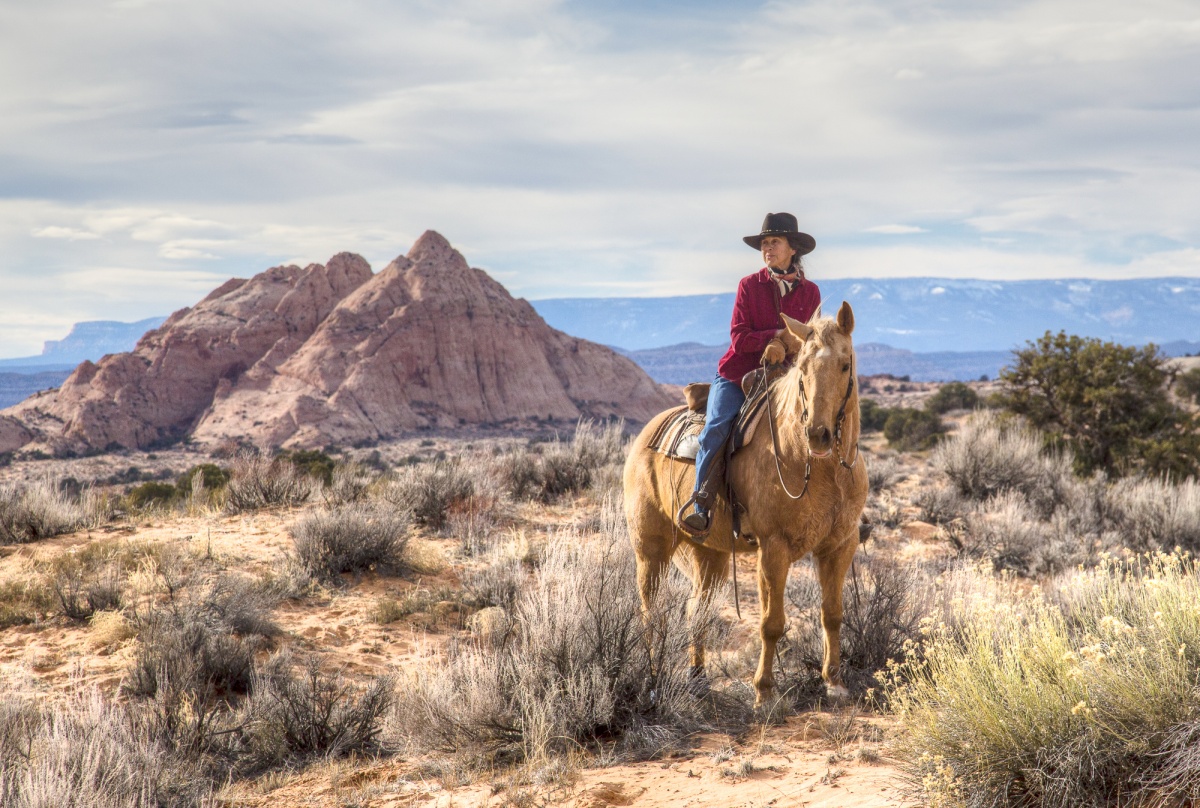 Explore the Wild West as the pioneers did a century ago - saddlebags packed with camping gear, wildlife within eye-sight, and the clippity-clap of your horse's hoofs. In Utah, a vast majority of BLM-managed lands are open to travel by horse. Enjoy the scenery and the feeling of freedom that riding offers! 
Robbers Roost
A remote area of desert country in central Utah, Robbers Roost is cut by a maze of spectacular canyons.  Named from its history as a hideout of the Butch Cassidy gang, the Roost is located between Hanksville on the west and Canyonlands Maze District on the east.
Red Cliffs Recreation Area
Red Cliffs boasts a backdrop of stunning mountains, looming cliffs, and voluminous riparian habitat amidst a desert landscape.
Grand Staircase-Escalante National Monument
The Monument offers many opportunities to experience the backcountry by horse but please note that designated horse & pack stock routes have not been established on the Monument. The rugged and primitive landforms present a variety of challenging terrain for all skill levels and an outstanding opportunity for solitude. Help us preserve this landscape by planning your trip well, being prepared, and camping light. Before you explore this region, take time to plan and be prepared with the proper equipment, maps, knowledge, and a backcountry permit. Weed-free feed is required. Contact or visit a GSENM Visitor Center for more info.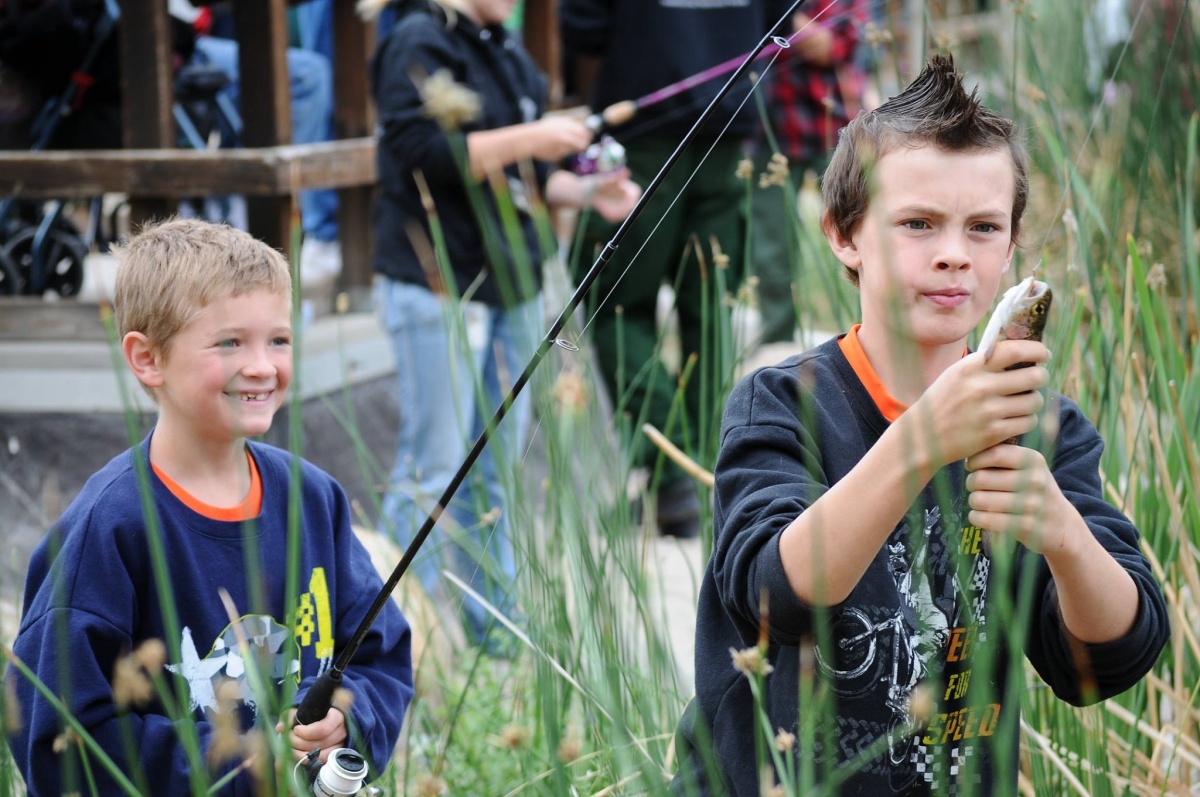 From hunting in the Bookcliffs to fishing the Green River, BLM-managed lands in Utah are a great place to enjoy your favorite hunting and fishing activities. The state of Utah has jurisdiction over hunting & fishing of all legal game species within its borders. Valid Utah hunting & fishing licenses are required. To report poaching incidents, contact the Utah DWR Poaching hotline. Learn more about Hunting, Fishing and Recreational Shooting on BLM lands in Utah. 
The BLM permits many outfitter and guide companies to service your hunting and fishing needs.  Cross-country OHV travel for game retrieval is not allowed.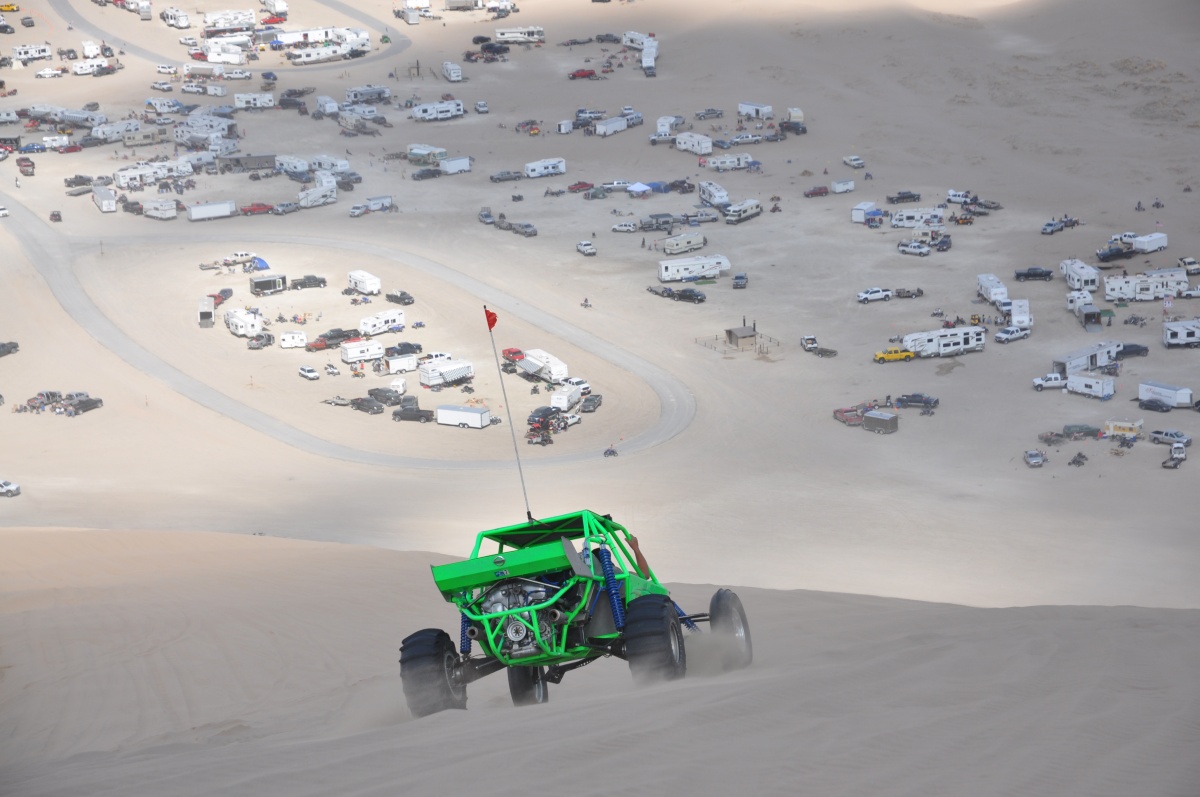 Utah BLM provides thousands of miles of roads and trails for off-highway vehicle use.  You will find varying levels of difficulty from easy family rides, to steep and challenging trails.  Protect our privilege to ride by engaging in good riding and stewardship practices.  Stay on designated roads and trails. Learn more at RideOn. 
Cross-country travel is prohibited except on lands managed as "open" to cross country travel.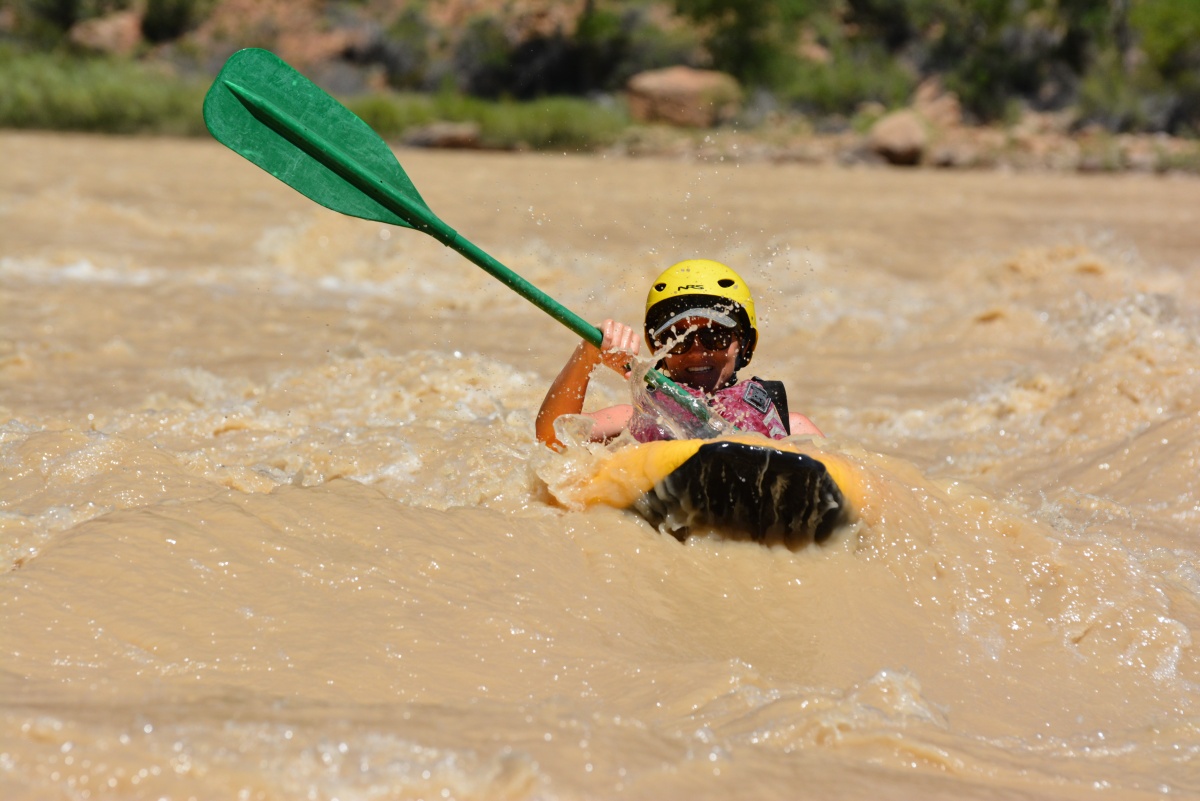 Utah provides outstanding opportunities for river running. From flat water to big rapids; half day trips to seven day excursions; fishing trips to scenic floats - there is a Utah river for you! 
Before you go, be sure to contact the local BLM Field Office to obtain river and backcountry permits. 
Westwater Canyon
Westwater Canyon is located in a Wilderness Study Area (WSA) northeast of Moab and is the first canyon of the Colorado River within Utah. Westwater Canyon includes Class IV rapids and is therefore only recommended for experienced boaters.  A permit is required year-round to run Westwater Canyon. Permits are issued only through advance reservation to individuals 18 years and older.  For more information about boating Westwater Canyon and obtaining permits, please visit our Westwater Canyon page.
Dolores River (Utah section)
The Utah section of the Dolores River offers technical rapids, stunning scenery, wildlife viewing, side-canyon hiking, and camping.  A free permit is required and may be obtained by calling the BLM Moab river reservation line at (435) 259-7012 between 8:00 a.m. and noon, Monday-Friday (excluding Federal Holidays).  Permits are emailed or faxed and trip leaders must sign and carry the permit on the river to be authorized.  Please contact the BLM Moab Office several days in advance of your trip or if you need to make changes before your launch date.  All boaters must read and adhere to all stipulations of the permit.  The primary challenge for running this river is the erratic and short (sometimes non-existent) boating season.  Flows generally peak between late April and early May.  Stream flow conditions can be found on the U.S. Geological Survey website. 
Rapids on this section range from class I to class IV, and the most challenging rapid is near the Utah and Colorado stateline.  The "Stateline Rapid" is a mile-long rock garden and requires excellent scouting (from river right) and quick maneuvering at all water levels.  Mistakes in this rapid can result in a very long and dangerous swim.  Many groups choose to put in below this rapid.  A map is available here.  Suggested minimum flows are: 200 cfs for canoes, kayaks, and duckies, 800 cfs for rafts less than 14 feet, and 1000 cfs for rafts larger than 14 feet.  Bring an adequate amount of drinking water as the Dolores and its tributaries are unfit for human consumption.  Land ownership along the Dolores River is mixed, please respect the rights of private landowners.
For the portion of the Dolores River that flows through Colorado, please contact the Tres Rios Field Office. Private trips do not require a permit for boating the Dolores River through Colorado.  More information on stream flows can be found on the Dolores Water Conservancy District website.
Desolation/Gray Canyons
Want to experience the beautiful scenery of canyons in central Utah?  Desolation Gray Canyons of the Green River may just be what you want.  The 84-mile trip from Sand Wash to Swaseys Rapid offers outstanding scenery, interesting geologic formations, evidence of prehistoric and historic human activity, and whitewater opportunities. The average trip length for private boaters is 6 to 7 days. 
A permit is required year round for floating the Desolation Gray Canyons section of the Green River. 
San Juan River
A float trip on the San Juan River in southeast Utah provides boaters with access to spectacular canyons rich in scenery, archaeology, history, remarkable geographic features, and desert wildlife. The river features Class II to III rapids that require some technical boating skill.
A BLM permit is required year-round to float the 102 mile section of the San Juan River between Montezuma Creek, UT and Clay Hills. Permits are issued only through a pre-season lottery and advance reservations to applicants 18 years of age or older. Do not show up at the launch ramp without a permit expecting to launch or join another group. No pets are allowed. Permits for Sand Island to Mexican Hat, Mexican Hat to Clay Hills, and Sand Island to Clay Hills may be obtained on Recreation.gov. Permits for the Montezuma Creek to Sand Island segment must be obtained by contacting the BLM Monticello Field Office.
Colorado River "Moab Daily" Section
The "Moab Daily" is a popular 13-mile section of the Colorado River that runs from Hittle Bottom Recreation Area to Take Out Boat Ramp and parallels state Route 128. This stretch features easy boater access, close proximity to the city of Moab, moderate rapids, and wonderful scenery. Depending on water levels, rapids on this section range from Class I to Class III. No permits are required for private trips.  There are a number of commercial outfitters who have permits from the Moab BLM Field Office to offer guided trips on this section of the river.   There are also a number of companies that offer shuttles to various put in and take out locations.
State of Utah Boating Law requires all boaters to wear life vests.  Current streamflow conditions are available on the U.S Geological Survey website. 
The BLM maintains parking areas, boat ramps, and campgrounds along the entire stretch, including Hittle Bottom, Rocky Rapid (a.k.a. Ida Gulch), Sandy Beach, and Take Out Boat Ramps.  Special regulations apply for boaters wishing to camp along the "Daily" section. Overnight camping on river right (facing downstream) is allowed only in designated sites between Dewey Bridge and Salt Wash (the boundary of Arches National Park). On river left, people must camp in BLM developed campgrounds (dispersed camping is not allowed on this side of the river in order to protect resources).  Here is a map of river campsites and campgrounds and a general river recreation map to help plan your activities along the "Moab Daily".
For those wanting a longer trip, the 7.5 mile Dewey Bridge to Hittle Bottom stretch of the Colorado River offers flat water and great views. Roughly half of the trip is within sight of Fisher Towers and the La Sal Mountains. There is a developed, but steep, boat ramp at the Dewey Bridge Campground (please use caution with vehicles) and boater parking is available. No fee is charge for use of this boat ramp. 
All BLM individual camp sites are first-come, first-served. Group sites are reservable one year in advance but no more than 8 days before the desired arrival date through Recreation.gov (hint: search on "Hittle Bottom Group Sites" and all reservable sites in the area will be listed).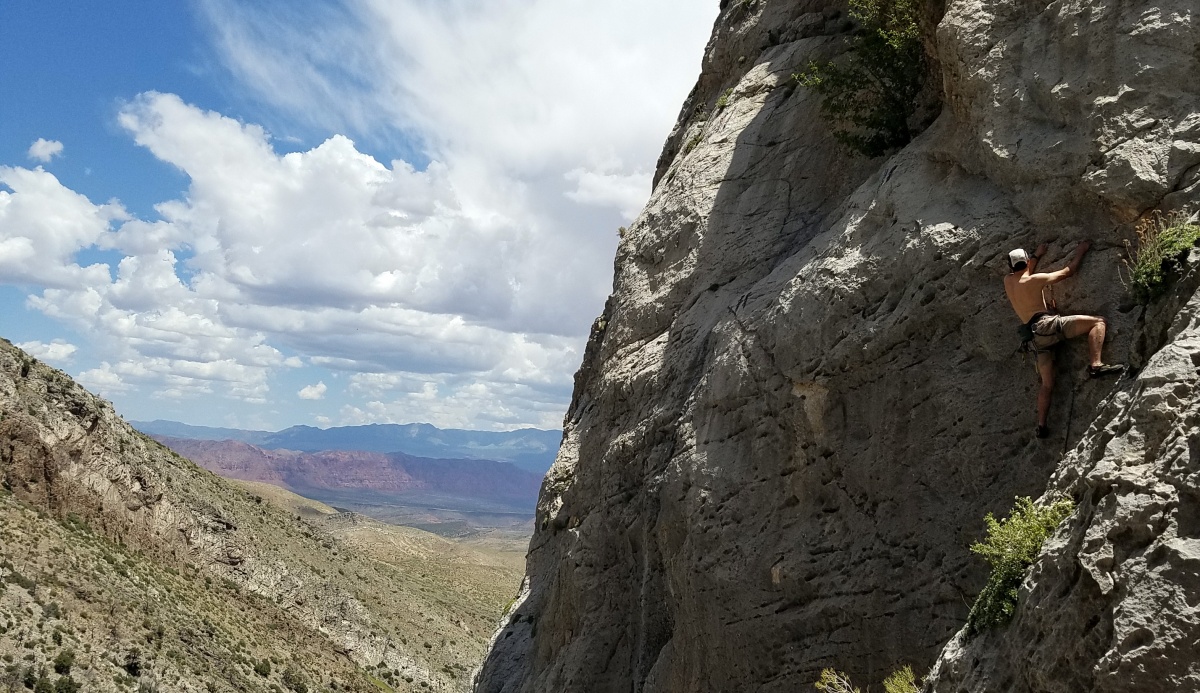 From bouldering areas to technical climbs, BLM Utah is a destination for local and international climbers alike. Rock walls typically include granite, sandstone, and limestone. 
Climbing by nature focuses heavy use on a small area.  Protect your privilege to climb on BLM lands by protecting natural resources during your climbing and associated recreational activities.  Camp in previously impacted areas and properly dispose of your trash and human/dog waste. Visit the AccessFund to learn good stewardship practices! 
Utah is home to outstanding cultural heritage. If you encounter rock art, pueblo homes, or other cultural artifacts, please help us Respect and Protect this amazing heritage. 
---
---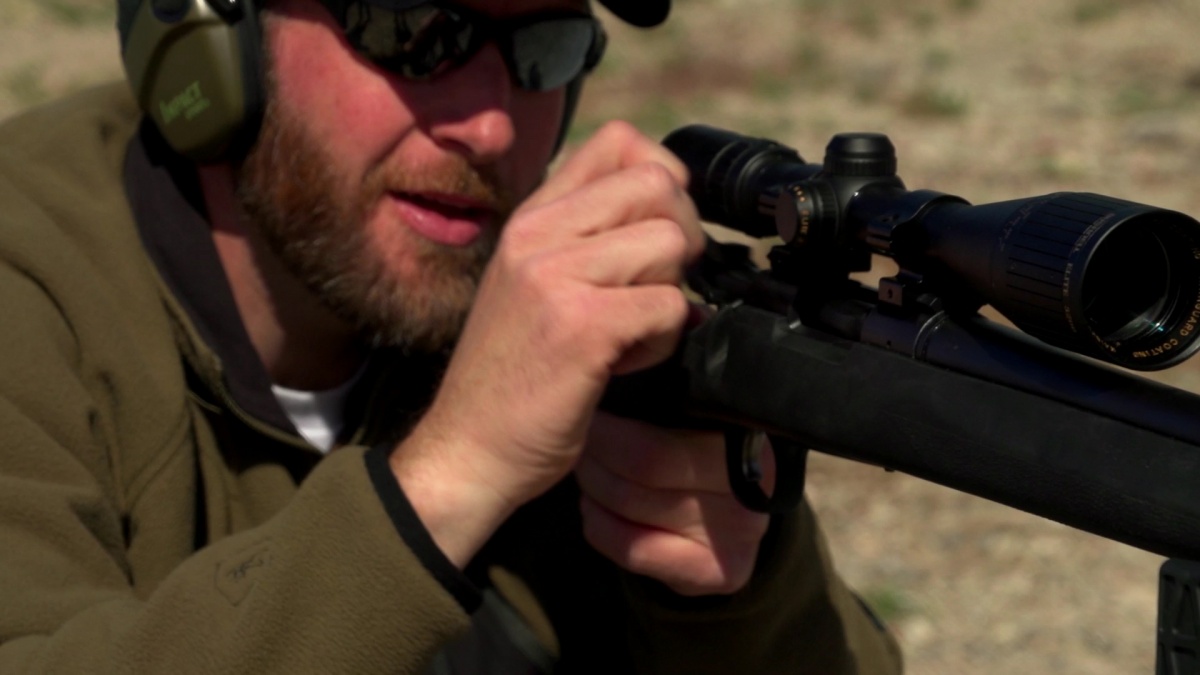 BLM-managed lands in Utah are a very popular destination for shooting sports enthusiasts.  Shooting on BLM lands is a great way to enjoy time with family and friends.  Generally, BLM managed lands are open to recreational shooting activities,  however, some areas have been closed to shooting due to negative impacts to natural and cultural resources and/or impacts to other users.  It is your responsibility to know and follow all shooting regulations.  Help maintain the integrity of the sport by being respectful of other users, cleaning up all shooting related debris (boxes, shells, targets, etc.), protecting natural resources, avoiding fire prone areas, and shooting safely.  Exploding targets are not allowed on BLM lands. Learn more about Recreational Shooting on BLM Lands in Utah.