BLM-managed lands offer numerous opportunities for climbing with many nearby camp sites available. No matter what type of experience you are looking for, you can find it on BLM-managed public lands.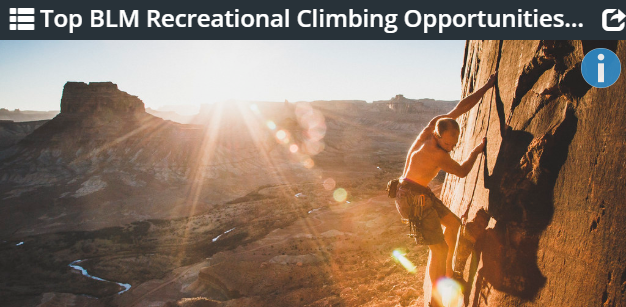 Climbing by nature focuses heavy use on a small area.  Protect your privilege to climb on BLM-managed lands by protecting natural resources during your climbing and associated recreational activities. Camp in previously impacted areas and properly dispose of your trash and human/dog waste. Visit the AccessFund to learn good stewardship practices and read more about camping on BLM-managed lands!
Many climbing locations are adjacent to areas of outstanding cultural heritage. If you encounter rock art, pueblo homes, or other cultural artifacts, please help us Respect and Protect this amazing heritage.
Safety Tips
Respect and be cautious of local wildlife. Bears, mountain lions, coyotes, and venomous creatures such as rattlesnakes and bees are common in many area.
When encountering wildlife, maintain your distance and remain quiet. Teach children not to pick up, chase, or approach animals. Keep pets under control.
Bring plenty of water. Extreme heat conditions are typical during summer months.
Severe storms with lightning and flash-flooding may occur. Always stay out of washes and seek shelter if lightning occurs.
Please use existing trails and respect private land signs and fences.
Please do not climb when the rock is wet. Wet sandstone will erode much faster, widening cracks and leaving rope grooves. More importantly, climbing on wet sandstone weakens anchors and has been linked to cams failing.
Report Crimes
Please help preserve our heritage. Treat cultural sites with respect. Do not touch petroglyphs or remove artifacts. Report crimes to resources including vandalism, dumping and suspicious activity at 1-800-637-9152.