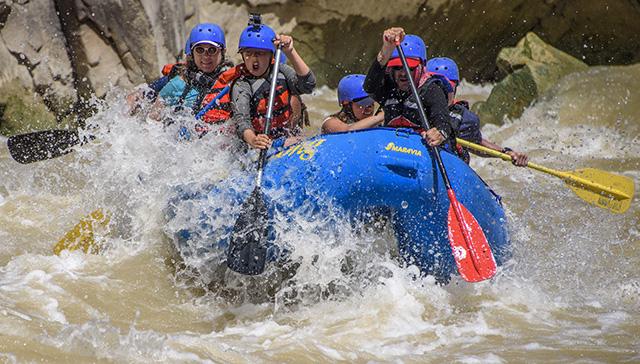 Westwater Canyon
Westwater Canyon requires obtaining a private or commercial permit. Private permits are available through Recreation.gov and will be available for advanced reservation two months ahead of the entry date at 8 a.m.MT/10 a.m. ET daily.
General Information

Westwater Canyon is the first whitewater stretch on the Colorado River in Utah. The canyon is seventeen (17) miles long and includes Class IV rapids. This section is challenging at all water levels and is only recommended for experienced boaters. As with any remote river section, Westwater can be a very humbling and dangerous place if not treated with proper respect and ability.
Permits Required 

Due to heavy recreational demand and to protect the primitive nature of Westwater Canyon, permits are required year-round for private and commercial use. Private use is limited to five permits or 75 people (whichever occurs first) per day; commercial use is limited to 75 passengers per day. Permit reservations may be made two months in advance, per the calendar date starting at 8:00 a.m., and are obtained online through Recreation.gov. If you have questions, please call 435-259-2100, Monday-Friday, from 7:45 a.m. to 4:30 p.m., excluding federal holidays. All boaters must adhere to the River Use Stipulations which are available under "Quicklinks".
State of Utah Boating Regulations
The Utah Division of Parks and Recreation has primary responsibility for boating safety and enforcement on Utah waters under the Utah Boating Act. On Utah rivers, every person on board a vessel must wear a personal flotation device (life jacket) of proper size and of an approved type; except on designated flat water areas where they may be loosened or removed. Life jackets must be worn by all persons from 1) Westwater Ranger Station to Big Hole and 2) Onion Creek to Drinks Canyon. Persons under 12 years of age must wear personal flotation devices at all times while on Utah rivers. Utah law also requires that an extra oar or paddle be on board, as well as a bailing device. All motor powered craft must be registered in Utah or in the boater's home state. Highlights from Utah boating laws and rules.
River Use Ethics
Please exercise the utmost level of care and caution when visiting desert rivers. The following principles should be adhered to during your visit:  
Urinate directly in the river
Carry and use a portable toilet for solid human waste
Dispose of human waste in approved facilities
Respect wildlife encountered along the river
Camp in previously hardened sites or on beaches
Pack out all trash (including fire ash, charcoal, and food waste)
Gather only driftwood for campfires
On commercially outfitted trips, river guides will provide instruction about disposal of human waste, the disposal of different types of trash, and other practices.
Infants and Small Children
If you answer no to any of the following questions, then Westwater Canyon may not be appropriate for your infant or child's safety. Each year, fatalities occur on this stretch of river. Please do your part to ensure the safety of yourself and your group while recreating on the river. 
Can your child climb in and out of a boat without the assistance others?
Is your child strong enough to hold on while in a moving or bouncing boat without being assisted by a parent?
Does your child have the knowledge, strength and skill to get to shore, get back into a boat or self-rescue if the child has fallen overboard?
Does your child have the knowledge, strength and skill to grab hold of a thrown rope?
Does your child have the knowledge, strength and skill to survive a swim in cold, moving water or rapids?