Oregon/Washington Diversity Partners
The BLM has a long history of collaborating with communities and other partners to help manage almost 261 million acres of public lands. These lands are managed for multiple uses in three broad categories: commercial activities, recreation, and conservation. The BLM is committed to promoting the stewardship of healthy ecosystems and healthy communities in the present and for future generations. Community-based citizen stewardship begins with people taking care of special places. By involving communities and partners in a collaborative decision making process to manage their landscapes, integrating community and land management issues, the BLM expands its capacity to create innovative solutions and build sustainable partnerships.
The BLM Oregon-Washington endorses partnerships as an effective means of leveraging resources among cooperating organizations, improving working relationships, fostering trust, and recruiting a future workforce. In order to respond to the challenges associated with managing than 15 million acres in Oregon and over 400,000 acres in Washington, the BLM recently developed a Partnership Strategy to more effectively involve communities and leverage resources through the use of partnerships and volunteers. The strategy focuses on three primary goals:
Enhance BLM ability to accomplish priority work,
Develop relationships to seek support of BLM programs, and
Recruit a diverse workforce.
The cornerstone to achieving these goals is facilitating collaborative efforts throughout the region and supporting community based partnerships at all ten BLM Districts. BLM Partnerships are not another project; they are the way we do business and are integral to future success.
Featured Partnership
What do the dwarf woolly meadowfoam and the vernal pool fairy shrimp have in common? They are both found on top of the Table Rocks in southwest Oregon. If you hike these flat-topped mesas in early spring, you have a good chance of seeing them. This is a highlight for many of the 3,500 school children that annually hike these rocks as part of the Table Rocks Environmental Education Program. Reaching the summit of the moderately steep 1 to 1.5 mile trails, is quite an accomplishment. As one 3rd grade student exclaimed, "I can see the statue of Liberty from here!" Though the view doesn't encompass quite that span, it does offer close to a 360° view of the Rogue valley and surrounding mountains. Exploring the top searching for the threatened fairy shrimp and endemic dwarf wooly meadowfoam is all part of the adventure. Armed with hand lenses and a watchful eye, students scan the pools for the transparent critters that are barely an inch long, and the edges for a tiny flower found nowhere else in the world. A cheer of excitement erupts when one is spotted. Students gather around to see these rare finds and begin to feel a connection to this special place.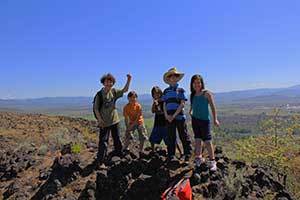 Through the power of partnership this program has grown into one of the largest in the region with nearly 72,000 students having participated in guided, interpretive hikes since 1986. Students from Jackson and Josephine County school districts have the opportunity to connect to the unique resources right in their own backyard. The program offers pre-hike classroom visits and a state-standard based curriculum that is available in both English and Spanish. It is also aligned with numerous state and national initiatives and programs to engage youth in the outdoors.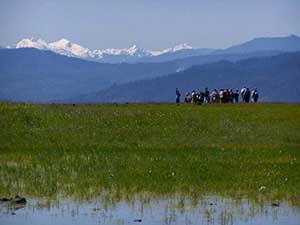 In 2016 the Table Rocks Environmental Education Program will be celebrating 30 years of interpretive hikes, but got its start from humble beginnings. In 1986 The Nature Conservancy led 170 students on the first guided hikes of the Table Rocks. In 1992, the BLM began providing hike leaders and eventually assumed responsibility for the day-to-day operations of the program. BLM and TNC also collaborate on a series of weekend hikes for the general public each spring. Hikes are led by BLM and TNC staff as well as specialists from universities, other agencies, and special interest groups.
The Table Rocks Environmental Education Program continues to provide quality educational opportunities to the community and strives to increase awareness of the natural and cultural values of the area to foster stewardship attitudes and behaviors for the future.