Idaho Diversity Partners
BLM depends on meaningful engagement with diverse partners to enhance public enjoyment of Idaho's public lands, help carry out its multiple-use mission and to accomplish shared goals with the community. In Idaho, it's important for us to employ a diverse workforce where employees have varied backgrounds and experiences that enable us to serve the public in an increasingly complex, ever-changing and diverse environment.
Featured Partnership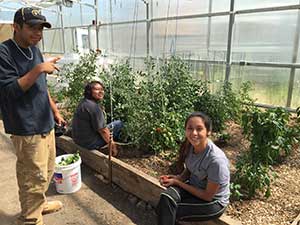 Since 2006, BLM has partnered with southern Idaho's Shoshone-Paiute Tribe to help meet a critical need for native plant seedlings in the State. To accomplish this, BLM partnered with the Tribe to build greenhouses on the Duck Valley Reservation, located on the border of southern Idaho and northern Nevada. These greenhouses, built through a cooperative agreement with the Tribe and BLM, are used to grow native plants for restoration and rehabilitation of sage-steppe habitat on public lands devastated by wildfire. About 120,000 Wyoming Big Sage seedlings are currently growing in the greenhouses. The partnership fulfills BLM's mandate to use native plant materials in rehabilitation projects and provides an excellent hands-on classroom for Shoshone-Paiute students. Located near schools, these greenhouses make it convenient for students to play an active role in greenhouse management and production and gain valuable horticultural experience.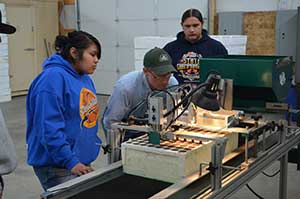 "I'm proud of BLM's partnership, hard work and sweat equity in developing these greenhouses, hauling soil and sharing horticultural practices with tribal youth. This work ensures we have a steady supply of seedlings for restoring sage-steppe in southern Idaho, particularly in areas vulnerable to cheatgrass invasion," said BLM Idaho State Director Tim Murphy. The greenhouses help meet growing need for plant restoration materials in Idaho that intensified following 2007's Murphy Complex fires that burned 653,000 acres in southern Idaho and Nevada. It was the largest wildfire in Idaho since the 1910 fires. The resulting Emergency Stabilization and Rehabilitation (ES&R) project was massive. In 2008, BLM planted about 1.2 million pounds of seed, with help from the Shoshone-Paiute Tribe. Greenhouse coordinator and BLM natural resource specialist Susan Filkins is proud to have a role in this partnership. "I think it's important for the Tribal kids to understand what they are growing has a greater impact on the rangelands around them," Filkins said.
Visit our Flickr album for more photos. Learn more on YouTube.