National Operations Center
About the National Operations Center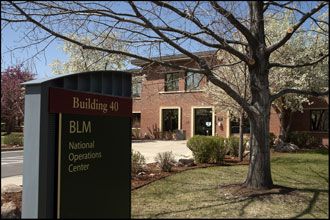 The BLM's National Operations Center in Denver, Colorado, provides operational and technical program support to BLM employees and collaborators--our stakeholders.  The Center's more than 500 employees and 100 contractors contribute to the overall BLM mission by supporting human resources, information technology, geospatial services, finance, and acquisition.
National Reporting Application

Visit the national reporting application for oil and gas reports, range administration reports and more agency information.
E-FORMS
The National Operations Center manages electronic forms for the agency's programs.  Find an e-form now.
Secure File Transfer Application 
Through our Secure File Transfer Application (SFTA), you can share files with a BLM employee, or pick up files from us.  Learn more now.
BLM Library
The BLM Library, a part of the National Operations Center, manages scholarly publications, agency documents and other reference materials for employees and the public.  Visit the BLM Library site.