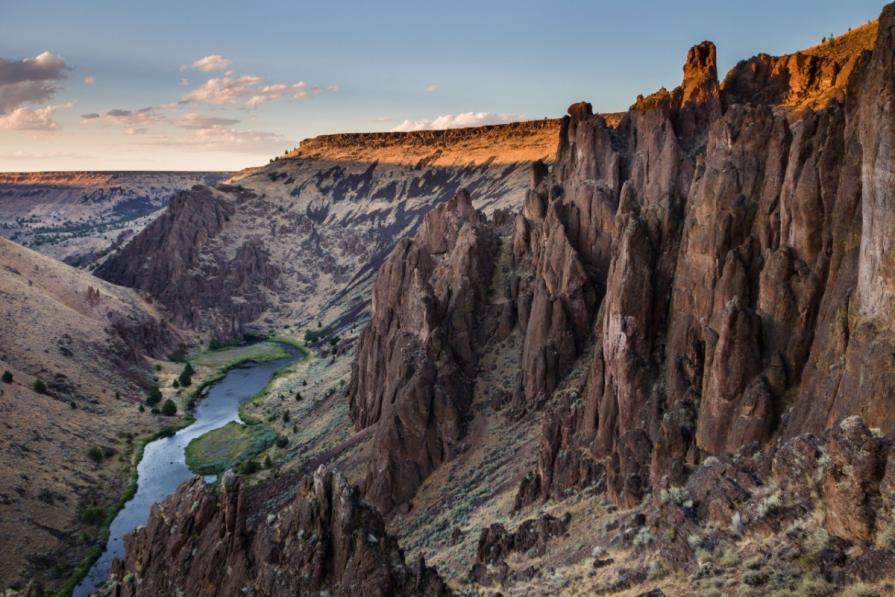 Byways
Rediscover the splendor of the West's public lands by traveling the adventurous "off-the- beaten-path" routes of the Bureau of Land Management's Back Country Byways. As a unique part of the National Scenic Byways Program, Back Country Byways can lead you on less-traveled roads through alpine meadows and soaring mountains to sagebrush prairie and saguaro cactus desert. Choose a route to explore whether driving an air-conditioned car, four-wheel drive or dirt bike.
The BLM currently manages 54 BLM-designated National Back Country Byways totaling approximately 2,952 miles in 11 western states. In addition to the BLM National Back Country Byways, approximately 60 National Scenic Byways or State designated scenic byways, totaling nearly 2,500 miles, traverse BLM lands in seven states.
Back Country Byways include four types of travel routes:
Type 1: Roads that can accommodate normal touring cars. These roads are paved or have an all-weather surface and have grades that are negotiable by a normal touring car. These roads are usually narrow, slow speed, secondary roads.

Type 2: Roads that require high-clearance type vehicles. These roads are usually not paved but may have some type of surfacing. Grades, curves and road surfaces are such that they can be negotiated with a two-wheel drive high clearance vehicle without undue difficulty.

Type 3: Roads that require 4-wheel drive vehicles or other specialized vehicles such as dirt bikes, all-terrain vehicles (ATV's), etc. These roads are usually not surfaced. However, the roads are maintained for safety and resource protection purposes. They have grades, tread surfaces and other characteristics that will require specialized vehicles to negotiate.

Type 4:
Trails managed to accommodate dirt bike, mountain bike, snowmobile or ATV use. They are usually single-track trails.
Please take care of yourself and the environment
Check weather and road conditions ahead of time
Bring area-specific maps and route descriptions
Carry plenty of water
Bring adequate fuel
Carry a spare tire, jack, tools, shovel, blanket, etc.
Remember that signing and fencing are for your safety
Tread Lightly on the land
For more information about 'Leave No Trace' and for travel tips visit treadlightly.org