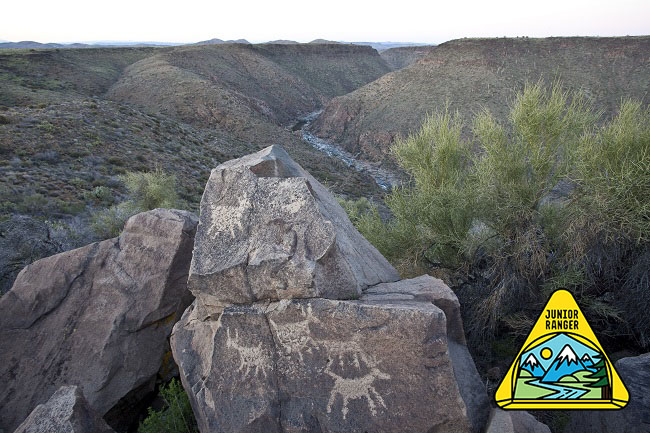 Agua Fria National Monument for Kids
The Agua Fria National Monument (AFNM) inspires kids to come play, learn, work, and serve on the monument. Explorers can play by hiking, off-roading, and camping; learn about petroglyphs and native species conservation through guided walks; and serve through a variety of volunteer opportunities. The AFNM offers a site specific junior ranger book with activities designed specifically to explore the area with a special Agua Fria junior ranger badge.
Explore

The Agua Fria National Monument contains hundreds of Native American ruins and petroglyphs, including the Pueblo La Plata archeological site. Hiking trails, perennial waters, an abundance of wildlife, and several interpretive historical sites are on the monument to explore as well.

Learn

The Agua Fria National Monument partners with Audobon Arizona's River Pathways program. This program gives high school students one week of hands-on classroom activities about Arizona riparian areas with a field trip to the monument afterwards. At the monument, students assist with biological monitoring efforts that are being completed by the Bureau of Land Management. This program gives students a chance to learn and explore career opportunities on our public lands.

Hands on the Land - Outdoor Classroom: Agua Fria National Monument

Volunteer

The Agua Fria National Monument hosts volunteers each season, specifically through Audubon Arizona and the BLM Phoenix District Office's Conservation & Resource Management Field Certification Program for youth ages 18-24. Volunteers assist with bird surveys, stream and fish monitoring, and vegetation surveys.

Resources

Are you part of a Boy Scout troop that wants to learn about prehistoric and historic archeological sites? Are you a teacher that wants to bring the Arizona desert riparian habitat into the classroom? Are you a parent who wants to introduce the wonders of our national monuments to your children?

Contact the Agua Fria National Monument to schedule a visit with your troop, begin planning a school field trip for your class, or pick up an Agua Fria National Monument Junior Ranger activity book!

National Conservation Lands: Agua Fria National Monument

Partners

The Agua Fria National Monument is happy to partner with Audobon Arizona, Boy Scouts of America, and the Conservation and Natural Resource Management Program at the Phoenix District Office to bring youth onto public lands.