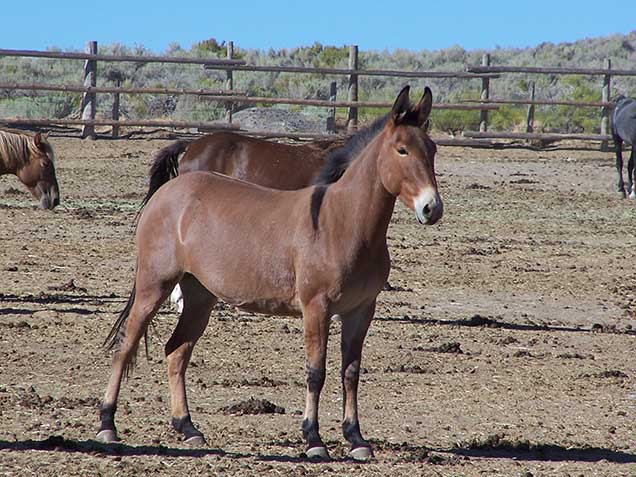 Twin Peaks HMA
Some of the original horses in this area descended may be from Spanish Stock.  Today the herd is descended from US Army Cavalry remounts released prior to and during World War I, and historic draft and riding ranching stock. The horses are mostly bay, black, and chestnut, but pintos and appaloosas are somewhat common.  Some horses even have a metallic sheen to them.  The burros likely originated from historic sheep grazing operations in the area.  Because Twin Peaks HMA has both horses and burros, it also is one of the few HMAs that has  mules.  The Twin Peaks animals are highly desired by adopters because of their size, quiet temperaments, and color.
Location: The Twin Peaks Herd Management Area is located approximately 25 miles northeast of Susanville, CA.   Highway 395 borders the HMA to the west. The Herd Management Area is located in both Lassen County, CA and Washoe County, NV.
Size: 758,128 acres
Topography/Vegetation: The terrain in this HMA consists of large, flat valley bottoms bisected by steep mountains. Dominant vegetation includes sagebrush, bitterbrush, bluebunch, needlegrass and squirreltail.
Wildlife: Wildlife occurring in the area includes mule deer, quail, pronghorn antelope, and sage grouse.
AML:  448-758/72-116