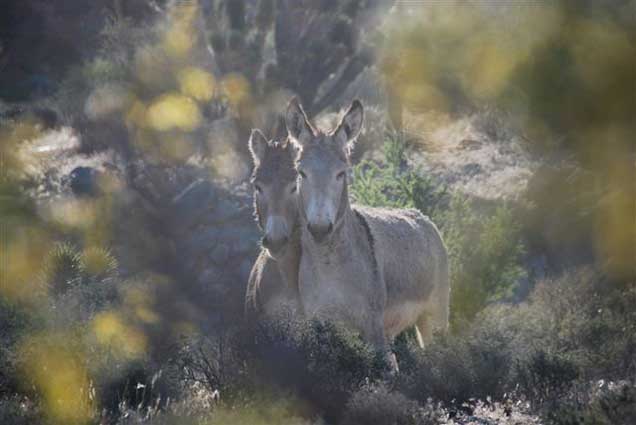 Centennial HMA
Some of these animals live primarily on the China Lake Naval Weapons Base and some live outside the Base.  The Navy helps manage the herds. The herd is thought to descend from ranching stock.  The horses tend to be of solid colors and range in size from 14 to 16 hands and weigh between 900 to 1100 pounds. Burros also live here but they are not officially managed.  As burros and horses live in the same area, mules do appear on occasion.
Location: The Centennial Herd Management Area is located in Kern County, CA approximately 10 miles north of Ridgecrest, CA.
Size: 318,499 acres
Topography/Vegetation: The major vegetative type is of the Mojave Desert ecosystem, dominated by creosote bush and other shrubs, with sparse herbaceous understory.  Joshua trees also live in this area providing shade for the animals.  Dry lake beds, also called playas, are scattered in the area.  The elevations vary from below sea level to mountains.
Wildlife: Smaller mammalian species and many reptiles are common in these ecosystems.   Jackrabbits, coyote, badgers, occasional mule deer, big horn sheep in the higher elevations, and many rodent species live in the area.
AML:  134-168