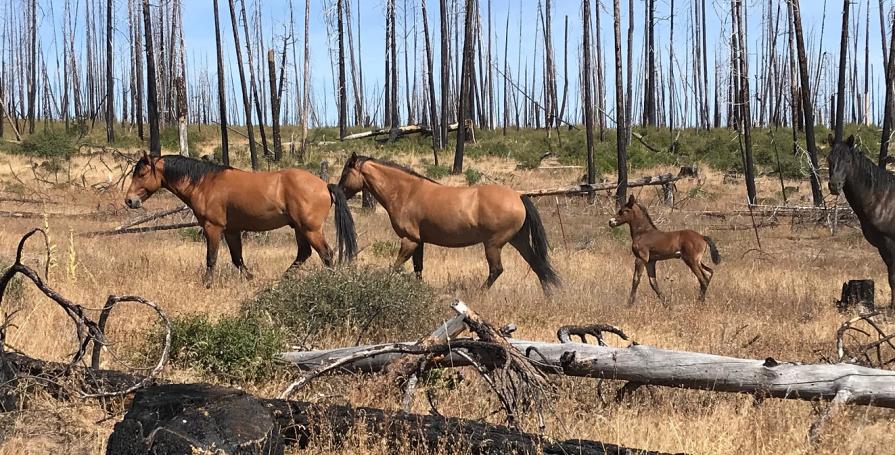 2020/2021/2022 Pokegama Wild Horse Gather
***Removal of horses from private property within & adjacent to the HMA***
Purpose of Gather: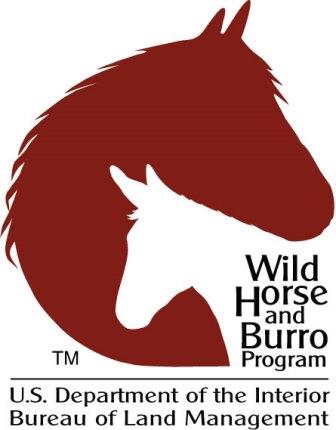 The objective of this gather is to capture and remove approximately 200 wild horses which have strayed onto private property within and adjacent to the Pokegama Herd Management Area (HMA). The Appropriate Management Level – the number of horses the range can sustainably support in conjunction with other animals and resource uses – for this area is 30 to 50 horses. The current population estimate for this herd is 230.
Adoption Information:
Animals removed from the range are transported to Oregon's Wild Horse Corral Facility in Hines to be prepared for adoption. For viewing, the public may visit the Corral Facility anytime between regular business hours, Monday through Friday, 8:00 a.m. to 3:00 p.m. Federal holidays may fall during the regular work week. We recommend calling ahead to ensure the facility will be open during your visit.
Public Observation:
All gather activities and temporary holding facilities are on private land. There are no public viewing opportunities until horses arrive at Oregon's Wild Horse Corral Facility in Hines.
2022 WEEKLY GATHER REPORTS

September 26, 2022
Animals gathered: 2 (1 stallion, 1 mares, 0 foal)
Animals shipped: 0
Total Deaths Today: 0

September 27, 2022
Animals gathered: No horses gathered
Animals shipped: 0
Total Deaths Today: 0

September 28, 2022
Animals gathered: 1 (1 stallion, 0 mares, 0 foal)
Animals shipped: 0
Total Deaths Today: 0

September 29, 2022
Animals gathered: No horses gathered
Animals shipped: 3
Total Deaths Today: 0

September 30, 2022
Animals gathered: No horses gathered
Animals shipped: 0
Total Deaths Today: 0

October 1, 2022
Animals gathered: No horses gathered
Animals shipped: 0
Total Deaths Today: 0

October 2, 2022
Animals gathered: No horses gathered
Animals shipped: 0
Total Deaths Today: 0

October 3, 2022
Animals gathered: No horses gathered
Animals shipped: 0
Total Deaths Today: 0

October 4, 2022
Animals gathered: No horses gathered
Animals shipped: 0
Total Deaths Today: 0

October 5, 2022
Animals gathered: No horses gathered
Animals shipped: 0
Total Deaths Today: 0

October 6, 2022
Animals gathered: No horses gathered
Animals shipped: 0
Total Deaths Today: 0

October 7, 2022
Animals gathered: No horses gathered
Animals shipped: 0
Total Deaths Today: 0

October 8, 2022
Animals gathered: No horses gathered
Animals shipped: 0
Total Deaths Today: 0

October 9, 2022
Animals gathered: No horses gathered
Animals shipped: 0
Total Deaths Today: 0

October 10, 2022
Animals gathered: No horses gathered
Animals shipped: 0
Total Deaths Today: 0

October 11, 2022
Animals gathered: No horses gathered
Animals shipped: 0
Total Deaths Today: 0

October 12, 2022
Animals gathered: No horses gathered
Animals shipped: 0
Total Deaths Today: 0

October 13, 2022
Animals gathered: No horses gathered
Animals shipped: 0
Total Deaths Today: 0

October 14, 2022
Animals gathered: No horses gathered
Animals shipped: 0
Total Deaths Today: 0

October 15, 2022
Animals gathered: No horses gathered
Animals shipped: 0
Total Deaths Today: 0

October 16, 2022 Animals gathered: No horses gathered Animals shipped: 0 Total Deaths Today: 0

October 17, 2022 Animals gathered: No horses gathered Animals shipped: 0 Total Deaths Today: 0

October 18, 2022 Animals gathered: No horses gathered Animals shipped: 0 Total Deaths Today: 0

October 19, 2022 Animals gathered: No horses gathered Animals shipped: 0 Total Deaths Today: 0

October 20, 2022 Animals gathered: No horses gathered Animals shipped: 0 Total Deaths Today: 0

October 21, 2022 Animals gathered: No horses gathered Animals shipped: 0 Total Deaths Today: 0

October 22, 2022 Animals gathered: No horses gathered Animals shipped: 0 Total Deaths Today: 0

October 23, 2022 Animals gathered: No horses gathered Animals shipped: 0 Total Deaths Today: 0

October 24, 2022 Animals gathered: No horses gathered Animals shipped: 0 Total Deaths Today: 0

October 25, 2022 Animals gathered: No horses gathered Animals shipped: 0 Total Deaths Today: 0

October 26, 2022 Animals gathered: No horses gathered Animals shipped: 0 Total Deaths Today: 0

October 27, 2022 Animals gathered: No horses gathered Animals shipped: 0 Total Deaths Today: 0

October 28, 2022 Animals gathered: No horses gathered Animals shipped: 0 Total Deaths Today: 0

October 29, 2022 Animals gathered: No horses gathered Animals shipped: 0 Total Deaths Today: 0

October 30, 2022 Animals gathered: No horses gathered Animals shipped: 0 Total Deaths Today: 0

October 31, 2022 Animals gathered: No horses gathered Animals shipped: 0 Total Deaths Today: 0

November 1, 2022 Animals gathered: No horses gathered Animals shipped: 0 Total Deaths Today: 0

November 2, 2022 Animals gathered: No horses gathered Animals shipped: 0 Total Deaths Today: 0

November 3, 2022 Animals gathered: No horses gathered Animals shipped: 0 Total Deaths Today: 0

November 4, 2022

Animals gathered: No horses gathered

Animals shipped: 0 Total Deaths Today: 0

November 5, 2022 Animals gathered: No horses gathered Animals shipped: 0 Total Deaths Today: 0

November 6, 2022 Animals gathered: No horses gathered Animals shipped: 0 Total Deaths Today: 0

November 7, 2022 Animals gathered: No horses gathered Animals shipped: 0 Total Deaths Today: 0

November 8, 2022 Animals gathered: No horses gathered Animals shipped: 0 Total Deaths Today: 0

November 9, 2022 Animals gathered: No horses gathered Animals shipped: 0 Total Deaths Today: 0

November 10, 2022 Animals gathered: No horses gathered Animals shipped: 0 Total Deaths Today: 0

November 11, 2022 Animals gathered: No horses gathered Animals shipped: 0 Total Deaths Today: 0

November 12, 2022 Animals gathered: No horses gathered Animals shipped: 0 Total Deaths Today: 0

November 13, 2022 Animals gathered: No horses gathered Animals shipped: 0 Total Deaths Today: 0

November 14, 2022 Animals gathered: No horses gathered Animals shipped: 0 Total Deaths Today: 0

November 15, 2022 Animals gathered: No horses gathered Animals shipped: 0 Total Deaths Today: 0

November 16, 2022 Animals gathered: No horses gathered Animals shipped: 0 Total Deaths Today: 0

November 17, 2022 Animals gathered: No horses gathered Animals shipped: 0 Total Deaths Today: 0

November 18, 2022 Animals gathered: No horses gathered Animals shipped: 0 Total Deaths Today: 0

November 19, 2022 Animals gathered: No horses gathered Animals shipped: 0 Total Deaths Today: 0

November 20, 2022 Animals gathered: No horses gathered Animals shipped: 0 Total Deaths Today: 0

November 21, 2022 Animals gathered: 4 (2 stallion, 1 mare, 1 foal) Animals shipped: 0 Total Deaths Today: 0

November 22, 2022 Animals gathered: No horses gathered Animals shipped: 0 Total Deaths Today: 1 (Acute Injury)

2021 WEEKLY GATHER REPORTS

No horses gathered

2020 WEEKLY GATHER REPORTS

September 18, 2020
Animals gathered: 5 (1 stallion, 3 mares, 1 foal)
Animals shipped: 5
Total Deaths Today: 0