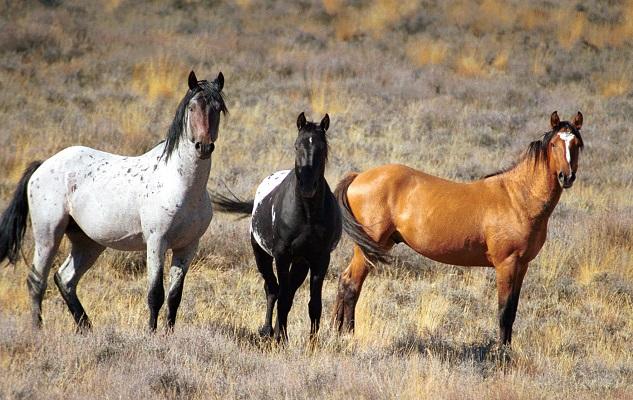 2018 Warm Springs Wild Horse Gather
Overview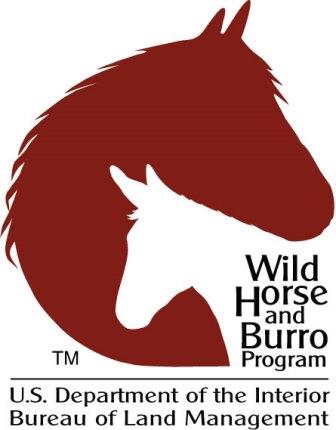 The Wild-Free Roaming Horses and Burros Act of 1971 gives BLM the direction for protecting and overseeing wild horses and burros on public lands. In managing these animals, the BLM works to maintain a thriving ecological balance that supports healthy horses on healthy rangelands. Heavy to severe wild horse grazing jeopardizes the health of rangelands, wetlands, wildlife habitats, and ultimately animal health and condition.
The Appropriate Management Level – the number of horses the range can sustainably support in conjunction with other animals and resource uses – for the Warm Springs Herd Management Area is 96 to 178 horses and the current population is over 800.
Details of Gather
******** Gather complete as of October 23, 2018 ********
Helicopter drive-trapping operations will begin in early October and last through mid-October, though exact start and end dates will be determined by the contractor's availability. Approximately 652 excess wild horses will be removed. The gather will also initiate research on the effects of spaying wild horse mares and returning them to the range.
Animals removed from the range will be transported to Oregon's Wild Horse Corral Facility in Hines and prepared for adoption into private care or selected for participation in the spay and behavior research study.
Public Observation
The public is welcome to view the Warm Springs HMA gather and the spay procedures.
Gather operations
The gather and associated viewing opportunities started October 2. Interested in observing? You must call ahead, at least one day in advance, to let us know of your planned attendance: 541-573-4519.
Observation will likely be held daily, on a first come, first served basis. Every effort will be made to accommodate everyone interested each day, however, participation may be limited and/or some days of the gather may not provide a viewing opportunity due to variable circumstances such as moving the trap location (not gathering), no safe area to view activity or disguise vehicles, rainy or windy conditions (not gathering), poor vehicle access, etc.
Notice on the days where no viewing opportunity exists will likely be given on short notice – perhaps the day before or the morning of the gather operation. You may attend multiple, consecutive observation days as long as you are within the first come, first served maximum (if one is set).
Access to and distance from the capture site location will be determined jointly by the Contractor and the BLM's Contracting Officer's Representative prior to gather operations. Safety of the horses, crew and public, is our top priority.
Observers must first attend a pre-viewing briefing at the BLM Burns District Office, 28910 Hwy 20 West in Hines. Observers arriving at the viewing area without first attending the briefing shall not participate in the observation day.
Spay procedures
Public observation of the collaring/tagging and spaying will be available at the Oregon Wild Horse Corral Facility. Those interested must contact Burns District BLM Public Affairs Specialist, Tara Thissell (tthissell@blm.gov or 541-573-4519) after October 15 to be added to the viewing list. Observation will be offered to those on the viewing list on a first come, first served basis, in the order interest was expressed in attending (starting on October 15). The actual dates for spay viewing will be announced as soon as they are determined.
The spay viewing area in the working barn only provides space for five observers at a time. If additional observers are interested in viewing per day, viewing could occur in shifts with observers rotating through every two to four hours. Visitors will be escorted at all times and prohibited from the working area while horses are present.
Adoption
Many horses from the Warm Springs gather will be available for adoption beginning in early January 2019. Adoption horses have yet to be selected. The method of adoption (online event, in-person event, first come first serve, etc.) is still under consideration as well.
Other
For more information and to find the progress of the gather and/or whether or not a viewing opportunity exists each day, first check our Social Media sites. Go to our Facebook or Twitter pages—you do not need to have an account on these sites to view the content. You may also call Tara Thissell, Burns District BLM Public Affairs Specialist, at 541-573-4519 or email tthissell@blm.gov.
The supporting planning documents for the Warm Springs HMA gather and Spay Feasibility and On-range Behavioral Outcomes Assessment are available on the BLM's ePlanning web site.
Daily Gather Reports

Tuesday, October 23
Animals gathered: 8 horses, 9 burros
Animals shipped: 47
Horses returned to Home Range: 0
Total Deaths Today: 0

Monday, October 22
Animals gathered: 18 horses
Animals shipped: 40
Horses returned to Home Range: 0
Total Deaths Today: 0

Sunday, October 21
Animals gathered: 52 horses
Animals shipped: 0
Horses returned to Home Range: 0
Total Deaths Today: 0

Saturday, October 20
*moved capture location
Animals gathered: 9 horses, 0 burros
Animals shipped: 32
Horses returned to Home Range: 1 (A large stud horse jumped out of the temporary holding corrals and returned to the HMA.)
Total Deaths Today: 1 chronic/pre-existing

10/20/18: A 4 year old white stud (BCS 2.5) was humanely euthanized in accordance with IM 2015-070 due to pre-existing bilateral clubbed feet in the front which caused severe lameness.

Friday, October 19
Animals gathered: 16 horses, 0 burros
Animals shipped: 0
Horses returned to Home Range: 0
Total Deaths Today: 1 chronic/pre-existing

10/19/18: A yearling brown colt died after capture. An APHIS veterinarian performed a necropsy examination which determined the colt had severe pneumonia which existed prior to capture.

Thursday, October 18
Animals gathered: 15 horses, 2 burros
Animals shipped: 31
Horses returned to Home Range: 0
Total Deaths Today: 0

Wednesday, October 17
Animals gathered: 24 horses
Animals shipped: 0
Horses returned to Home Range: 0
Total Deaths Today: 0

Tuesday, October 16
Animals gathered: 14 horses, 0 burros
Animals shipped: 64
Horses returned to Home Range: 0
Total Deaths Today: 2 chronic/pre-existing

10/16/18: A 7 year old sorrel mare (BCS 3) captured 10/15/18 was humanely euthanized in accordance with IM 2015-070 due to pre-existing bilateral ruptured sesamoids in her hind legs, which caused severe lameness.
10/16/18: A yearling roan filly captured 10/15/18 died at the holding corrals. An APHIS veterinarian performed a necropsy examination which determined the filly had severe pneumonia which existed prior to capture.

Monday, October 15
Animals gathered: 26 horses, 7 burros
Animals shipped: 39
Horses returned to Home Range: 0
Total Deaths Today: 1

10/15/18: 6 month old sorrel filly died of gather myopathy after transport to temporary holding. A necropsy examination was performed and a report is pending.

Sunday, October 14
Animals gathered: 56 horses
Animals shipped: 41
Horses returned to Home Range: 0
Total Deaths Today: 1 chronic/pre-existing

10/14/2018: A 5 year old sorrel mare (BCS 2.5) was humanely euthanized in accordance with IM 2015-070 due to a severe club foot on the left front which caused severe lameness.

Saturday, October 13
Animals gathered: 54 horses, 10 burros
Animals shipped: 64
Horses returned to Home Range: 0
Total Deaths Today: 0

Friday, October 12
Animals gathered: 77 horses, 1 burro, 2 mules
Animals shipped: 0
Horses returned to Home Range: 0
Total Deaths Today: 1 chronic/pre-existing

10/12/18: A 3 year old pinto mare (BCS 3) was humanely euthanized in accordance with IM 2015-070 due to pre-existing bilateral stifle abnormality and old limb fracture which caused severe lameness.

Thursday, October 11
*moved capture location
Animals gathered: 0 horses, 5 burros
Animals shipped: 33 
Horses returned to Home Range: 0
Total Deaths Today: 0

Wednesday, October 10
Animals gathered: 58 horses
Animals shipped: 33 horses
Horses returned to Home Range: 0
Total Deaths Today: 1 chronic/pre-existing

10/10/18: A 2 year old dun mare (BCS 4) was humanely euthanized in accordance with IM 2015-070 due to pre-existing angular limb deformity in her left front foot which caused severe lameness.

Tuesday, October 9
Animals gathered: 16 horses
Animals shipped: 35
Horses returned to Home Range: 0
Total Deaths Today: 1 chronic/pre-existing

10/9/18: A 2 year old appaloosa stud (BCS 4) was humanely euthanized in accordance with IM 2015-070 due to pre-existing bilateral angular limb deformity.;

Monday, October 8
Animals gathered: 127 horses, 1 burro
Animals shipped: 147 horses
Horses returned to Home Range: 0
Total Deaths Today: 3 chronic/pre-existing

10/8/18: A 3 year old blue roan mare (BCS 4) was humanely euthanized in accordance with IM 2015-070 due to a severe sway back condition.
10/8/18: A 6 year old buckskin stud (BCS 4) was humanely euthanized in accordance with IM 2015-070 for a severe club foot.
10/8/18: A 3 year old appaloosa stud (BCS 5) was humanely euthanized in accordance with IM 2015-070 due to severe arthritis in the knee which resulted in severe lameness.

Sunday, October 7
Animals gathered: 34 horses
Animals shipped: 0
Horses returned to Home Range: 0
Total Deaths Today: 0

Saturday, October 6
Did not gather or ship due to poor weather conditions.

Friday, October 5
Animals gathered: 16 horses
Animals shipped: 71 horses, 2 burros
Horses returned to Home Range: 0
Total Deaths Today: 12 chronic/pre-existing

10/5/18: A 3 year old dun mare (BCS 3) was humanely euthanized in accordance with IM 2015-070 due to a pre-existing fracture of a rear pastern that had resulted in severe lameness.
10/5/18: The following animals were humanely euthanized ;in accordance with IM 2015-070 due to angular limb deformities (ALD) in one or multiple limbs and feet. Because these angular limb deformities appear to have a genetic component and because the severity of these deformities were causing severe lameness, these animals were not suited to return to the range or placement in off-range holding or adoption. These conditions were indicated by club feet, severely overgrown hoof walls, collapsed heals, limb deformity, arthritic joints, toes pointed out at the fetlock, and lameness:

A 3 year old pinto mare (BCS 3): Bi-lateral ALD
A 3 year old appaloosa mare (BCS 3): Severe club foot, left front
A 5 year old appaloosa stud (BCS 5):; Bi-lateral ALD
A 7 year old bay stud (BCS 4): Bi-lateral ALD
A 2 year old bay stud (BCS 3): Bi-lateral ALD
A 5 year old appaloosa stud (BCS 5): Bi-lateral ALD
A 3 year old sorrel mare (BCS 3): Left front ALD and severe knee arthritis
A 7 year old bay mare (BCS 5): Severe club foot, right front
A 2 year old palomino mare (BCS 3): Bi-lateral ALD
A 3 year old dun stud (BCS 3.5): Left front ALD
An 11 year old pinto stud (BCS 4): Bi-lateral ALD

Thursday, October 4
Animals gathered: 69 horses, 2 burros
Animals shipped: 43 horses, 2 burros
Horses returned to Home Range: 0
Total Deaths Today: 1 acute, 3 chronic/pre-existing

Acute:
10/4/18: A 3 year old black mare died of a broken neck after running into a panel while being sorted after she was captured.  The mare was double club foot in the front.

Chronic/Pre-existing:
10/4/18: A 5 year roan stud (BCS 4) was humanely euthanized in accordance with IM 2015-070 due to a pre-existing cervical spinal injury that had resulted in severe lameness and lack of control of rear legs.
10/4/18: A 16 year old palomino mare (BCS 2.5) was humanely euthanized in accordance with IM 2015-070 due to a pre-existing vaginal/rectal tear from foaling, resulting in a chronic partial rectal prolapse with a poor prognosis for recovery.
10/4/18: A 4 year old black stud was humanely euthanized in accordance with IM 2015-070 in the field due to a pre-existing cervical spinal injury that had resulted in severe lameness and lack of control of all legs. This stud had been observed the previous 2 days showing complete loss of body control.

Wednesday, October 3
Animals gathered: 95 horses, 2 burros
Animals shipped: 68 horses, 0 burros
Horses returned to Home Range: 0
Total Deaths Today: 2 acute, 2 chronic/pre-existing

Acute:
10/3/18: A 2 month old pinto filly (BCS 3) died from an acute head injury which occurred after being captured.
10/3/18: A captured 3 month old pinto filly (BCS 4) died of gather myopathy after transport to temporary holding.

Chronic/Pre-existing:
10/3/18: An 18 year old appaloosa mare (BCS 3) was humanely euthanized in accordance with IM 2015-070 due to a pre-existing shoulder injury which caused severe lameness.
10/3/18: A 14 year old appaloosa mare (BCS 3) was humanely euthanized in accordance with IM 2015-070 due to a pre-existing head injury which had caused blindness in both eyes.

Tuesday, October 2
Animals gathered: 64 (62 horses, 2 burros)
Animals shipped: 29 (27 horses, 2 burros)
Horses returned to Home Range: 0
Total Deaths Today: 0