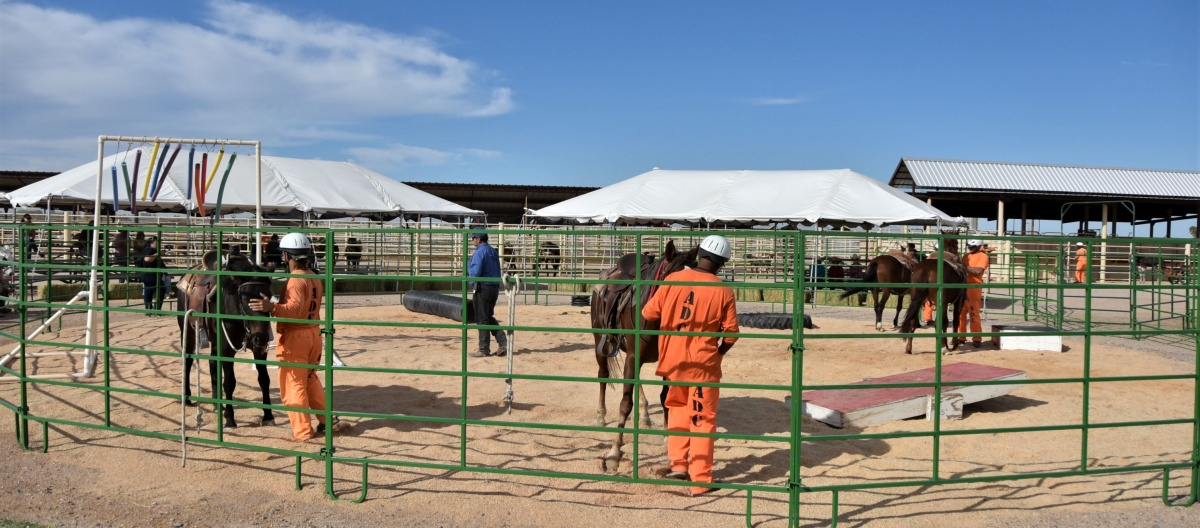 Florence Wild Horse and Burro Training and Off-Range Corral
The Arizona Wild Horse and Burro Training and Holding Facility opened in May 2013. The facility is a partnership between the BLM and Arizona Correctional Industries, through Arizona Department of Corrections.  The facility has a capacity of 1,000 wild horses and burros. Wild horses and burros are moved from the holding area to be gentled and trained by inmates to enhance adoptability. Untrained wild horses and burros are available for adoption every Friday at the holding facility. The holding facility is on prison property; please park outside and come into the office.
The holding center, is situated across from the prison complex about a mile from the intersection of Butte Avenue and Arizona Route 79 (Pinal Parkway) in Florence. You can view the facility from the parking area and can visit within the fenced area by appointment and during special adoption events held throughout the year.
Learn about adoption and sale events
Facility Status - Temporarily Closed due to Intake Activities from Field Operations and Staffing Constraints
The Bureau of Land Management in cooperation with the Arizona Department of Corrections, Rehabilitation and Reentry will be offering wild horse and burro adoptions and sales from the Wild Horse and Burro Training and Holding facility located in Florence, AZ. The Florence facility is temporarily closed to the public due to intake activities from ongoing field operations, as well as staffing/capacity constraints. Adoptions/sales by appointment are expected to resume in late July-August.
For more information, please email Facility Program Manager, John Hall, at JAHall@blm.gov. 
Applications are available by visiting the Adoption and Sales page. Completed applications should be sent to JAHall@blm.gov .
As always, BLM staff and the inmates participating in the Wild Horse and Burro Inmate Training Program continue to provide care for the wild horses and burros at the facility. 
We appreciate your patience and understanding as we continue to navigate through an unprecedented situation.