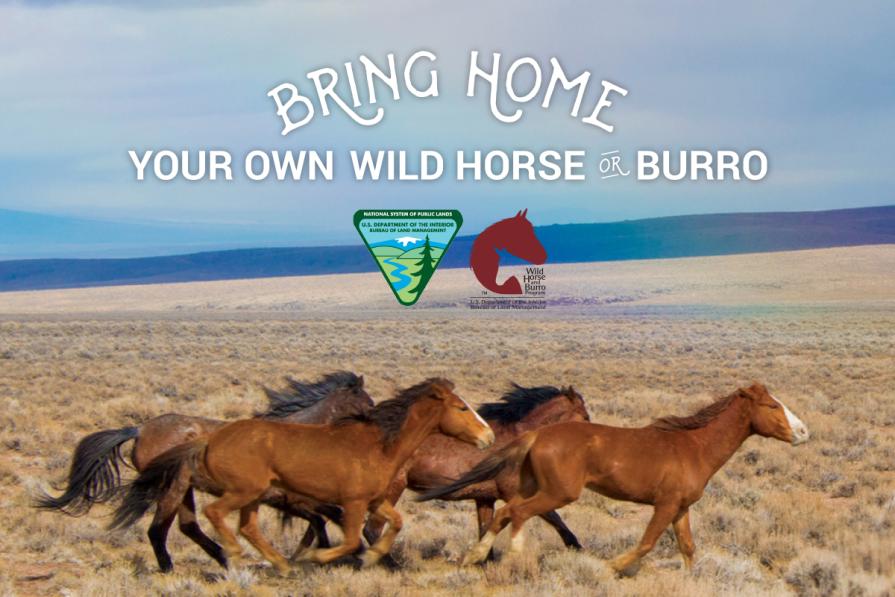 Adoption and Sale Events
The BLM offers wild horses and burros for adoption or purchase at events across the country throughout the year. The most current adoption and sale event schedule is provided below. All times are in local time and subject to change without notice. Please contact the National Information Center or the relevant BLM office for more information about a specific event. 
Online Corral
Apply, view and place your bid to adopt or purchase a wild horse or burro online during a scheduled competitive auction event. Visit the Online Corral to begin! 
Schedule

 Event Details

November 6-11, 2023

New adoption applications should be submitted by TBD allow adequate time for review.
Available pick-up locations TBD. Check animal profile for full list of available pick-up locations before placing bid. 
Off-site and facility adoption/sale events
Attend an off-site or BLM facility event to view available animals, submit an application and bring home your own wild horse or burro. 
Schedule

Location

September 1, 2023
In-hand trail competition: noon

September 2, 2023
Competitive bidding: noon

Blackfoot, ID
East Idaho State Fair
97 Park Street

Event details: 

Up to 10 yearling geldings will be offered through competitive auction at about noon on Saturday September 2.
The yearlings and 4-H trainers will compete in an in-hand trail competition September 1 at noon in grandstands

September 1-2, 2023
Open: 9 a.m. - 4 p.m.

Ewing, IL
Ewing Off-Range Corral
22295 Sheep Farm Road
Ewing, IL 62864

Event details: 

September 8, 2023
Open: 10 a.m. - 6 p.m.
Adoption begins at noon

September 9, 2023
Open: 8 a.m. - noon

Fort Worth, TX
Will Rogers Memorial Center
1600 Lancaster Ave
Fort Worth, TX 76107
Download Flyer

Event details:

Approx. 40 wild horses and burros available
About15 trained horses will be adopted at 1 p.m. and the top 10 finalist will be adopted after the finals beginning at 6 pm. Twenty-five saddle trained horses will be offered at this event. 
Visit our partners Mustang Champions at this event and experience life on the range with wild horses in virtual reality! 

September 8, 2023
Open: 8 a.m. - 5 p.m.

September 9, 2023
Open: 8 a.m. - 1 p.m.

West Bend, WI
Washington County Fair Park
3000 County HWY PV
West Bend, WI 53095

Appointment required. Please email BLM_ES_NSDO_WHB@blm.gov with Attention: West Bend, WI with your preferred pickup day and three time slots.
Approx. 75 wild horses available for adoption

September 9, 2023
Open: 10 a.m. - 2 p.m.

Lander, WY
Wind River Wild Horse Public Off-Range Pasture
8616 Hwy 287 
Lander, WY 82520
Download Flyer

Event details:

Approx. 20 wild horses available for adoption
First-come, first-served.

September 12, 2023
Open: 8 a.m.
Adoption: 10 a.m.

Pauls Valley, OK
Pauls Valley Off-Range Corral

Event details: 

Event has been canceled

September 12-14, 2023

Grand Island, NE
Husker Harvest Days
9000 W Husker Hwy
Wood River, NE 68883

Event details:

Approx. 7 wild horses available for adoption
Daily demonstrations by Ron Knodel at 10 a.m., 1 p.m. and 3 p.m.
Adoption is first-come, first-served.
Field opening Tues & Wed., 8 a.m.-5 p.m. and Thurs., 8 a.m. - 4 p.m.

September 15, 2023
Open: 8 a.m. 
Adoption: 9 a.m. - 4 p.m.

Delta, UT
Delta Wild Horse and Burro Off-Range Corral
600 N 400 W
Delta, UT 84631

Event details:

Approx. 120 wild horses and burros available for adoption and sale

September 15, 2023
Open: 1-4 p.m.
Training Demo: 1:30 p.m.

September 16, 2023
Open: 8 a.m. - 4 p.m.
Live Competitive Adoption: 10:30 a.m.

Riverton, WY
Wyoming Honor Farm
40 Honor Farm Rd.
Riverton, WY 82501

Event details: 

Approx. 50 wild horses and 10 wild burros available for adoption
Trained animals available

September 22, 2023
Open: 8 a.m. - 5 p.m.
Adoption begins at 9 a.m.

September 23, 2023
Open: 8 a.m. - 1 p.m.

Cullman, AL
Cullman County Ag Trade Center
17645 US-31
Cullman, AL 35058

Event details:

Approx. 75 wild horses available for adoption. 
Trainer Incentive Program trainers may select animals starting at noon on September 22. 

September 22, 2023
Open: 10 a.m. - 6 p.m.
Adoption begins at noon

September 23, 2023
Open: 8 a.m. - noon

Idabel, OK
Idabel Rodeo Arena
1001 NW 9th St. 
Idabel, OK 74745

Event details:

Approx. 120 wild horses and burros available

September 22, 2023
Open: 8 a.m. - 3 p.m.
Auction: 10 a.m., first-come first-served after

Wheatland, WY
Wheatland Off-Range Corral
1005 N. Wheatland Highway
Wheatland, WY 82201
Download Flyer

Event details:

Approx. 40-50 wild horses available

September 23, 2023

 

Wheatland, WY
Mantle Ranch
615 S Antelope Creek Rd
Wheatland, WY 82201

Event details:

Approx. 20 wild horses available
Trained animals available

September 30, 2023
Open: 9 a.m. - 3 p.m.

Laramie, WY
Deerwood Ranch Wild Horse Public Off-Range Pasture
599 State Hwy 11
Laramie, WY 82070
Download Flyer

Event details:

Approx. 20 wild horses and burros available

October 6-7, 2023
Open: 9 a.m. - 4 p.m.

Ewing, IL
Ewing Off-Range Corral
22295 Sheep Farm Road
Ewing, IL 62864

Event details: 

October 10, 2023
Open: 8 a.m.
Adoption: 10 a.m.

Pauls Valley, OK
Pauls Valley Off-Range Corral

Event details: 

October 12-15, 2023

Hurricane, UT
Washington County Regional Park
5500 West 700 South
Hurricane, UT

Event details: 

Approx. 16 trained wild horses and 2 wild burros available

October 13, 2023
Viewing/Application Submission: 9 a.m. - 3 p.m.

October 14, 2023
Viewing/Application Submission: 8 a.m. - 9:30 a.m.
Adoption: 10 a.m.

Florence, CO
Pathfinder Park
6655 CO-115
Florence, CO 81226

Even details:

Approx. 30-36 wild horses available for adoption and sale

October 13, 2023
Open: 10 a.m. - 6 p.m.
Adoption begins at noon

October 14, 2023
Open: 8 a.m. - noon

Marshall, TX
Marshall City Arena
3310 Poplar St
Marshall, TX 75672

Event details:

Approx. 120 wild horses and burros available

October 14, 2023
Preview: 9-10 a.m.
Bidding: 10 a.m.

Carson City, NV
Northern Nevada Correctional Center
1721 Snyder Ave. 
Carson City, NV

Event details:

Approx. 12-16 trained wild horses and 1 trained wild burro available

October 19, 2023
Open: 8 a.m. - 4 p.m.

October 20, 2023
Open: 8 a.m. - 5 p.m.

October 21, 2023
Open: 8 a.m. - 1 p.m.

Ocala, FL
SE Livestock Pavilion
2232 NE Jacksonville Rd.
Ocala, FL 34470

Event details: 

Approx. 100 wild horses and burros available

October 27-28, 2023

Hurricane, UT
The Legacy Park
5500 W 700 S
Hurricane, UT 84737

Event details:

Approx. 20 trained wild horses and burros available

October 27, 2023
Open: 8 a.m. - 3 p.m.
Auction: 10 a.m., first-come first-served after

Wheatland, WY
Wheatland Off-Range Corral
1005 N. Wheatland Highway
Wheatland, WY 82201
Download Flyer

Event details:

Approx. 40-50 wild horses available

November 3, 2023
Open: 8 a.m. - 5 p.m.

November 4, 2023
Open: 8 a.m. - 1 p.m.

Carthage, MO
Civil War Arena
11838 Civil War Rd
Carthage, MO 64836

Event details:

Appointment preferred. Please email BLM_ES_NSDO_WHB@blm.gov with Attention: Carthage, MO with your preferred pickup day and three time slots.
Approx. 30-70 wild horses and burros available

November 3-4, 2023
Open: 9 a.m. - 4 p.m.

Ewing, IL
Ewing Off-Range Corral
22295 Sheep Farm Road
Ewing, IL 62864

Event details: 

November 3-4, 2023

Heber City, UT
Sage Creek Equestrian Center
3181 W 3000 S
Heber City, UT

Event details: 

Approx. 5 trained wild horses available

November 10, 2023
Viewing: 1 p.m. - 5 p.m.

November 11, 2023
Competitive bid: 10 a.m. - noon
First-come, first-served: 1 p.m. - 5 p.m.

November 12, 2023
First-come, first-served: 8 a.m. - noon

Boise, ID
Boise Wild Horse Off-Range Corrals
Pleasant Valley Road

Event details:

Featuring wild horses gathered from the Owyhee Mountains (Sands Basin, Hardtrigger and Black Mountain herd management areas)

November 14, 2023
Open: 8 a.m.
Adoption: 10 a.m.

Pauls Valley, OK
Pauls Valley Off-Range Corral

Event details: 

This event has been canceled 

December 1, 2023
Open: 9 a.m. - 1 p.m.

Florence, AZ
Florence Wild Horse and Burro Off-Range Corral and Training Facility
2950 E Butte Ave.*
Florence, AZ 85132
* Not accessible from Diversion Dam Rd.- use Butte Ave. access.

Event details: 

Trained and untrained animals typically available
Untrained horses and burros are $125. Trained horses start at $1,000 and trained burros start at $500.
Save time and pre-apply for adoptions/sales utilizing the BLM Online Corral. 
Adoption incentive available

December 12, 2023
Open: 8 a.m.
Adoption: 10 a.m.

Pauls Valley, OK
Pauls Valley Off-Range Corral

Event details: