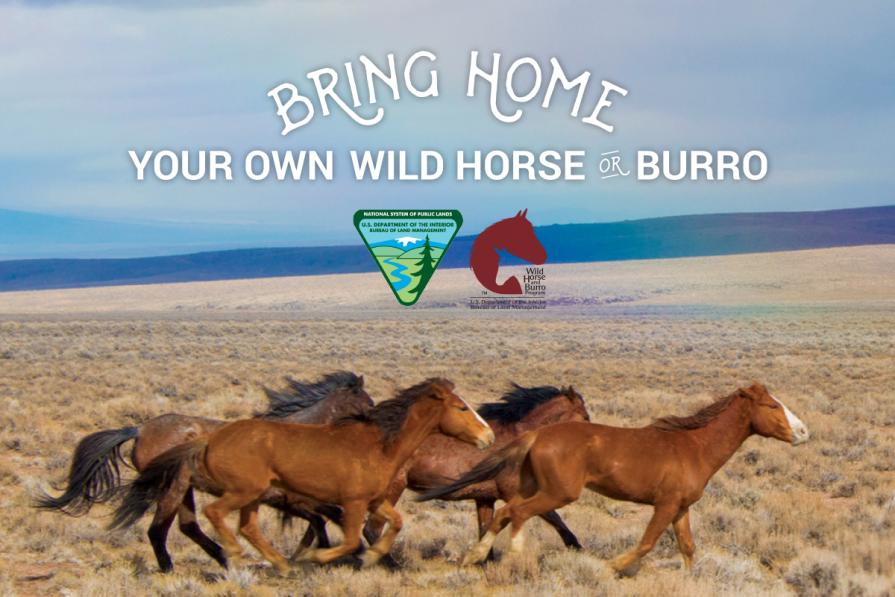 Adoption and Sale Events
The BLM offers wild horses and burros for adoption or purchase at events across the country throughout the year. The most current adoption and sale event schedule is provided below. All times are in local time and subject to change without notice. Please call the Wild Horse and Burro Information Call Center at 866-468-7826 for the most updated information. 
BLM Facility Operations Status
With the phased resumption of normal operations in many states and localities around the country, the BLM is working bureau-wide with federal, state, and local public health authorities to closely monitor the COVID-19 pandemic. The health, safety, and well-being of the public, employees, volunteers, and partners is paramount as we begin to restore normal operations. We are increasing public access to wild horse and burro off-range adoption and sale facilities on a case-by-case basis while examining and regularly monitoring each facility and service provided to ensure we comply with current public health guidance.
Most facilities are open for business, subject to certain limitations (e.g. modified hours, if by appointment, social distancing requirements, etc.) which can be found on the individual facility pages. With public health in mind, the following facilities remain closed at this time:
Facility in Canon City, CO is temporarily closed
Facility in Elm Creek, NE is temporarily closed
Details and updates on operations will continue to be posted here and on our social media channels.
Tentative Wild Horse and Burro Event Schedule
SCHEDULE

LOCATION

July 1-2, 2022
Open: 9 a.m. - 4 p.m.

Ewing, IL
Ewing Off-Range Corral
22295 Sheep Farm Road
Ewing, IL 62864

Event details:

July 1-2

Nampa, ID
TIP Challenge Event
Ford Idaho Horse Park
16114 N. Idaho Center Blvd
Nampa, ID 83687

Event details:

This is the TIP Challenge event where nearly 80 horses will be showcased, some may be up for re-assignment

This event has been canceled. 

July 1, 2022
Open: 
8 a.m. - 3 p.m.

Wheatland, WY
Wheatland Off-Range Corral
1005N Wheatland Highway
Wheatland, WY 82201

Event details: 

40-45 wild horses and burros available
Adoption incentive available

July 5-12, 2022

Online Corral Adoption Event
WildHorsesOnline.BLM.gov

Event details: 

Tentative pick-up options: Port Allen, LA (September 9), West Bend, WI (September 9-10)
Applications should be submitted through the Online Corral by July 3 to participate in the event.
Adoption incentive available

July 8, 2022
Open:
10 a.m. - 6 p.m.
Adoption begins at noon

July 9, 2022
Open:
8 a.m. - noon

Wichita Falls, TX
Wichita Falls Multi-Purpose Event Center (MPEC)
1000 5th St
Wichita Falls, TX 76301

Event details: 

Up to 120 wild horses and burros available for adoption
Adoption incentive available

July 8, 2022
Open:
8 a.m. - 5 p.m.

July 9, 2022
Open:
8 a.m. - 1 p.m.

Windom, MN
Windom Arena
1480 8th Ave
Windom, MN 56101

Event details:

Event is by appointment only. Contact BLM_ES_NSDO_WHB@blm.gov to make appointment. 
Approx. 75 wild horses and burros available for adoption or sale
Adoption incentive available

July 12, 2022
Open:
8 a.m.
Adoption:
10 a.m.

Pauls Valley, OK
Pauls Valley Off-Range Corral

Event details: 

Up to 75 wild horses available for adoption
Adoption incentive available

July 14, 2022

Elk Grove, CA
Rio Cosumnes Correctional Center (R3C)
12500 Bruceville Road
Elk Grove, CA

Event details:

Zoom adoption event. Bidders must register to participate. Pick up July 16. More details here. 

This event has been canceled. 

July 15
Viewing: 
Noon - 6 p.m.

July 16
Open:
7:30 a.m.
Silent bid:
10-11 a.m.

Fort Collins, CO
Colorado State University
735 S. Overland Trail
Fort Collins, CO 80521

Event details:

Up to 70 wild horses from the Sand Wash Basin HMA will be available
Adoption incentive available

July 15, 2022
Open:
8 a.m. - 5 p.m.
Adoptions begin:
9 a.m.

July 16, 2022
Open:
8 a.m. - 1 p.m.

Lake Waccamaw, NC
Boys and Girls Home Exhibition Center
400 Flemington Drive
P.O. Box 127
Lake Waccamaw, NC 28450

Event details: 

Approx. 75 wild horses and burros available for adoption or sale
Adoption incentive available

This event has been canceled. 

July 15, 2022
Open: 
8 a.m. - 3 p.m.

Wheatland, WY
Wheatland Off-Range Corral
1005N Wheatland Highway
Wheatland, WY 82201

Event details: 

40-45 wild horses and burros available
Adoption incentive available

July 22 - 31, 2022

Cheyenne, WY
Cheyenne Frontier Days
Lions Park 
408 S Lions Park Dr (South side of S Lions Park Drive) 
Cheyenne, WY 82001
Download Flyer

Event details: 

Approx. 20 trained wild horses available

August 4-6, 2022

Cle Elum, WA
Washington State Horse Park
1202 Douglas Munroe Blvd. 
Cle Elum, WA 98922 

Event details: 

Up to 60 trained wild horses and burros available. 
This is a TIP-Challenge Event. More details here. 

August 5-6, 2022
Open: 9 a.m. - 4 p.m.

Ewing, IL
Ewing Off-Range Corral
22295 Sheep Farm Road
Ewing, IL 62864

Event details:

August 5, 2022
Open: 
8 a.m. - 3 p.m.

Wheatland, WY
Wheatland Off-Range Corral
1005N Wheatland Highway
Wheatland, WY 82201

Event details: 

40-45 wild horses and burros available
Adoption incentive available

August 9, 2022
Open:
8 a.m.
Adoption:
10 a.m.

Pauls Valley, OK
Pauls Valley Off-Range Corral

Event details: 

Up to 75 wild horses available for adoption
Adoption incentive available

August 12, 2022
Open:
8 a.m. - 5 p.m.
Adoptions begin:
9 a.m.

August 13, 2022
Open:
8 a.m. - 1 p.m.

Doswell, VA
Meadow Event Park
13191 Dawn Blvd
Doswell, VA 23047

Event details: 

Approx. 75 wild horses and burros available for adoption or sale
Adoption incentive available

August 12, 2022
Open:
8 a.m. - 5 p.m.

August 13, 2022
Open:
8 a.m. - 1 p.m.

Franklin Furnace, OH
OH Horse Park
400 Bobcat Ln
Franklin Furnace, OH 45629

Event details:

Event is by appointment only. Contact BLM_ES_NSDO_WHB@blm.gov to make appointment. 
Approx. 75 wild horses and burros available for adoption or sale
Adoption incentive available

August 19-21, 2022

Boise, ID
Western Idaho Fairgrounds
5610 Glenwood
Boise, ID 83714

Event details:

This is the 4-H trail challenge and adoption. Up to 5 trained animals available 
4-H trained yearlings to be showcased in a 4-H trail challenge Aug. 19. Adoption on Aug. 21, first come, first serve

August 22-29, 2022

Online Corral Adoption Event
WildHorsesOnline.BLM.gov

Event details: 

Tentative pick-up options: Carthage, MO (November 4-5), Milton, FL (November 4)
Applications should be submitted through the Online Corral by August 20 to participate in the event.
Adoption incentive available

September 2-3, 2022

Blackfoot, ID
Eastern Idaho Fairgrounds
97 Park Street
Blackfoot, ID 83221

Event details: 

4-H trail challenge on Sept. 2; adoption Sept. 3 of up to 8 horses. 
Adoption first come, first serve

September 2-3, 2022
Open: 9 a.m. - 4 p.m.

Ewing, IL
Ewing Off-Range Corral
22295 Sheep Farm Road
Ewing, IL 62864

Event details:

September 2, 2022
Open: 
8 a.m. - 3 p.m.

Wheatland, WY
Wheatland Off-Range Corral
1005N Wheatland Highway
Wheatland, WY 82201

Event details: 

40-45 wild horses and burros available
Adoption incentive available

September 3-4, 2022

McMinnville, OR
Yamhill County Fairgrounds
2070 NE Lafayette Ave.
McMinnville, OR 97128

Event details: 

September 3, 2022
Open:
10 a.m. - 2 p.m.

Lander, WY
Wind River Wild Horse Ranch Public Off-Range Pasture
8616 Hwy 287
Lander WY 82520
Download Flyer

Event details: 

Approx. 20 wild horses available for adoption
Adoption incentive available

September 9, 2022
Open:
8 a.m. - 5 p.m.
Adoptions begin:
9 a.m.

September 10, 2022
Open:
8 a.m. - 1 p.m.

Port Allen, LA
Louis A. Mouch JR Facility
210 Turner Dr
Port Allen, LA 70767

Event details: 

Approx. 75 wild horses and burros available for adoption or sale
Adoption incentive available


September 9, 2022
Open:
1 p.m. - 4 p.m.

September 10, 2022
Open:
8 a.m. - 4 p.m.
Competitive bid: 
10: 30 a.m.

Riverton, WY
Wyoming Honor Farm
40 Honor Farm Road
Riverton, WY 82501
Download Flyer

Event details: 

Approx. 50 trained wild horses and burros available
Training demo at 1:30 p.m. on September 9

September 9, 2022
Open:
8 a.m. - 5 p.m.

September 10, 2022
Open:
8 a.m. - 1 p.m.

West Bend, WI
Washington County Fair Park
3000 HWY PV
West Bend, WI 53095

Event details:

Event is by appointment only. Contact BLM_ES_NSDO_WHB@blm.gov to make appointment. 
Approx. 75 wild horses and burros available for adoption or sale
Adoption incentive available

September 13 - 14, 2022
Open:
8 a.m. - 5 p.m.

September 15, 2022
Open:
8 a.m. - 4 p.m.

Grand Island, NE
Husker Harvest Days
9000 W Husker hwy
Wood River, NE 68883

Event details: 

Approx. 7 wild horses available
Training demo at 10 a.m., 1 p.m. and 3 p.m.

September 13, 2022
Open:
8 a.m.
Adoption:
10 a.m.

Pauls Valley, OK
Pauls Valley Off-Range Corral

Event details: 

Up to 75 wild horses available for adoption
Adoption incentive available

September 17, 2022
Open:
8 a.m. - 4 p.m. 
Silent bid:
10 a.m. - 12 p.m.

Wheatland, WY
Mantle Ranch
615 S. Antelope Creek Rd. 
Wheatland, WY 82201

Event details: 

Up to 40 trained wild horses available for adoption

September 24, 2022

Laramie, WY
Deerwood Ranch Public Off-Range Pasture
599 State Hwy 11
Laramie, WY 82070

Event details: 

Up to 20 wild horses available for adoption
Adoption incentive available

September 30 - October 1, 2022
Open: 9 a.m. - 4 p.m.

Ewing, IL
Ewing Off-Range Corral
22295 Sheep Farm Road
Ewing, IL 62864

Event details:

October 1, 2022
Open: 
8 a.m. - 3 p.m.

Wheatland, WY
Wheatland Off-Range Corral
1005N Wheatland Highway
Wheatland, WY 82201

Event details: 

40-45 wild horses and burros available
Adoption incentive available

October 7, 2022
Open: 
8 a.m. - 3 p.m.

Wheatland, WY
Wheatland Off-Range Corral
1005N Wheatland Highway
Wheatland, WY 82201

Event details: 

40-45 wild horses and burros available
Adoption incentive available

October 8, 2022

Carson City, NV
Northern Nevada Correctional Center
1721 Snyder Ave
Carson City, NV 89701

Event details:

Approx. 13-20 trained wild horses available for adoption
Competitive-bid event

October 11, 2022
Open:
8 a.m.
Adoption:
10 a.m.

Pauls Valley, OK
Pauls Valley Off-Range Corral

Event details: 

Up to 75 wild horses available for adoption
Adoption incentive available

October 21, 2022
Open: 
8 a.m. - 3 p.m.

Wheatland, WY
Wheatland Off-Range Corral
1005N Wheatland Highway
Wheatland, WY 82201

Event details: 

40-45 wild horses and burros available
Adoption incentive available

October 24-31, 2022

Online Corral Adoption Event
WildHorsesOnline.BLM.gov

Event details: 

Tentative pick-up options: TBD
Applications should be submitted through the Online Corral by October 22 to participate in the event.
Adoption incentive available

November 4, 2022
Open:
8 a.m. - 5 p.m.

November 5, 2022
Open:
8 a.m. - 1 p.m.

Carthage, MO
Civil War Arena
11838 Civil War Rd.
Carthage, MO 64836

Event details:

Event is by appointment only. Contact BLM_ES_NSDO_WHB@blm.gov to make appointment. 
Approx. 75 wild horses and burros available for adoption or sale
Adoption incentive available

November 4-5, 2022
Open: 9 a.m. - 4 p.m.

Ewing, IL
Ewing Off-Range Corral
22295 Sheep Farm Road
Ewing, IL 62864

Event details:

November 4, 2022
Open:
8 a.m. - 5 p.m.
Adoptions begin:
9 a.m.

November 5, 2022
Open:
8 a.m. - 1 p.m.

Milton, FL
Santa Rosa County Fairgrounds
8604 Bobby Brown Rd
Milton, FL 32583

Event details: 

Approx. 75 wild horses and burros available for adoption or sale
Adoption incentive available

November 8, 2022
Open:
8 a.m.
Adoption:
10 a.m.

Pauls Valley, OK
Pauls Valley Off-Range Corral

Event details: 

Up to 75 wild horses available for adoption
Adoption incentive available

December 13, 2022
Open:
8 a.m.
Adoption:
10 a.m.

Pauls Valley, OK
Pauls Valley Off-Range Corral

Event details: 

Up to 75 wild horses available for adoption
Adoption incentive available