Ewing Wild Horse and Burro Off-Range Corral
Established in 2002, the Ewing facility is a 55-acre contracted off-range corral that supports wild horse and burro management activities related to adoptions and sales throughout the Eastern States Region. The Eastern States region covers all 31 states east of and bordering the Mississippi River. Ewing serves as a resting point for animals heading to events throughout the region, a location for potential adopters or purchasers to come and select a wild horse or burro to take home, and a pickup location for our partner trainers as well as a pickup option for animals that were adopted or purchased online.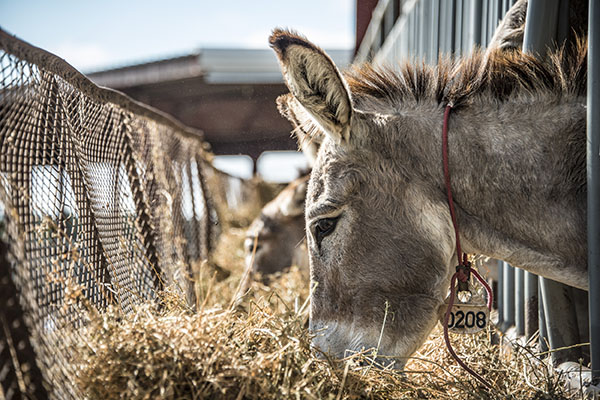 The Ewing off-range corral has a maximum capacity of 300 animals and the average population is around 250 animals year-around. Adoptions and sale events are done by appointment Tuesday, Wednesday and Thursday from 9 a.m. – 4 p.m. or on advertised Friday and Saturday events from 9 a.m. – 4 p.m. on a first come, first served basis. The Friday and Saturday events typically run one weekend a month March through November. Email or fax completed applications to our office. Contact us at jneugeb@blm.gov for more information about the Ewing off-range corral or to make an appointment.
The facility is located about 20 miles south of Mt. Vernon, Illinois, about an hour from the Shawnee National Forest. Traveling south on I-57, take Exit 77 for IL-154, and turn east onto IL-154 just briefly. At the stop, turn left (north) onto IL-37. Go about 1 mile, and turn right (east) onto Ewing Road. Continue for about 6 miles, passing through the town of Ewing. Turn left (north) onto Sheep Farm Rd and go about 1-1/2 miles, there will be a fence line on the left, at the T-stop, turn left (north) onto Bobtail Rd, then left again into the facility. If you use Google Maps, MapQuest, or other GPS, use these coordinates: 38.097011,-88.742673.