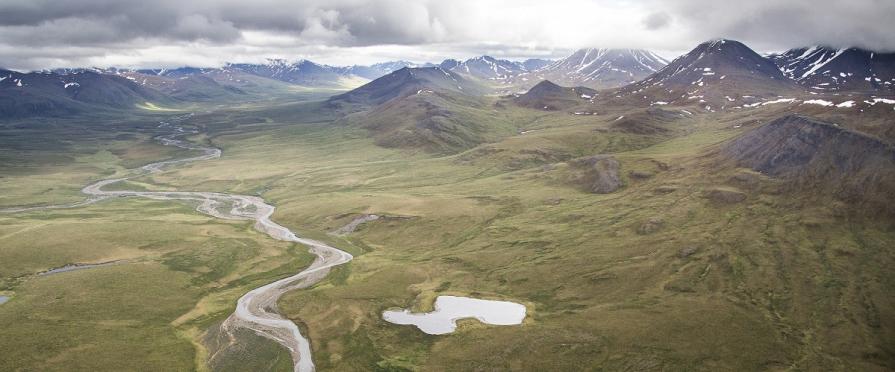 Central Arctic Management Area
Values
The Central Arctic Management Area (CAMA) Wilderness Study Area (WSA) is located southeast of the National Petroleum Reserve in Alaska (NPR-A), north and west of the Gates of the Arctic National Park, and North of the Noatak National Preserve. CAMA consists of 8 individual parcels of land (A-H) totalling 360,060 acres. The smallest parcel contains 11,442 acres and the largest contains 106,171 acres. The WSA is located in one of the most remote locations in the U.S. and consists of a spectacular array of tundra covered hills, mountains, and flatlands. Within the WSA, there is a 29,000 -acre Area of Critical Environmental Concern (ACEC) known as the Nigu-Iteriak ACEC which was established to protect geology and cultural resources. The BLM established a withdrawal within the ACEC to protect the Mesa Archaeological Site, the first well-documented Paleoindian site to be found in the North American Arctic.
Visitation
There is no public road access to the WSA. The closest road is the Dalton Highway, Alaska Route 11, is approximately 105 miles east of the furthest east parcel, and 170 miles east of the furthest west parcel. All access to the general area is by aircraft or boat. The BLM authorizes land use of the area for commercial activities such as: float trips, wildlife viewing and guided hunts. There are currently two permitted guides who may conduct one trip a year in the area.
Visitor Advisory
There are no marked trails in this WSA, and the terrain is difficult, consisting of tussock tundra or mountainous areas.  Visitors must possess knowledge and skill in back country hiking, camping, and navigation. Unless using the services of a commercial guide, visitors are encouraged to file a trip plan including instructions on how to notify search and rescue if overdue. Visitors are also encouraged to carry a personal locator beacon.