Idaho BLM Technical Bulletins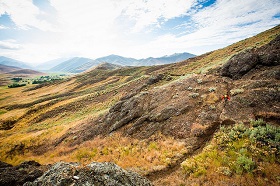 Listed below are Technical Bulletins published by the BLM Idaho State Office.  They cover a variety of topics specific to the needs and processes of BLM Idaho including wildlife and vegetation analyses. 
If an item does not have a link, please contact the BLM Library for access.
IDAHO BLM TECHNICAL BULLETINS: 1980 - 1989

Idaho BLM Technical Bulletin 1985-01
Sage Grouse Population Fluctuations: Evidence for a 10-year Cycle
Rich
1985

Idaho BLM Technical Bulletin 1985-02
Cooperative Wildlife Management Areas: Idaho Wildlife Isolated Tracts Program
Thomas
1985

Idaho BLM Technical Bulletin 1985-03
Habitat and Nest Site Selection by Burrowing Owls in the Sagebrush Steppe of Idaho
Rich
1985

Idaho BLM Technical Bulletin 1985-04
Bowen Canyon Bald Eagle Sanctuary: an Overview
Ketchum
1985

Idaho BLM Technical Bulletin 1986-01
Handbook for Successful Planning, Installation, and Monitoring of Wildlife Waterers
McCarty
1986

Idaho BLM Technical Bulletin 1986-02
Sensitive and Uncommon Plants in the BLM Boise District
Rosentreter
1986

Idaho BLM Technical Bulletin 1986-03
Restoring Winter Game Ranges in Southern Idaho
Rosentreter,Jorgensen
1986

Idaho BLM Technical Bulletin 1986-04
A Bibliography of Riparian Topics with Emphasis on the Intermountain West
Thomas,Wentzell
1986

Idaho BLM Technical Bulletin 1987-01
Vegetation Suitable for Rehabilitating Burned Areas in Southern Idaho
Sherrets
1987

Idaho BLM Technical Bulletin 1987-02
Idaho Big Game Populations and Habitats: Wildlife 2000
Thomas
1987

Idaho BLM Technical Bulletin 1987-03A
Idaho Riparian and Aquatic Protection and Enhancement Program. Part A: Introduction through Idaho Falls District
Thomas
1987

Idaho BLM Technical Bulletin 1987-03B
Idaho Riparian and Aquatic Protection and Enhancement Program. Part B: Salmon District through Technology Transfer
Thomas
1987

Idaho BLM Technical Bulletin 1988-01
An Annotated Bibliography on the Influence of Cattle, Burros, and Human Disturbance on Bighorn Sheep
Marks, Sands
1988

Idaho BLM Technical Bulletin 1988-02
A Bibliography of Riparian and Related Topics with Emphasis on the Intermountain West
Clifton, Thomas
1988

Idaho BLM Technical Bulletin 1988-03
Measuring Cover Using the Wheel-point, Step-point, and Point-frame Sampling Methods
Hanson, Wight, Johnson
1988

Idaho BLM Technical Bulletin 1988-04
An Illustrated Guide to the Sensitive Plants of the BLM Boise District
DeBolt, Rosentreter
1988

Idaho BLM Technical Bulletin 1989-01
Threatened and Endangered Species Training and Inventory Project: Astragalus atratus Wats. variety inseptus Barneby
Smithman
1989

Idaho BLM Technical Bulletin 1989-02
An Annotated Bibliography on the Interrelationship of Elk and Roads
Brown, Jones
1989

Idaho BLM Technical Bulletin 1989-03
An Illustrated Guide to the Sensitive Plants of the BLM Burley District
DeBolt
1989

Idaho BLM Technical Bulletin 1989-04
Wildlife Watering and Escape Ramps on Livestock Water Developments: Suggestions and Recommendations
Sherrets
1989

 

IDAHO BLM TECHNICAL BULLETINS: 1990 - 1999

IDAHO BLM TECHNICAL BULLETINS: 2000 - PRESENT