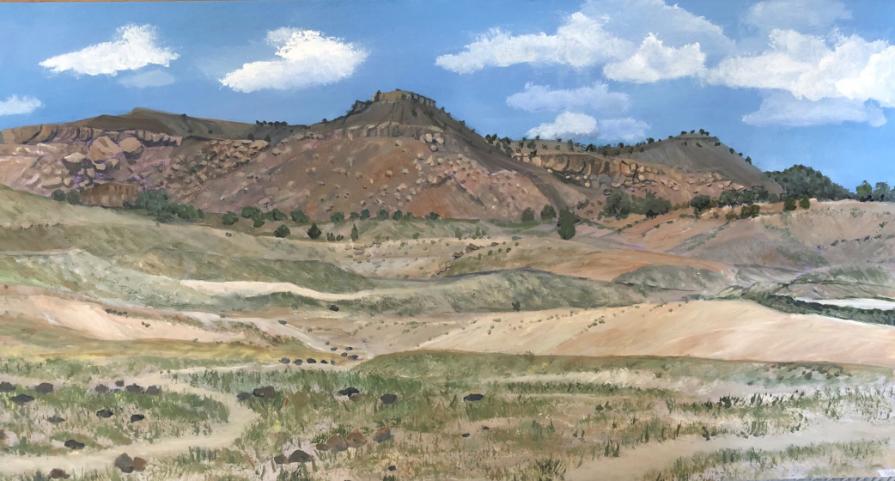 Cleveland-Lloyd Dinosaur Quarry AiR
Cleveland-Lloyd Dinosaur Quarry contains the densest concentration of Jurassic-aged dinosaur bones ever found. Over 12,000 bones (belonging to at least 74 individual dinosaurs) have been excavated at the quarry. Cleveland-Lloyd Dinosaur Quarry has helped paleontologists learn a great deal about the Jurassic period, yet the site presents at least as many mysteries as it helps to solve. Curiously, more than 75% of the bones come from carnivores, primarily Allosaurus fragilis. With more than 46 individual specimens of Allosaurus, scientists have been able to deduce much about how Allosaurus aged and compare individuals to better understand intraspecies diversity. Yet the sheer density of bones proposes many questions. How did the carcasses of so many animals end up in one place, and why are most of them meat-eaters?   While many good hypotheses have been presented they all still have major flaws, so the mystery continues to be unsolved.
2019 Artist-in-Residence 
Terry Willis has been drawn to painting since 1974 when she joined the Navy and began to paint landscapes and seascapes of duty stations on both coasts and in Iceland. Most of this early work has been sold and is no longer available. As a self-taught artist, her style has evolved and progressed. She began painting professionally in 2008 and switched from acrylics to oils in 2009. Terry grew up in Iowa along the Mississippi River. She located to Utah in 1980 after her years in the Navy. Here she was moved by the rugged canyons, peace and solitude found in the wild canyons.  She knew she had found her home. Working as a professional river guide, she shares these places with her clients, seeing firsthand how a little desolation and solitude can change people's lives. Terry brings this passion to her paintings. She strives to capture a moment as light and shadow play across canyons, rivers and ridges. In each creation she works to express the feeling of being alone and at peace in an incredible but real place. Viewing her paintings is like a little respite in the wilderness. Terry's studio is in Price, Utah. Living with her husband, together they enjoy exploring the wild country of the Colorado Plateau and beyond. Each painting has a story behind it that goes hand and hand with the adventures they share.