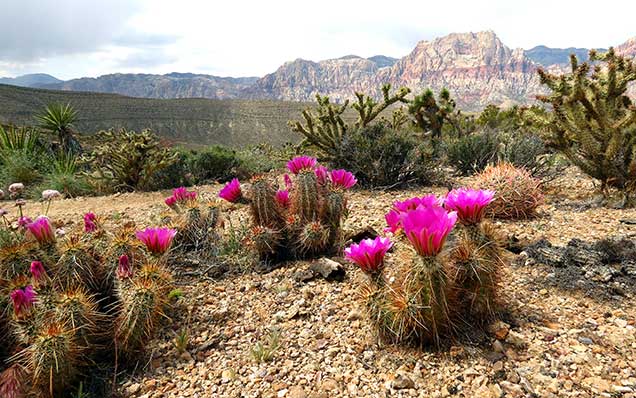 Red Rock Canyon National Conservation Area
Red Rock Canyon was designated as Nevada's first National Conservation Area. The area is visited by more than two million people each year.  In marked contrast to a town geared to entertainment and gaming, Red Rock offers  spectacular desert landscape, climbing and hiking opportunities and interpretive programs sponsored by the BLM Southern Nevada District. The unique geologic features, plants and animals of Red Rock represent some of the best examples of the Mojave Desert.
2018 Artist-in-Residence
Three local artists have been selected for this year's spring residency! Look for them out and about at Red Rock Canyon as they create artwork. 
Angela Brommel, writer; residency dates: March 24-April 7, 2018
Christine Wilson, stained glass artist; residency dates: April 15-29, 2018
Christopher Tsouras, photographer; residency dates: May 1-15, 2018
2018 Artist-in-Residence Workshops
May 5-6      Hike for Poems: Join Angela Brommel, resident poet, for some writing exercises at the Visitor Center. Join her on the trail to get inspired by the views of Red Rock Canyon.
May 12-13    Join Christine Wilson on a hunt for broken glass in Red Rock Canyon. Then work with others to build a mosaic of the desert out of discarded glass. Note: visitors must participate on both days.
May 23-25    Join Christopher Tsouras at the Visitor Center, anytime from 10-2 p.m. and learn how to overcome the challenges of producing unique landscape photographs (please bring your camera).
Registration is required to attend the workshops. For more info. and to register, call 702-515-5367.