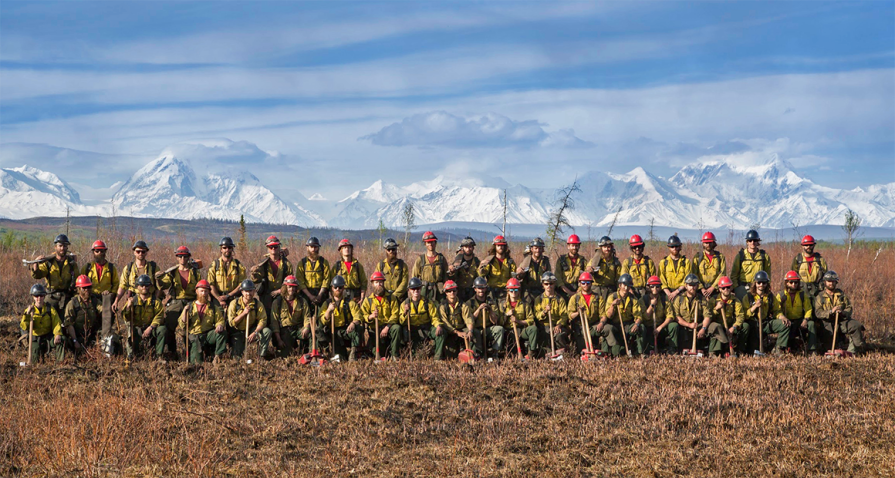 Alaska Fire Service Hotshots
Alaska Fire Service hosts the Chena and Midnight Sun Interagency Hotshot Crews (IHCs). These crews meet National Interagency Hotshot Crew Standards  for wildland fire suppression operations, hazardous fuel reduction programs, and all-risk assignments. Alaska's IHC's specialize in extended attack operations but respond when needed to initial attack fires across Alaska and the lower 48 states. Depending on fire season severity, both crews typically travel to the lower 48 contiguous states to support fire suppression operations across the west.
Crew Organization
Alaska Fire Service IHC's consist of the following individual positions:
One Crew Superintendent (Supt.) (GS-8/9)
One Assistant Superintendent (GS-7/8)
3 Squad Leaders (GS-6/7)
2 Leads (GS-5/6)
15 crewmembers (GS-3/4/5)
Nature of Crew Work in Alaska

Wildland fires in Alaska's Boreal Forest pose unique fire suppression operational and logistical challenges.  Common work conditions include heat, cold, wet, wind, dust,  smoke, and insects—all conditions are possible in a 16 hour shift.

In the field, housing  consists of a tent, and meals consist of field rations (MREs) supplemented with fresh food.  Primitive field conditions for weeks at a time are normal and expected for IHC's.  Cellular phones work intermittently and only in populated areas.  Please see Fire Duty in Alaska for more information.  Typically, when the crews travel to lower 48 assignments, they remain away from their home base for up to 3 months.  

While not on fire assignment, the crew's work consists of a variety of conservation and resource enhancement projects such as prescribed fire, hazard fuel reduction, trail construction and rehabilitation, and building maintenance or construction.  

Employment begins in early May and can last as long as mid-October, or as short as August. 40 hour weeks consisting of 5-8 hour days are guaranteed while in pay status.  16+ hours per day, 7 days per week are common while on fire assignment.  

Hotshot Training

Both of Alaska Fire Service's IHCs spend the first two weeks participating in physical fitness, classroom training, and field exercises.  In addition to required refresher training, critical training may include:

Pre-determined National Wildfire Coordinating Group S-, L-, and I- courses,  as well as other Alaska-field specific training
Field exercises (helicopter, chainsaw, and pump operations)
Prescribed fire

Fitness Standards and Goals

Applicants should expect a crew environment that values working safely and working hard.  Dedication to physical fitness supports these values.  A crew's ability to perform in demanding conditions for extended periods of time ultimately depends on fit individual crewmembers. Those who fail to prepare mentally or physically for the arduous demands of the job will be dropped from the program.

Physical ability to perform arduous labor is critical to crew morale, personal health, and safety. All candidates will be required to complete the Pack Test consisting of a three mile hike with a 45 pound pack in 45 minutes or less. Additionally, all Alaska Fire Service IHC personnel will strive to achieve a 300 point score on the BLM Fire and Aviation Fitness Challenge.

All Alaska Fire Service IHC crew members will participate in the BLM Fire Operations Physical Fitness Challenge the first morning of critical training.  This is a part of mandatory supervised physical training.  The challenge provides a common system by which BLM firefighters can measure current fitness, establish fitness goals, track fitness improvement, and receive recognition for their efforts. The fitness challenge encourages and recognizes achievement in physical fitness by BLM firefighters.

The BLM Fire Operations Fitness Challenge tests participants in four basic exercises: push-ups, pull-ups, sit-ups, and a timed run of either 1.5 or 3.0 miles. Test results are compiled into a final overall score.  The BLM Fire and Aviation Division of Fire Operations will recognize high achievers annually.  
                                            
One's inability to keep up with the group during crew runs and hikes may result in reassignment to other duties.

Most applicants will require a minimum of six weeks of training according to validated physical fitness studies. Most Hotshot positions traditionally start work the first week of May.  Potential Hotshots should begin physical training no later than ten weeks prior to that date.