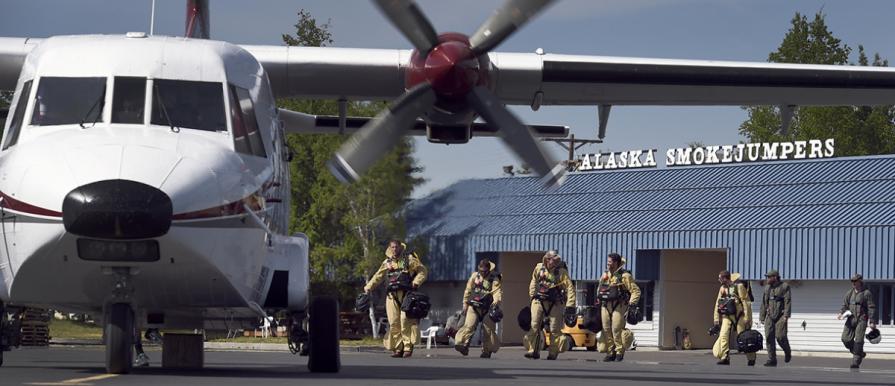 Alaska Smokejumpers
The mission of the Alaska Smokejumpers is to provide users with highly qualified, safe, and aggressive wildland firefighters whom quickly and effectively respond to initial attack, extended attack, and point protection missions in Alaska and the Lower 48 states.  
The Alaska Smokejumpers are a branch of the Alaska Fire Service and the Bureau of Land Management. Since 1959, the Alaska Smokejumpers have protected federal, state and private lands in Alaska and the Lower 48 states from the threat of wildfires. The approximately 80 Alaska Smokejumpers are the primary initial attack force for federally protected lands in Alaska and provide significant assistance to interagency partners in Alaska and the Lower 48 states.
Utilizing high performance fixed-wing aircraft and specialized parachutes, the Alaska Smokejumpers provide a rapid and long-range response capability for a wide variety of wildland fire missions.
The Smokejumper branch is divided into six sections listed below:
Operations
Operations is primarily responsible for the day-to-day supervision and coordination of smokejumpers and smokejumper aircraft.
Approximately 80 BLM Smokejumpers and four jump aircraft are stationed at the BLM Alaska Fire Service facilities on the U.S. Army's Fort Wainwright. Additional smokejumpers and jump aircraft are almost always needed to be brought up from the Lower 48 to assist with fire activity in Alaska. During busy years, the number of smokejumpers operating in Alaska can exceed 200 with up to eight jump aircraft performing jump and/or paracargo missions.
Outstations in Galena, McGrath, Fort Yukon, Kenai, and Palmer are often staffed at times of high fire activity and jumpers can operate out of virtually any other airfield with adequate runway length and fueling capability.
The primary operational season is between April 15 and Oct. 1, but smokejumpers have responded to wildfires in Alaska in every month except January. Typically, after the Alaska fire season moderates by the end of July, Alaska Smokejumpers provide assistance on wildfires in the Western U.S.
Alaska Smokejumpers have assisted with response to downed aircraft, oil spills, hurricanes, floods, and overseas fire assignments.
Air Operations
Air Operations is responsible for the training and management of smokejumper aircraft, pilots, spotters, and assistant spotters.
Alaska smokejumper aircraft consists of three Casa-212-200, a DHC8-106, and a Dornier 228. All aircraft are contracted from 90-120 days with extensions dependent on fire activity. The first aircraft typically starts on April 1 with the last aircraft ending its contract in mid-September.
Aircraft are typically configured to carry eight to 12 smokejumpers, chainsaws, water pumps, and supplies for three days.
The CASA 212 features an in-flight rear ramp that expedites cargo delivery and is capable of deploying palletized cargo. This efficient, rugged, and versatile aircraft is well suited for Alaska operations. The CASA can be configured to carry up to 14 jumpers for training mission and up to three pallets of cargo for paracargo work.
The Dornier 228 is a relatively high-speed aircraft with a long operating range.  This aircraft is very effective when responding to distant incidents that don't require large amounts of pumps and hose.
A DHC-8-106 was field evaluated as a jumpship in 2020. This pressurized aircraft features significantly greater speed, payload, and range than existing jumpships.  Carrying 12 jumpers and significant amounts of fire supplies, the aircraft will be able to respond to most any fire in Alaska without the need to refuel.
A smokejumper spotter is assigned to each jumpship. The spotter is in charge of the mission and is responsible for communicating with dispatch, selecting an appropriate jump spot, coordinating airspace, deploying jumpers, and pushing the paracargo out of the airplane, commonly referred to as "kicking". Spotters are highly experienced jumpers who are selected based on their technical expertise and leadership abilities.
The Loft is responsible for manufacturing jump gear, rigging personnel parachutes, rigger training, and maintaining the airworthiness of all parachute related equipment used by the Alaska Smokejumpers.
All jump gear and equipment, with the exception of the parachutes, are manufactured in the loft. Manufactured items include:  drogue deployment bags, main deployment bags, main containers, reserve containers, parachute harnesses, jump jackets, jump pants, personal gear bags, and pack-out bags. The manufacturing of gear typically takes place in the winter months.
All smokejumpers are trained to rig main parachutes, however, only FAA certified riggers are authorized to rig reserve parachutes.
Minor and major repairs to all jump gear and parachutes are accomplished by loft personnel.
Each jumper's life is dependent on their jump equipment; loft personnel take this responsibility seriously.
Training
The Training section is responsible for the instruction, testing, and tracking of a complex and multi-specialty training program. That includes highly specialized courses in the subjects of wildland fire, rugged terrain parachuting, smokejumper technical skills, field skills, and emergency medical training.
Each spring, returning jumpers must complete a thorough refresher class that takes about two weeks to accomplish. Jumpers must pass a physical fitness test, review wildland fire tactics, demonstrate competence of jump procedures, and successfully perform at least five practice jumps.
Rookie Smokejumper training is one of the most demanding courses in wildland fire. The four-week or longer course is very physically demanding and requires candidates to successfully master a wide variety of smokejumper technical skills.
Training has oversight for an active Emergency Medical Technician program with approximately 40% of the base's smokejumpers certified as EMTs.
Paracargo
Paracargo is responsible for the rigging, loading, and safe aerial delivery of a wide variety of supplies and equipment in support of wildland fire operations.
Most any supply or piece of fire equipment can and has been delivered by paracargo. Packages range from 10-1,500 pounds in size. Large orders are typically palletized for delivery. Typical delivered supplies include food, water, pumps, hose, chainsaws, Zodiac motorboats, and 55-gallon fuel drums.
Paracargo can deliver goods over long distances and is usually faster and more cost efficient than rotor aircraft. Close to 300,000 pounds of cargo are delivered in a typical season with over 792,000 pounds delivered in the busy 2019 season.
With the addition of the Joint Precision Airdrop System (JPADS), the Alaska Smokejumpers can now deliver cargo with zero ground visibility. With accurate GPS coordinates, we can drop emergency food or medical supplies wherever they are needed.
Crew Unit
The Crew Unit comprises the majority of smokejumper personnel and provide the core labor pool for the organization.
Smokejumper crewmembers are the backbone of the operation and perform in many critical specialized roles including:  Emergency Medical Technician, Field Rigging Supervisor, Paracargo Kicker, Operations Specialist, Assistant Spotter, Instructor, Drone Operator and Motorboat Operator.  All jumpers are targeted to perform at the Type 3 Incident Commander (ICT3) and Division Supervisor (DIVS) level. More than 25% of the smokejumpers are ICT3 qualified and 40% are DIVS qualified.
Smokejumper squad leaders serve as spotters and provide leadership, supervision, and mentoring to smokejumpers in their squads.