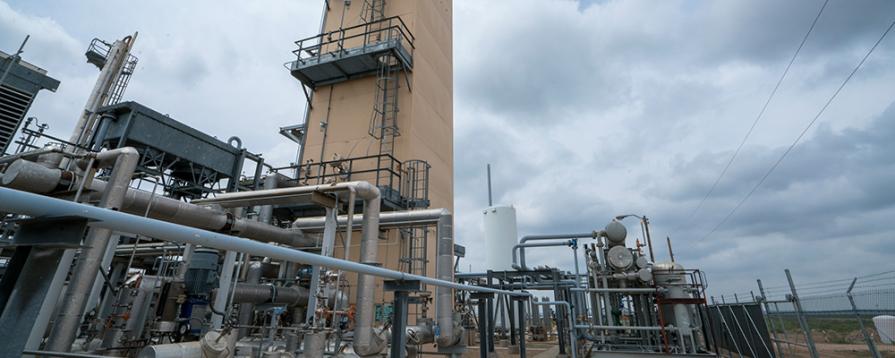 The Federal Helium Program
The BLM operates and maintains a helium storage reservoir, enrichment plant, and pipeline system near Amarillo, TX, that supplies over 20% of the domestic and 9% of the global demand for helium. The BLM supplies crude helium to private helium refining companies which in turn refine the helium and market it to consumers. 
The Federal Helium System is comprised of the following: 
Federal Helium Reserve, 

Cliffside Field, 

Federal Helium Pipeline, and 
All other infrastructure owned, leased, or managed under contract by the Secretary of the Interior for the storage, transportation, withdrawal, enrichment, purification, or management of helium. 
The BLM is also responsible for evaluating the nation's helium-bearing gas fields and providing responsible access to Federal land for managed recovery and disposal of helium. The Federal Helium Program operates using non-appropriated funds, (that is money generated from the sale and storage of helium and other related non-tax revenues). 
Congress enacted the Helium Stewardship Act of 2013 (Act) (HSA) on October 2, 2013.  The act: 
Ensured continued access to Federal crude helium; provides for an orderly transition among three phases, resulting in minimal market disruption to end users; increases taxpayer returns and stimulates investment in private helium sources by selling crude helium at market-driven prices; 

Bolstered transparency by requiring timely and public publication of information related to the Federal Helium Reserve; 
Obtained a global helium assessment that includes forecasts of demand and assessments of supply, and 

Established helium extraction, separation, and conservation research and development programs; and facilitated the development of a long-term strategy for helium acquisition for all Federal users.  
The Act required the Department of the Interior, through the Director of the BLM, to offer for sale, beginning in 2014, a portion of the conservation helium stored underground at the Cliffside Field north of Amarillo. The directed sale of helium was completed by October 1 2018, reaching the targeted value of 3 billion cubic feet of federal stored helium on that date. As directed by the HSA, the BLM transferred the Federal Helium System as surplus property to GSA by September 30, 2021. Details related to the sale of the Federal Helium System can be found at the GSA Property Sales site.

For awareness: Air Products filed a lawsuit in the Northern District of Texas (Case No. 2:23-cv-00147) requesting to enjoin the government from continuing with the sale of the helium system. An update will be shared [or posted] if a decision is made, by a court or the agency, that is likely to affect the current invitation for bid. At this time, however, the current government-run operation of the federal helium system and delivery of helium continues as usual.