Events & Programs at NHOTIC

The National Historic Oregon Trail Interpretive Center is taking its summer performance series on the road!
Coming up is the Nimiipuu Experience presented by Nez Perce Tourism at 6 p.m. Thursday, July 21, at Crossroads Carnegie Arts Center, 2020 Auburn Ave., Baker City, Ore.
This exciting show will open with a grand entry of traditional dancers, drumming and singing. Each style of dance will be thoroughly demonstrated and explained in its entirety. Audiences are invited to take part in a round dance, also known as the Circle or Friendship dance, and enjoy the sharing of live history and celebration.
Immigrant Sean O'Shaughnessy will share their story in "Saints Preserve Us! The Irish in America," portrayed by renowned interpretive educator Mike Follin at 6 p.m. Friday, Aug. 5, at Crossroads Carnegie Arts Center, 2020 Auburn Ave., Baker City, Ore.
Follin will also bring Dr. Balthasar's Traveling Medicine Show to town Saturday and Sunday, Aug. 6 and 7, peddling elixirs and gossip just like any good doctor along the Oregon Trail. Performances are at 11 a.m. and 2 p.m. at Geiser Pollman Park, 1723 Madison St., Baker City, Ore. Whether you come for curing or curiosity, you will certainly be entertained and maybe have a laugh or two.
And of course, while you're on the trail, check out NHOTIC's temporary Oregon Trail exhibit at Baker Heritage Museum, 2480 Grove St., Baker City. For more information, call 541-523-1843.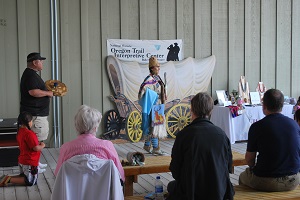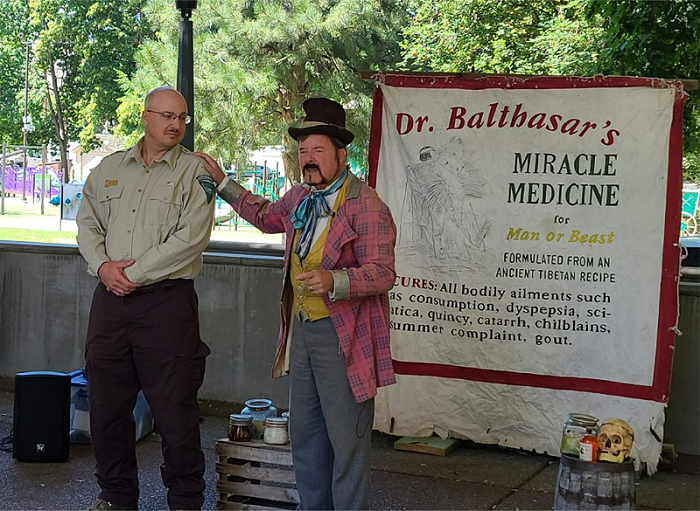 National Historic Oregon Trail Interpretive Center Flickr Album