Wyoming RAC
The BLM Wyoming Resource Advisory Council (RAC) has 10 members and provides advice and recommendations to the BLM on resource and land management issues.

Wyoming RAC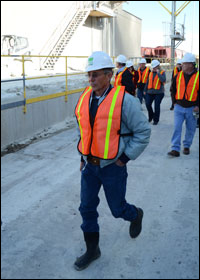 The BLM Wyoming Resource Advisory Council is a statewide advisory council, which provides advice and recommendations to the BLM on resource and land management issues for approximately 17 million acres of federal surface and 38 million acres of subsurface mineral estate in Wyoming.
The purpose of the RAC is to give Wyoming citizens a meaningful say in how public lands are managed. RAC members are selected for their ability to provide informed, objective advice on a variety of public land issues and their commitment to collaboration in seeking solutions to those issues.
Council members are appointed to serve three-year terms on a staggered basis. This means that one-third of the council is subject to appointment or reappointment each year.
The RAC began meeting in 2011. Members serve without salary, but may be reimbursed for travel expenses.
The BLM Wyoming RAC is currently accepting nominations for three vacancies on the council. The nomination period ends Oct. 21, 2021.
We are looking to fill vacancies in the following categories: 
Category 2: one vacancy.
Category 3: two vacancies.
Applicants may nominate themselves or others. All nominations must be accompanied by letters of recommendation. For copies of the RAC application materials and more information about nomination criteria and the application process, please visit the national RAC application page. Completed nominations for the BLM Wyoming RAC may be sent to Brad Purdy via email at bpurdy@blm.gov or by mail to:
BLM Wyoming State Office
Office of Communications
5353 Yellowstone Road
Cheyenne, WY 82009 
If you or someone you know would like information about serving on the council, contact BLM Wyoming at 307-775-6328 or 5353 Yellowstone Road, Cheyenne WY 82009.
| | | | |
| --- | --- | --- | --- |
| Name | Category of Interest | City | Term Expires |
| Jennifer Leinonen | 1: Energy & Minerals | Casper | March 2022 |
| Jim Wilson | 1: Federal Grazing Permittee | Thermopolis | March 2022 |
| Craig Rood | 1: Energy & Minerals | Green River | January 2024 |
| Mel Shumway | 2: Dispersed Recreation | Afton | January 2024 |
| Christi Haswell | 2: Environmental | Sheridan | October 2022 |
| Lyle Konkol | 2: Dispersed Recreation | Casper | January 2024 |
| VACANT | 3: Public-at-Large | VACANT | VACANT |
| John Espy | 3: Elected Official | Rawlins | January 2024 |
| Ronald Surdam | 3: Academican | Jackson | March 2022 |
| Brenda Schladweiler | 3: Academican | Gilette | October 2022 |
|   |   |   |   |