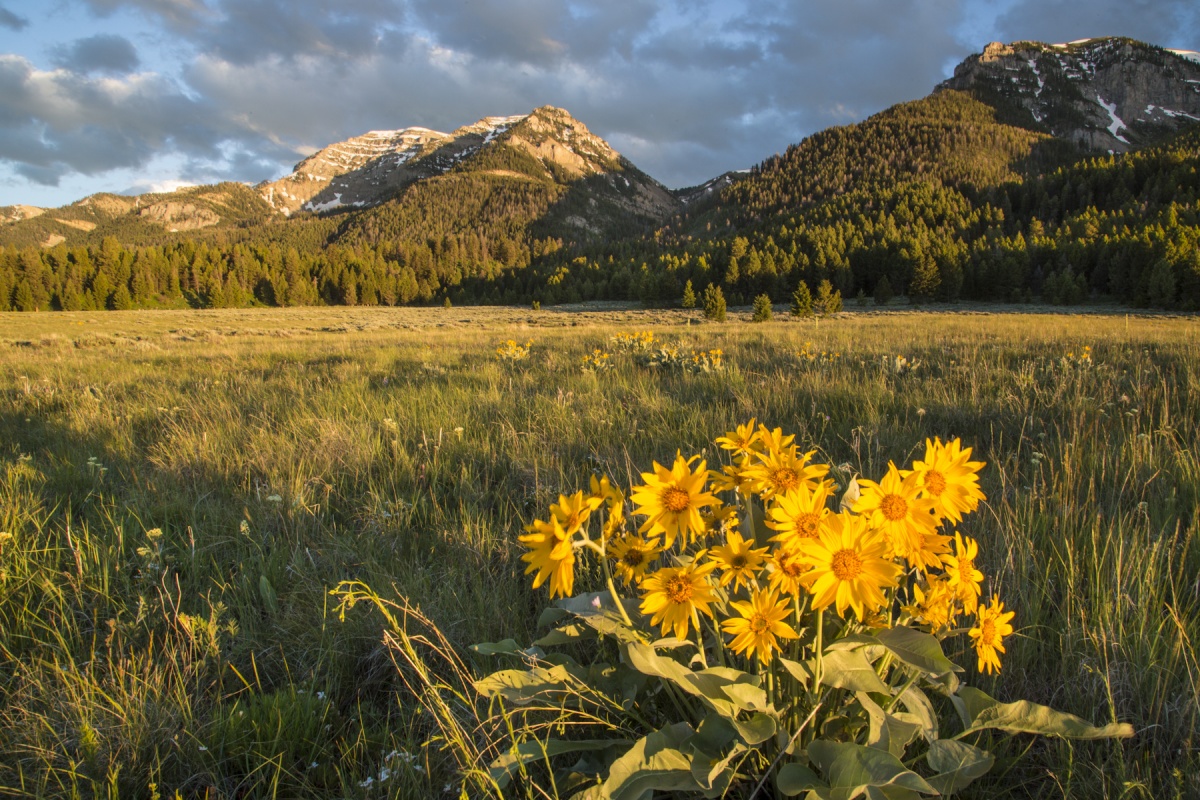 Centennial Mountains WSA
Values
The Centennial Mountains WSA is some of southwest Montana's wildest and most scenic country. Considered an important corridor for wildlife movement, it provides an east-west trending mountain range connecting the Yellowstone Ecosystem with the northern Rocky Mountains.  The Continental Divide forms the southern boundary of the WSA, and the northern face of the range rises nearly 3,000 feet in less than a mile. The climate is harsh and cold with considerable snowfall.  Three hundred sixty-two taxa of vascular plants have been identified in the WSA.  Lower elevation slopes are dominated by stands of Douglas fir with occasional lodgepole pine, Engelmann spruce, alpine fir, and quaking aspen. Higher elevations contain broad alpine meadows with scattered stands of subalpine fir, spruce, and whitebark pine. Wildflowers are especially abundant in mid to late summer.  Abundant wildlife include wolverines, wolves, black and grizzly bears, peregrine falcons, and bald eagle.  The scenic mountains and contrasting colors of the valley provides outstanding opportunities for photography and wildlife viewing. The Hell Roaring Creek area is popular for backcountry skiing.  A 30-mile segment of the Continental Divide National Scenic Trail (CDT) runs through the mountain range.
Visitation
The Centennial Mountains WSA is located in Beaverhead County north of the Continental Divide which is the boundary between Montana and Idaho.  From Dillon, MT, drive I-15 south to Monida and turn east on County Road 509.   Watch for access points into the Centennial Mountains from the county road. The Tipton-Winslow, Odell Creek, and Nemesis Mountain trailheads provide access into the WSA, and these trails connect to the Continental Divide National Scenic Trail. Limited parking is available at the trailheads.
Visitor Advisory
The access road has widely variable conditions throughout the year due to weather.  During most winters, the road is not plowed and is impassable except by snowmobile for over 40 miles from Monida to the Idaho border.  Popped Tires are very common on the county road and there are very limited services in the Centennial Valley, so be prepared before you go.  Motorized travel permitted on designated routes only.  Due to the presence of grizzly bears, proper food storage and carrying bear spray is encouraged.