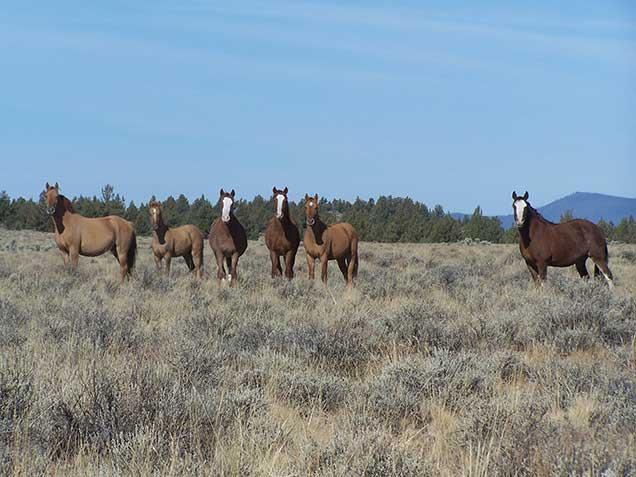 Palomino Butte HMA
Prior to 1977, the herd was largely influenced by local area ranches and horses so that the major type of horse in the area is of the domestic saddle horse variety. In 1977, due to a severe drought, the herd area was gathered and all horses were removed. Horses returned to the herd area have been managed for palomino and red dun color and saddle horse conformation. The Palomino Buttes herd varies in color from palomino, to buckskin, red dun, sorrel and bay. In terms of size, they reach 15 to 16 hands and 1,000 to 1,300 pounds.
Location: The herd area is located 15 miles southwest of Burns, Oregon on the south side of Hwy 20/395.  The HMA runs south and southeast from the highway towards Harney Lake along Double O Road.
Size: More than 71,000 acres.
Topography/Vegetation: Elevation ranges from 4,000 to over 4,900 feet. Palomino Mountain (4950 feet) and Grassy Butte (4520 feet) and Palomino Butte are the main landmarks in the area. Area consists of flat to gently rolling hills and canyons covered with Big Sagebrush, Low Sagebrush and Western Juniper. There are a number of large playas, some with water holes fed by spring runoff. No perennial streams or springs exist in the area.
Wildlife: Mule deer, pronghorn antelope, sage grouse, nesting red-tailed and ferruginous hawks, prairie falcons, and golden eagles share this area with the herd.
AML:  32-64