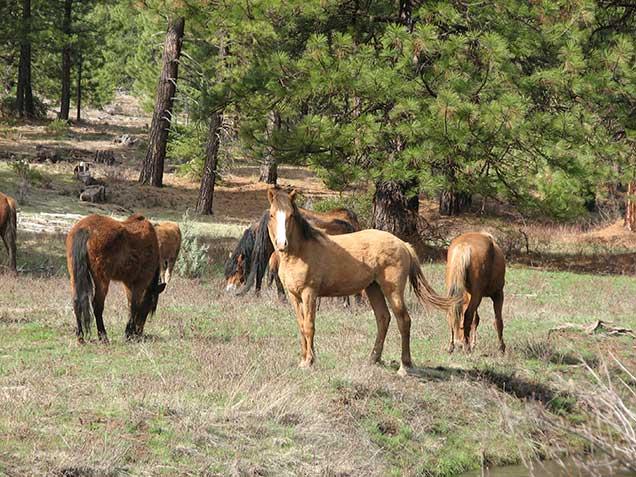 Pokegama HMA
Local residents of the Pokegama area recall seeing bands of wild horses in the area since the early 1900s. The herd currently ranged in color from bay to buckskin, sorrel, black and brown. In terms of size, horses average 14 to 15 hands and weigh 900 to 1,000 pounds.
Location: The Pokegama herd is unique in being the only designated herd area in the Cascade Range. The herd area is located west of the city of Klamath Falls in an area defined by Highway 66 on the north, the Klamath River on the east and south, and Jenny Creek is the west boundary. The HMA lies primarily in Oregon but does include portions in California, north of the Klamath River.
Size: 80,885 acres
Topography/Vegetation: Elevation ranges from 2500 feet at Copco Lake (California) to 5209 feet at Parker Mountain (Oregon). Terrain consists of open meadows, with an abundance of private and federal timberlands. Both annual and perennial bluegrasses, fescues, needlegrasses, brome grasses, muhly, oat grass, medusahead wildrye, and rushes.
Wildlife: Deer, black-tailed and mule, Elk, Bear, quail and numerous non-game species.
AML:  30-50