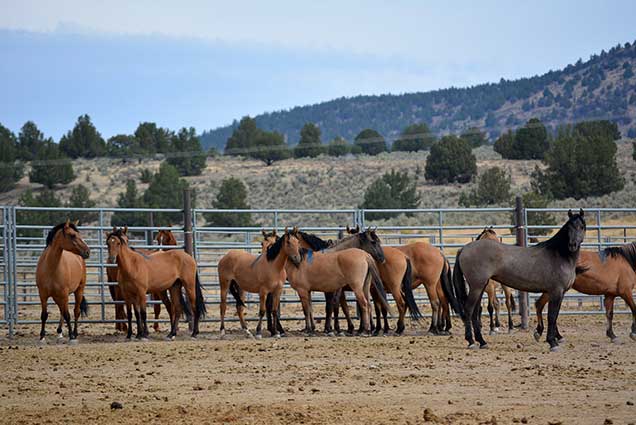 Kiger HMA
Periodically, horses from the Kiger herd are transferred to the Riddle Mountain herd, and vice versa, to maintain genetic diversity. Quality animals with dun factor coloration and Spanish mustang characteristics are returned to the HMA following the roundups to maintain the core of the breeding herd. There is a high demand for adoption of Kiger Mustangs for use as pleasure and breeding stock. They are noted for their intelligence and stamina. Horses in this herd vary in color from dun, grulla, buckin and variations of these colors including dorsal and zebra stripes. Sizes vary from 13 to 15 hands with weights from 750 to 1,000 pounds.
Location: Kiger HMA is located approximately 45 air miles southeast of Burns, Oregon; and 2 miles east of the small town of Diamond.
Size: 36,618 acres
Topography/Vegetation: The Kiger HMA is characterized by gently rolling with occasional rock rims. Some areas are open playa flats while others are dominated by scattered to thick western juniper cover.
Wildlife:
AML:  51-82