Basin and Range National Monument
The Basin and Range National Monument is a vast and rugged landscape that redefines our notions of distance and space and where opportunities for solitude abound. About two hours north of Las Vegas, the 704,000-acre monument includes Garden and Coal valleys, the Worthington and Seaman Mountains, the Golden Gate and Mount Irish ranges, Hiko and White River narrows; and Shooting Gallery rock art site.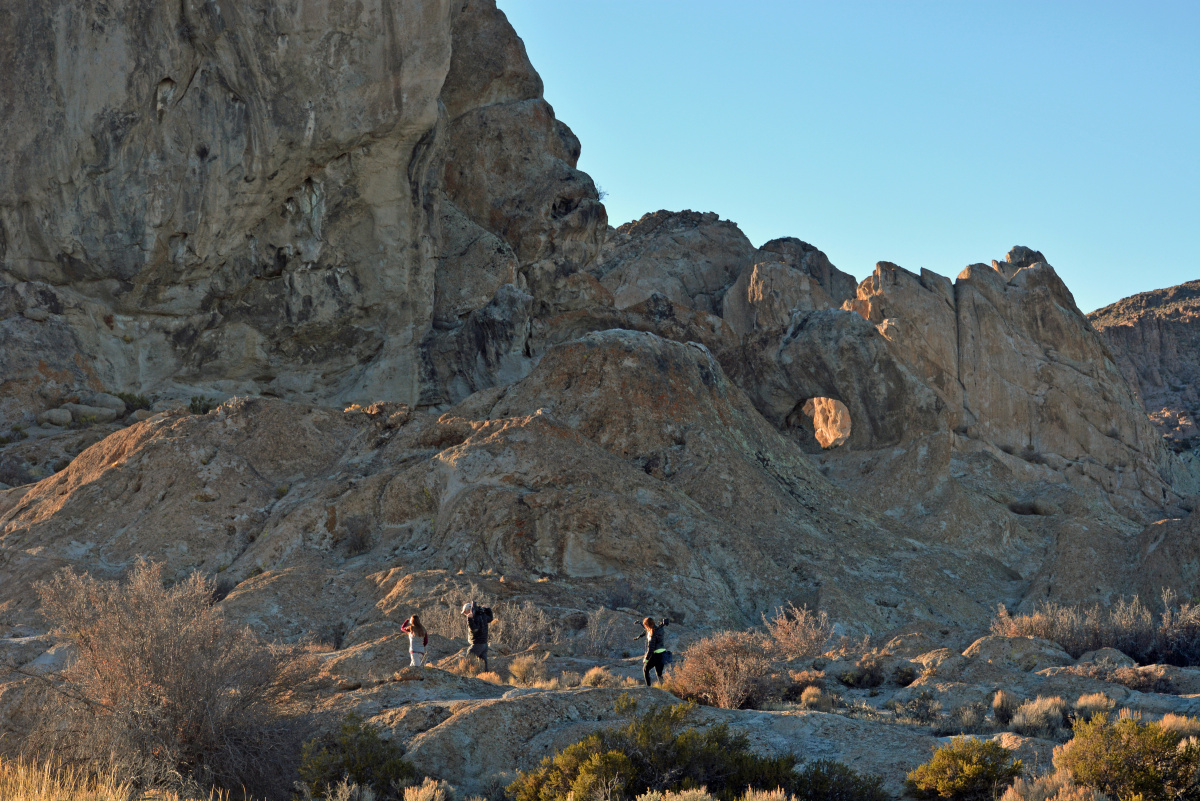 The first national monument managed by BLM in Nevada, the Basin and Range National Monument provides for all types of outdoor recreation, including climbing, hiking, bicycling, camping, hunting, OHV riding (except in the Worthington Mountains Wilderness) and more.
The Basin and Range National Monument was created by Presidential Proclamation on July 10, 2015 because of its unique geologic, natural, cultural, and scientific resources and values.
Take a virtual tour of Basin and Range National Monument cultural sites!
The Basin and Range National Monument is remote and without paved roads or services. To safely enjoy your outing, please recognize the unique challenges that visiting the monument presents. Being prepared will make your visit even more enjoyable.
General
Let friends or family members know where you are going and what time you expect to be back. If you change your travel plans, alert your contact and instruct them to notify local law enforcement (Lincoln County Sheriff's Office) if you do not return as planned. Do not rely on cell phones during your visit as coverage in the area can be unreliable or non-existent.
Vehicle Travel
A four-wheel drive, high-clearance vehicle is recommended.  Please make sure the gas tank is completely filled.  Also check to ensure that the vehicle's tires, including spares, are properly inflated.  Watch out for hazards such as wet and muddy road conditions that can cause a vehicle to sink to its axles. Vehicles traveling together should maintain separation to reduce the chance of all vehicles being impeded by the same hazard at the same time.  If your vehicle breaks down – stay with the vehicle.  Search and Rescue can more easily spot a vehicle than a wandering individual.  The nearest tow service is in Alamo, Nevada.
Emergencies
If you have cell phone coverage, please dial 911.  Make sure to leave your name, phone number, and location, a description of the issue, vehicle type and license plate. 
Hiking
There are no designated trails within the monument.  A good map is necessary (available for purchase at the BLM Ely District and Caliente Field Offices).  Do not rely on a global positioning system (GPS).
What to Wear
For hiking, select sturdy, closed-toed shoes with a comfortable fit, ankle stability, and protection against brush and cactus spines. Wear clothes and carry items that provide protection against the sun, wind, dust and cold temperatures (such as hats, long sleeves, long pants, sunglasses, etc.) and apply sunscreen. Dressing in layers is recommended due to the changeable weather.
Water
Water sources are extremely limited in this area.  Bring and drink at least one gallon (four liters) of water per person per day.  Dehydration can happen regardless of season due to low humidity.
Weather
Eastern Nevada's weather can be extreme and hazardous.  Please look up the local weather forecast before venturing into the monument.
Heat
Temperatures can average 80 to 90 degrees Fahrenheit during the summer months. The best protection against heat is drinking plenty of water and limiting exposure to the sun during the hottest parts of the day. If you feel dizzy, nauseous or get a headache, immediately get out of the sun and drink plenty of water. Dampen your clothing to lower your body temperature. To be safe, bring more water than you think you will need.
Lightning
Thunderstorms and lightning frequently occur in the afternoon during the summer months. To prevent lightning from striking you, avoid high places and seek cover in your vehicle with the windows rolled up. If caught outdoors, crouch down on both feet with your arms wrapped around your knees and wait out the storm.
Flash Floods
When hiking, avoid canyons and washes during rainstorms and be prepared to move to higher ground. While driving, be alert for water running in the normally dry desert washes and across road dips. Flooding occurs here more quickly due to the topography. Do not walk or drive through flood water flowing across a road.
Venomous snakes, scorpions and spiders
Watch where you place your hands and feet. Rattlesnakes, scorpions or venomous spiders may be sheltered behind boulders or under rocks and shrubs. Do not touch, collect or try to kill venomous animals.
Unexploded Ordinance
The area has been and is still in use by the military for training exercises.  If ammunition is found, stay away, locate the site on a map and notify the BLM in Caliente or local law enforcement in Alamo, Nevada.
How do I get to the Basin and Range National Monument? 
Closest towns to Basin and Range National Monument are Ely to the north, Caliente to the east, and Alamo to the south. All three towns are located on US Highway 93. Just north of Alamo, where Highway 93 turns east, State Route 318 branches off and cuts straight north toward Ely. State Route 318 runs along and through the eastern edge of the monument and provides access to several petroglyph sites, including White River Narrows and Mount Irish Archaeological Districts. The Shooting Gallery rock art area is accessed west of Highway 93 near the town of Alamo. By driving up the west side of the monument along State Route 375 toward Rachel, visitors can reach high elevations of the Worthington Mountains Wilderness.
Does BLM charge fees? 
There is no entrance fee on these public lands.  Free camping is allowed for a maximum 14-day stay.
What can I expect when I visit?
The Basin and Range National Monument is remote and has no amenities or paved roads. Cell phone service is unreliable or non-existent. Temperatures vary from below freezing in the winter to above 90 degrees Fahrenheit in the summer. You are advised to take plenty of water, and let someone know where you have gone and when you expect to return. Please be respectful of private property and livestock grazing in the area.
Where can I drive?
Motor vehicles are allowed on existing roads, except in the southwestern part of the monument in Worthington Mountains Wilderness, where mechanized forms of transportation, such as automobiles, ATVs, motorcycles and mountain bikes, are not allowed to protect wilderness values.
Are there hiking trails?
There are no designated trails in the monument, but there are numerous opportunities to explore its landscapes with a good map in hand.  When leaving your vehicle it is important to note landmarks such as mountain profiles, distinctive rock formations, or road and trail intersections that can help locate your vehicle from a distance.
Can I hunt?
Hunting and trapping is permitted on all BLM-administered lands in the monument in accordance with Nevada state law.
Can I collect artifacts, rocks, and plants?
Collecting any historic or prehistoric feature is prohibited, including historic corrals and mining remnants.  Do not touch petroglyphs, as the oils from skin will damage them. Please leave no trace and take only photos and memories.
How do I learn more about the Basin and Range National Monument?
Visit the Friends of Basin and Range webpage at https://basinandrange.org/
Visit the Bird and Hike webpage at https://www.birdandhike.com/Areas/BasinRange_Area/_brnm_toc.htm
Contact the BLM at:
Caliente Field Office
1400 South Front Street
Caliente, NV 89008
(775) 726-8100