BLM Colorado's cultural resources program manages archaeological and historical sites and museum collections. Sites include prehistoric camps, Fremont rock art, Ancestral Puebloan masonry pueblos, Ute Tribes traditional cultural sites, the Old Spanish National Historic Trail, and historic mines and ranches. The Canyons of the Ancients Visitor Center and Museum, near the town of Dolores, is one of three Bureau museums and holds about 3 million objects from the Southwest. 
Features:
• 5 National Historic Landmarks (Lowry Pueblo, Cumbres & Toltec Scenic Railroad, Central City-Black Hawk Historic District, Leadville Historic District and Cripple Creek Historic District)
• 52,938 recorded archaeological and historic sites
• 2 million acres inventoried for cultural resources
• 555 sites listed on the National Register of Historic Places
Golconda Mining Complex Stabilization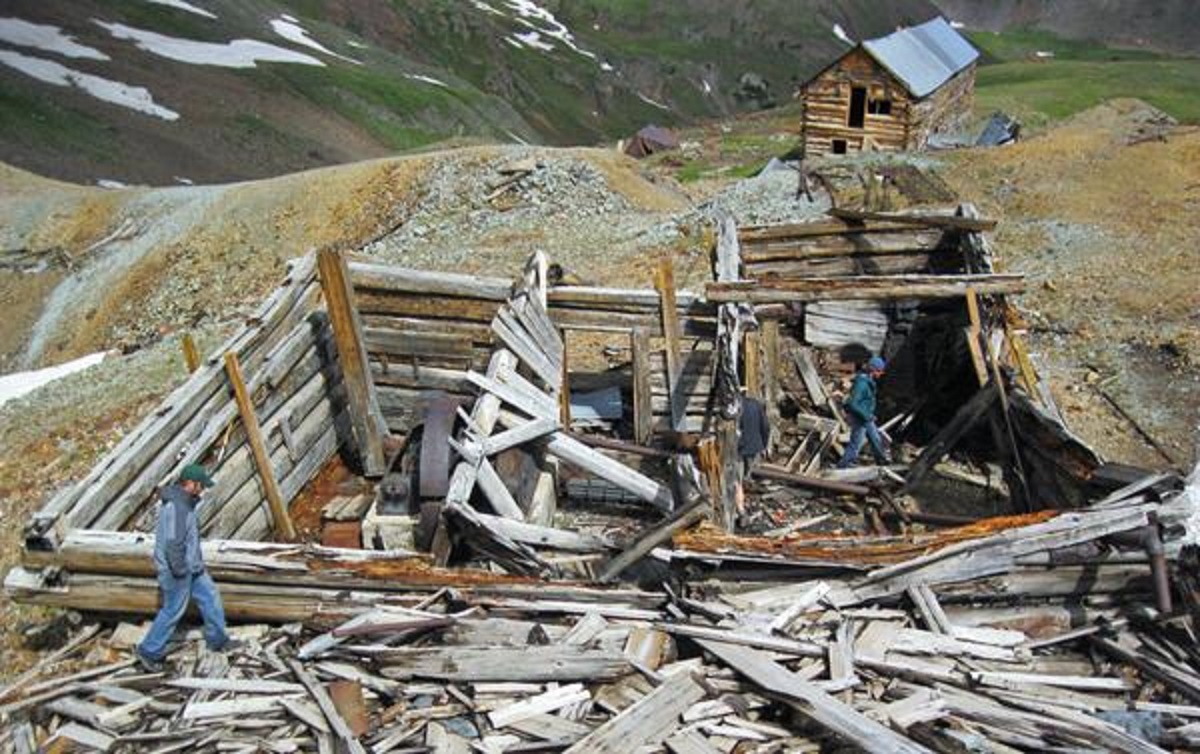 In 2015, BLM Colorado and the Hinsdale County Historical Society completed stabilization of the Golconda Mine Complex, located along the Alpine Loop National Back Country Byway in Southwestern Colorado. In 2012, the BLM and Hinsdale County Historical Society were awarded a Colorado State Historical Fund grant of $135,000 to rehabilitate the area, and construction started in 2013. Because of the complex's high elevation at 12,600 feet, construction season was capped at three months out of each year. Late season avalanches regularly made access impossible. HistoriCorps and the Southwest Youth Corps completed construction work, enduring both extreme winter weather events and onerous construction conditions. Moving 35-foot logs up the tiny and twisty mining road was incredibly difficult and almost required use of a helicopter. Ultimately, a logging company used a skidder to slowly transport logs up the challenging road. Only one additional week of construction was needed in 2015 to address final needs and install two interpretive panels. Now the Golconda Mine Complex is open to the public. The complex features a large boarding house and compressor shop. The boarding house, built in 1920, is a two-story log building that dominates the site. At 98.5 feet long by 18 feet wide, the building is currently the largest standing log structure on the east side of the Alpine Loop. The compressor building contains a forge, a free-standing anvil, a drill steel-bit press, and an air compressor and motor. The boarding house and compressor shop offer visitors a safe and educational tour through one of the most spectacular mining sites along the Alpine Loop in Colorado.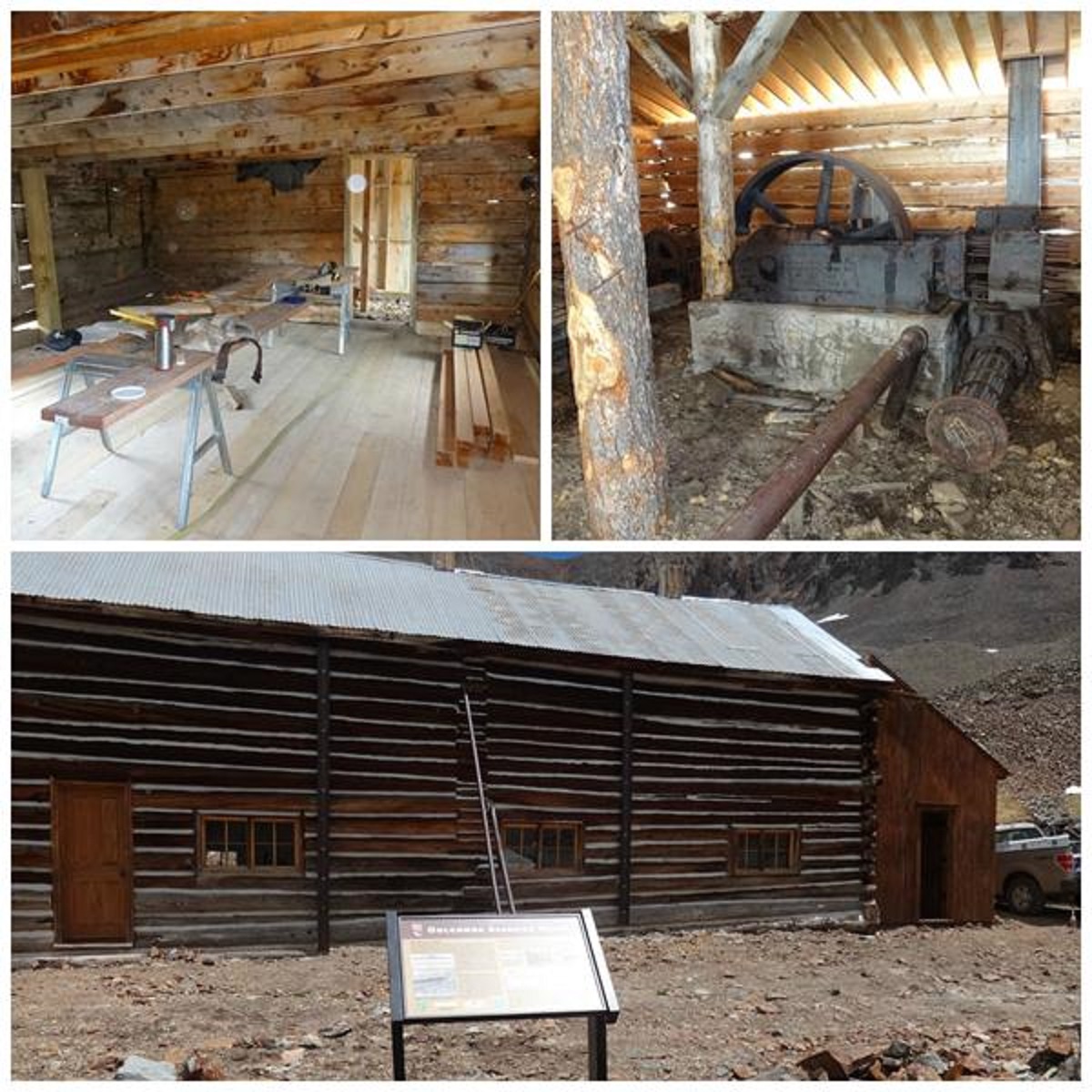 All cultural resource investigations on BLM-administered land require a Permit for Archaeological Investigations is not issued to federal agencies. This permit only applies to federal lands.
All applicants must contact the BLM State Archaeologist before submitting an application. All applicants must submit a completed application form for review and approval. The application can be submitted electronically to Natalie Clark, State Archaeologist/Deputy Preservation Officer (BLM_CO_CR_Permits@blm.gov) For any questions please call 970-244-3038.
Electronic submittals require the signature of the permit administrator (pdf format is acceptable). Applications may take a minimum of 30 days to process.
The field experience of personnel is critical to the application review. They must have at least four months (120-days) of professional cultural resource management experience with comparable cultural resources in similar cultural and geographic areas. Please see our County List for Colorado and adjoining States that qualify as field experience. Other areas do not qualify.
In order to change or renew authorized permits, applicants must submit a completed Modification or Renewal form to the BLM State Archaeologist for review and approval.
A project-specific Fieldwork Authorization Request form is required before commencing fieldwork and is issued by the appropriate BLM field office (contact information is available in this downloadable document). BLM field offices across Colorado have slightly different requirements for permittees. Some offices have prepared documents detailing these requirements, and permittees are encouraged to download them from this site.
All permits adhere to the Colorado Handbook of Guidelines and Procedures for Inventory, Evaluation and Mitigation of Cultural Resources. Further information about the Cultural Resource Use Permit is included in the Handbook.
Colorado permit stipulations require that consultants collect and submit geospatial data to the BLM and provide the agency with digital information following certain specifications. Because the related technology changes at a relatively rapid pace, BLM Colorado prepared a Digital Data Specifications Guide that contains the most current requirements.
Templates for shapefile attribute tables may be downloaded from this site or from the OAHP website. The attribute tables in these templates contain the minimum fields required for site and inventory shapefile attribute, but additional fields may be added. 
All wickiups, platforms, brush fences, or other similar aboriginal wooden or brush structures will require an Aboriginal Wooden Structure Component Form for each structure in addition to the OAHP Prehistoric Component Form. All cultural modified trees will require a Culturally Modified Tree Form, and historic well pads should be recorded with the Historic Well Pad Component Form in addition to the Prehistoric or Historic Component Form.
BLM field offices across Colorado have slightly different requirements for permittees. Some offices have prepared documents detailing these requirements. If you have any questions, please contact the archaeologist in the office issuing the fieldwork authorization.