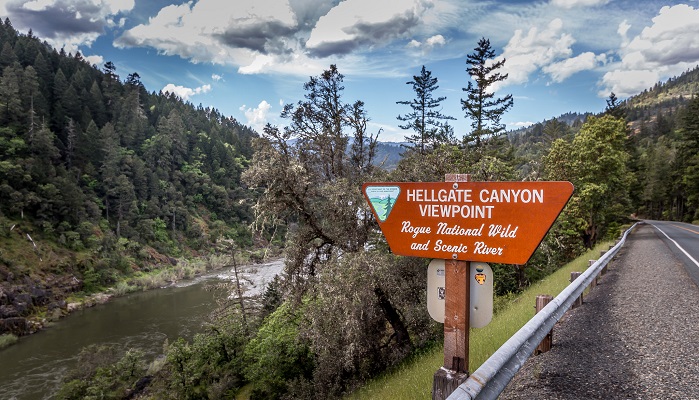 Hellgate Recreation Area
River Home  |  Camping/Hiking  |  History  |  Overview  |  Permits
The Hellgate Recreation area begins at the mouth of the Applegate River, about seven miles west of Grants Pass, Oregon. The area features 27 miles of class I and II rapids, 11 boat access facilities, four campgrounds, and numerous undeveloped sites to fish, swim, picnic, camp, sunbathe, bird watch, photograph nature, and generally enjoy the river the way you choose. Grave Creek marks the end of the Hellgate Recreation Area of the Rogue River and the beginning of the Wild Rogue.
In the Hellgate Recreation Area the Rogue River begins relatively wide and slow, moving through agricultural fields, foothills, and a lot of private property interspersed with public land. As you float downriver the canyon gets progressively deeper and rockier and you get a sense of leaving civilization behind even though a road is always within a quarter mile of the river's edge. That sense of leaving civilization is a reality as the amount of public land surrounding the river increases, human development decreases, nature takes over, and your opportunity to get food, water, gas, medical assistance, and a nice warm bed diminishes. Hot summer weekend days the crowds boating this section of river are at a peak. Some people have said it is like being at Disneyland, but everyone usually has a smile on their face. The river is beautiful and fun!
There are no limits on the number of people, no fees, and no permits required for private use of the river and public lands in the Hellgate Recreation area. There is a 14 day camping limit on all public lands. There are many businesses offering guided river trips, shuttle services, equipment rental, lodging, and supplies to assist you in your visit to the Rogue. River guide businesses are required to have a BLM special recreation permit and state guide license to operate.
Common use of the Hellgate Recreation Area includes whitewater rafting, drift boat fishing, bank fishing, commercial jetboating, camping, scenic driving, swimming, picnicking, and sun bathing. The river is most often floated in a day, but overnight trips are possible. The first 14 miles of this section of river has a lot of private land along its banks, so the public is asked to be courteous and respect private property.
There are four developed campgrounds, operated by Josephine County Parks, on this 27 mile stretch of river. Camping is also allowed on undeveloped public land along the Rogue between Hog Creek and Grave Creek. Because of the large amount of private property between the mouth of the Applegate River and Hog Creek, camping is not allowed along this stretch of river, except in the developed campgrounds.
Total Distance 34 miles - Grants Pass to Grave Creek
Grants Pass - Hog Creek
19 miles - approx. 7 hours
Mostly flat water
Ennis Riffle - Galice Store
1.6 miles - approx. 1 hour
Mostly whitewater 
Hog Creek - Indian Mary Park
2.5 miles - approx. 1 hour
Some whitewater
Galice Store - Almeda Park
3.5 miles - approx. 1.25 hours
Some whitewater
Indian Mary Park - Ennis Riffle
3.2 miles - approx. 1.25 hours
Little whitewater
Almeda Park - Grave Creek
3.8 miles - approx. 1.5 hours
Mostly whitewater  
---
Plan for Success
Several thousand people use the Rogue River every year. On your visit you may encounter many types of recreational activities. Courtesy and cooperation will help everyone enjoy their trip and will discourage the need for regulations.
Cooperation and Congestion

Use boat ramps for transferring boats to and from the river only. Don't use ramps to inflate boats or pack gear.
Give anglers room to fish.
Hog Creek can be a congested area with frequent power boat traffic. If you see power boats waiting to get through, give them an opening. Wait a few minutes and the power boat will be on its way and everyone else can get going at their leisurely float boating pace.

Outdoor Use Ethics

Carry out all trash to keep the river natural.
Toilets are available at developed sites. If you plan to camp at an undeveloped site, bring a portable toilet or other carry-out method. Human waste must be disposed of in an approved toilet system on the river (public or private) or packed out.
Fires are allowed in designated campgrounds only, during the fire season. When the "regulated use" fire season is not in effect, winter and portions of spring and fall, campfires are allowed in a fire pan. Ashes and fire residue are to be packed out. Use only dead and down wood for fires. If you want to cook at an undeveloped site, during fire season, use a gas or propane camp stove.

Permits

Permits are not required for private float trips in the Hellgate Recreation Area. Permits are required for float trips in the wild section of the Rogue River, below Grave Creek, from May 15 to October 15.
Special recreation permits are required for commercial outfitter and guide services in the Hellgate Recreation Area of the Rogue River. Ensure anyone you pay for guide services on the Wild and Scenic Rogue River is a permitted outfitter. To report illegal guides or check if an outfitter or guide is permitted call: 541-618-2273.

Safety Tips

Wear a life jacket in rapids and when swimming.
Swim and boat with at least one other person, so you have help if problems arise.
If you get in trouble swimming in swift water:

Float on your back with your feet downstream.
Wear shoes so you can bounce off rocks with your feet.
Swim to shore in slow moving water.

Avoid Strainers! Brush, fallen trees, boat docks or anything with a current flowing through it is a strainer. Strainers can hold you or your craft in a dangerous position in the water.
Allow others room to maneuver in rapids.
Power boat drivers should allow ample space between themselves and others and should slow down at boat ramps, swimming areas, and parks.
When you see or hear a power boat approaching, move out of the main channel when it is safe to do so. A wave of the hand clearly communicates to the power boat driver that they can proceed.
Don't let drinking ruin your river trip.

Think Twice

Beware: People and items near the water may be soaked or dislodged by the wake of passing craft.
Avoid water fights with power boats. Their passengers often have cameras and clothing that do not fare well in a water fight.