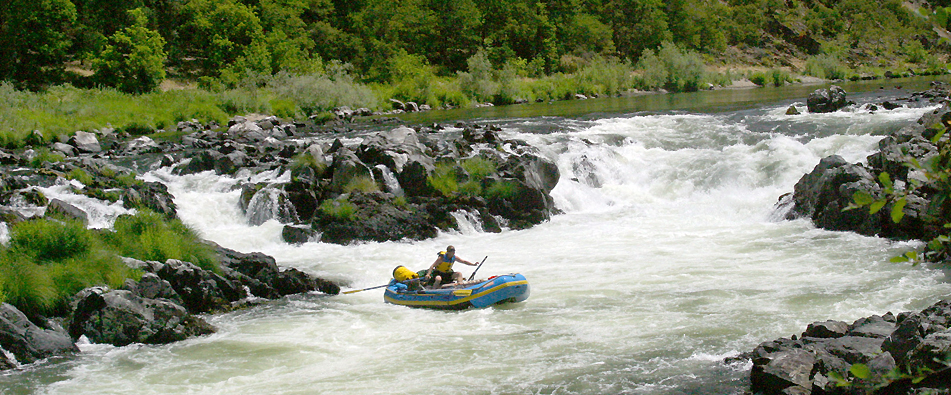 Rogue National Wild and Scenic River
The Rogue is a popular whitewater river located in southwestern Oregon.  From the headwaters near Crater Lake National Park, the Rogue flows 215 miles to the Pacific Ocean at Gold Beach, Oregon.  The eighty-four (84) miles of the lower Rogue, beginning 7 miles west of Grants Pass and ending 11 miles east of Gold Beach was one of the original eight rivers included in the Wild and Scenic Rivers Act of 1968.  It is also designated as an Oregon State Scenic Waterway.  This portion of the river is managed cooperatively by the Medford District BLM and the Rogue River-Siskiyou National Forest.
The Rogue is well known for its challenging whitewater, steelhead and salmon fishery, and extraordinary wildlife viewing opportunities.  It is surrounded by forested mountains and rugged boulder and rock-lined banks.
The river and surrounding areas provide a wide variety of recreational experiences.  Visitors may enjoy car camping or driving along the river, hiking the 40 mile Rogue River National Recreation Trail, rafting through wild rapids, or enjoying a trip down calmer water.  Visitors may experience the river as a private, self-guided group or as passengers of a fully outfitted commercially guided trip.
Unique among boating experiences, groups may float from lodge to lodge in sections of the Rogue or camp along the banks for the full wilderness experience.  For the wild section, the most remote and challenging whitewater, competitively allocated float permits are required from May 15 - October 15.
Check out the Rogue River Float Guide (PDF) and Oregon River Levels for more information. See also the Wild Rogue Wilderness Area page. 
Watch the Wild Rogue River Permit Guidelines Video
All Wild section Rogue River Party Leaders and Commercial guides are required to watch the Wild Rogue River Permit Guidelines Video (short or detailed version) once per year prior to their float trip. It is encouraged that all river users watch the video.
Rogue River Permit Office
Smullin Visitor Center at Rand
14335 Galice Road
Merlin, Oregon 97532
phone: 541-479-3735
fax: 541-479-0535
Year round contact us by email: BLM_OR_MD_Rogue_River_Mail@blm.gov
Hours of Operation
May 5th through October 15th
7:00 am to 3:00 pm - seven days a week
Phone Access Hours - 8:00 am to 3:00 pm
For Commercial Outfitters ONLY:
How to Get a Noncommercial Boating Permit
The Wild section of the Rogue River, Grave Creek to Watson Creek, is a "regulated use" section of river.  This means from May 15th through October 15th the BLM and the U.S. Forest Service permit 120 people per day to launch into this section.  Most parties float the 33.8 mile Wild section in three or four days and take-out at Foster Bar Boat Ramp.  Foster Bar is located 1.7 miles below Watson Creek in the Recreation section of the Rogue.
Commercial boating permits are required year round.  Noncommercial boating permits are required from May 15 through October 15, and cost $10.00 per person, per trip.  There are three methods to get a Noncommercial Permit to float the Wild section during the "regulated use" season.  These methods are: 1) to apply to the Noncommercial Lottery, 2) to call-in to pick-up openings or 3) to show-up at the Smullin Visitor Center at Rand, ready to run a trip, and pick-up last minute openings for that day.
After the lottery, the "call-in" method is utilized by first checking the "Float Space Openings" section on this web page.  The time to check for openings is the first five business days in April and daily, May 5 – October 15.  During this time BLM updates, on a daily basis, the dates and the corresponding number of spaces available.  If you see a date that works for your party, call the Smullin Visitor Center at Rand and try to pick-up the spaces.  This is a competitive call-in process for a popular section of river, and the phone is often busy. Calls are taken on a first-call, first-served basis.
Permits may also be obtained on the "Day of Launch" by showing up at the Smullin Visitor Center at Rand, ready to run a trip, and pick up openings for that day. A permit may be issued if open spaces are or become available on first-come, first-serve basis or by waiting list.
Noncommercial Off-Season/Self-Issuing permits are available for Noncommercial boaters, October 16 through May 14, in front of the Smullin Visitor Center at Rand and at the north end of the Grave Creek Bridge.
How to Confirm & Pay for a Permit Reservation
To receive a Permit: Please read all PDFs for permit regulations and details, then use Confirmation Instructions to confirm and pay for your type of award or reservation to receive your permit.
Float Space Lottery
2017 Wild section Rogue River Noncommercial Permit LOTTERY: CLOSED.
LOTTERY RESULTS: All 2017 Rogue River Lottery applicants received a notification email that determined whether they were successful or unsuccessful in the lottery on Feb. 10, 2017. The applicants may also log into their Recreation.gov account for the results and further details.
All successful permit reservations and future float space openings will be processed by the Smullin Visitor Center at Rand. Successful applications please use the "How to Confirm & Pay for a Permit Reservation" details on this page.
The BLM has partnered with Recreation.gov for administration of the Wild section Rogue River Noncommercial Permit Lottery!
Float Space Openings
Click here to view current float space openings.