Campbell Creek Science Center

Ignite Your Natural Curiosity
Imagine the discoveries you will make as you explore Alaska's natural world. The Campbell Creek Science Center's dynamic outdoor programs spark curiosity and build connections with nature for people of all ages.
The Science Center is the perfect outdoor classroom where learning and science come to life. Here, everyone is a scientist. Let us guide your journey.
Campbell Creek Science Center Draft Business Plan
The BLM is seeking public comment on its proposal to impose new fees and adjust existing fees associated with use of Campbell Creek Science Center (Center) amenities and services by February 12, 2022.
Learn more about the proposed fees and the Center's mission, programs, and services in the proposed Campbell Creek Science Center Business Plan. Please mail public comments to the BLM Campbell Creek Science Center or via email sciencecenter@blm.gov. 
It is the 25th Birthday of the BLM Campbell Creek Science Center! 
The Science Center is going to celebrate all year long with a variety of programs, events, and special social media posts. Stay tuned since you're invited to our year-long party!  
What memories do you have of the Science Center? Share your stories and photos with us using #25YearsOfCCSC or emailing us at sciencecenter@blm.gov! 
Hours
UPDATE: Campbell Creek Science Center remains temporarily closed but is providing virtual programs, distance learning, and self-guided resources. Explore the activity calendar, Nature Learning Resources, and call 907-267-1247 or email us with questions.

The Science Center Road gate is also closed. The trails are open.

We look forward to working with you in person again in the future!
Contact the BLM Campbell Creek Science Center
Phone Number: (907) 267-1247
TTY/Federal Relay System:  1-800-877-8339
Fax: 907-267-1258
Email: sciencecenter@blm.gov
Address: 5600 Science Center Drive Anchorage, AK 99507
Directions 
Take Elmore Road from Tudor, Dowling, 68th, or Abbott.
Just south of the Elmore Rd./68th Ave. stoplight, go east onto BLM Road near the large brown sign saying "Campbell Tract."
Travel 50 yards to a "Y" in the road and go left onto Science Center Drive, following the large black "Campbell Creek Science Center" sign.
Travel ¾ mile on Science Center Drive to the large CCSC parking lot at the end of the road. Please park here.
Follow the paved path lined with fish art near the large black CCSC sign around to the front of the CCSC building and you've arrived! Welcome!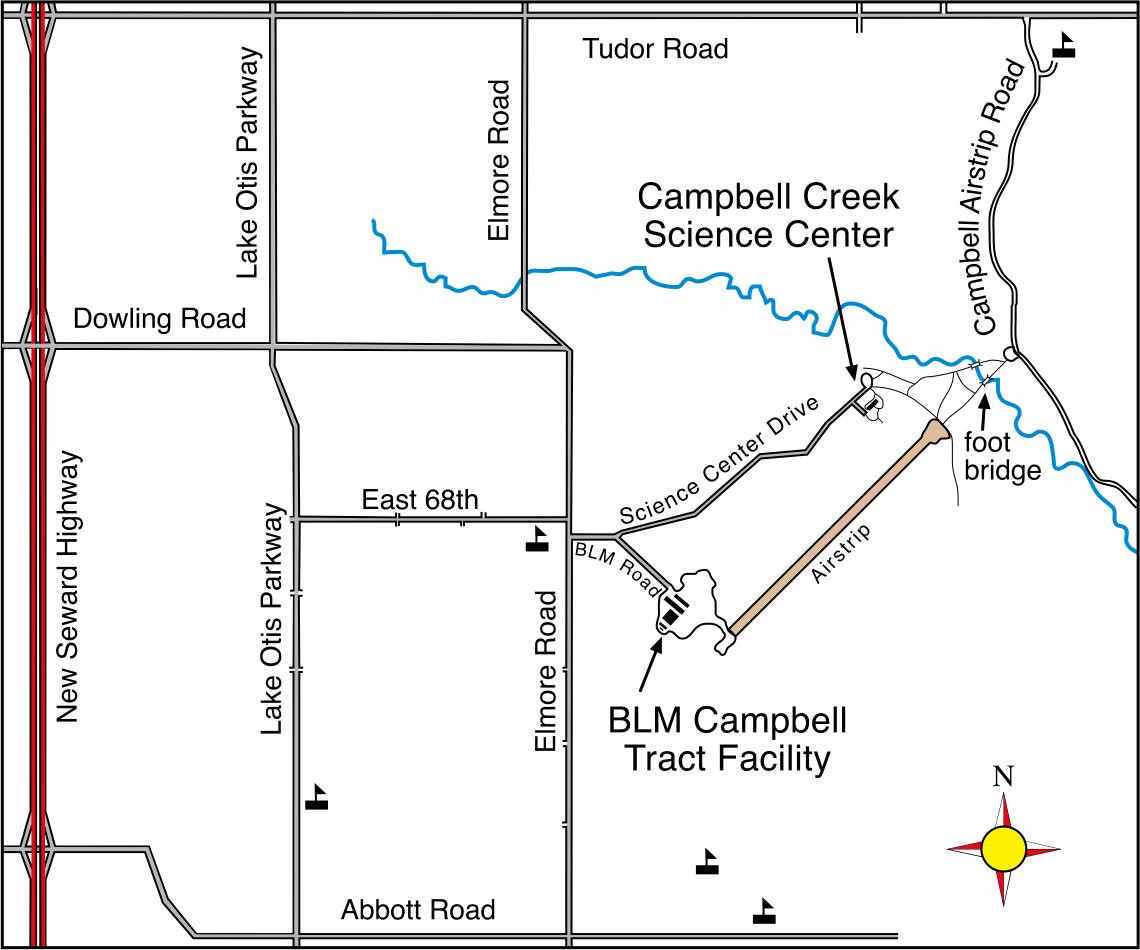 Come prepared!
Be there wind, rain, sunshine, or snow…we WILL be outside! In winter, it's not unusual for Campbell Tract to be 10 degrees colder than the official Anchorage temperature. As a result, coming dressed in the appropriate attire will serve to enhance your personal comfort as well as your overall experience. If at all possible, do not wear cotton clothing. When wet, cotton will not keep you warm. Instead, wear wool or synthetics (fleece or polypropylene). These materials wick water away from your skin and keep you dryer and more comfortable than cotton.
Cold Weather:
long underwear; tops & bottoms (recommended)
warm shirt
heavy sweater
warm socks
snow pants
warm winter coat
warm hat
warm gloves or mittens
face mask or scarf
insulated boots
optional: hand warmers
Warmer Seasons:
long sleeve shirt
waterproof or resistant shoes or boots  (suitable for hiking)
rain gear, tops & bottoms
optional: sunscreen & hat to shield sun