Canyons of the Ancients National Monument
Virtual Visitor Center
Following guidance from the CDC and recommendations from state and local public health authorities, the Tres Rios Field Office is temporarily restricting in-person access to Canyons of the Ancients Visitor Center and Museum. Please call the office for customer services that may be available by phone, email or in-person at 970-882-5600. Visitors may still continue to enjoy the BLM trails and open space areas of the Monument.
While the Visitor Center and Museum are currently closed there are plenty of camping, hiking, and other recreational opportunities available at Canyons of the Ancients National Monument. Review these Frequently Asked Questions for more information about what you can do at the Monument.
Camping and campfires are prohibited in front-country recreation areas (i.e. Pueblo sites, Sand Canyon/Rock Creek, and Canyons of the Ancients Recreation Management Areas) and all trailheads.  Camping and campfires are allowed in backcountry areas throughout the Monument but are prohibited in archaeological sites and within 300 feet of water sources (ponds, springs, streams etc.) and developed areas (trails, kiosks, parking areas etc.). Check out the dispersed camping tip sheet for additional information. Also make sure you download the Transportation Map! Check for local or regional fire restrictions.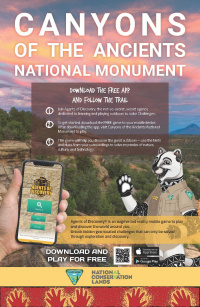 Kids! Are you ready to discover Canyons of the Ancients? Learn how to download and play the Agents of Discovery App
---
Canyons of the Ancients National Monument
Canyons of the Ancients National Monument (the Monument) encompasses 176,000 acres of federal land administered by the Bureau of Land Management (BLM). The Monument is located in the Four Corners region of southwestern Colorado, about 50 miles west of Durango, 10 miles west of Cortez and 12 miles west of Mesa Verde National Park. The Monument was designated on June 9, 2000 by Presidential Proclamation to protect cultural and natural resources on a landscape scale.
The Monument contains the highest known archaeological site density in the United States, with rich, well-preserved evidence of native cultures. The archeological record etched into this landscape is much more than isolated islands of architecture. This cultural landscape contains more than 6,355 recorded sites reflect all the physical components of past human life: villages, field houses, check dams, reservoirs, great kivas, cliff dwellings, shrines, sacred springs, agricultural fields, petroglyphs and sweat lodges. Some areas have more than 100 sites per square mile. The number of sites is estimated to be up to 30,000.
The Monument has been used or inhabited by humans, including the Northern Ancestral Puebloan culture (or Anasazi), for 10,000 years, and continues to be a landscape used by humans today. Historic uses of the Monument include recreation, hunting, livestock grazing and energy development.
The approved plan determines how to protect objects of scientific and historic interest identified in the Proclamation (e.g., archaeology, geology, biology), and how historic uses will be managed.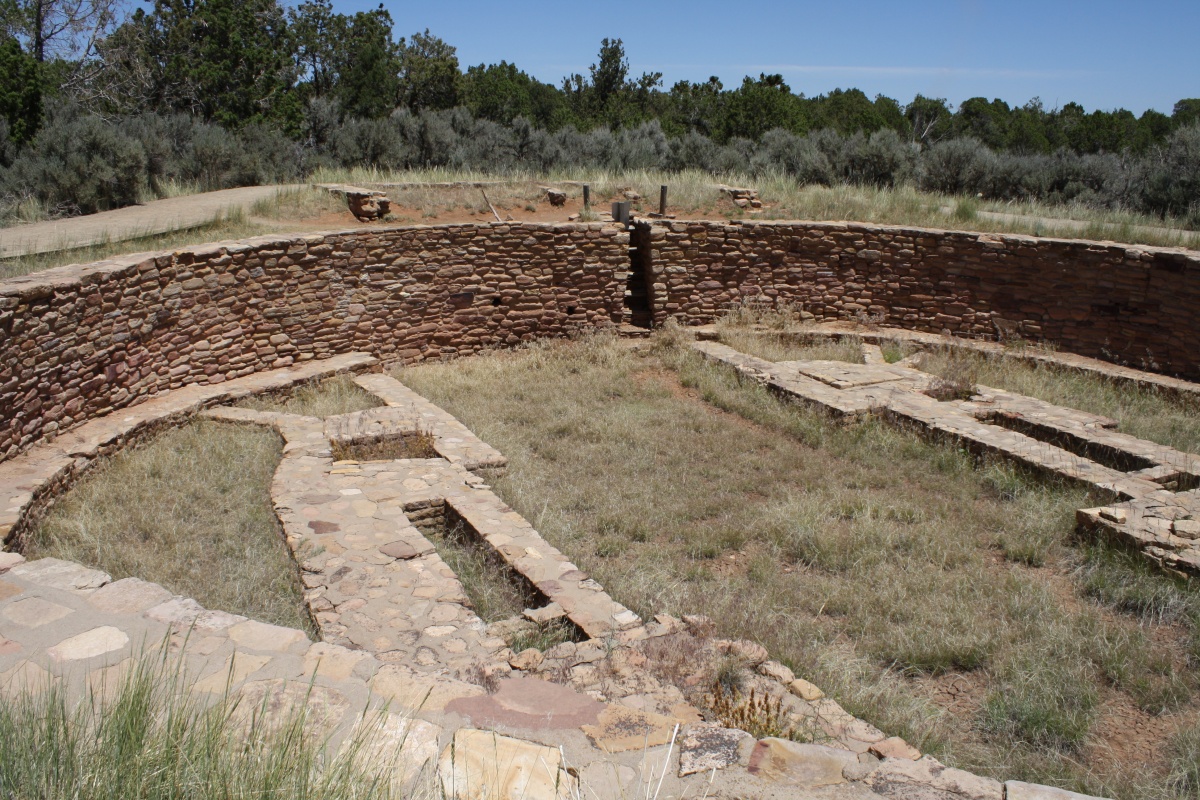 The Canyons of the Ancients Visitor Center and Museum is southwest Colorado's premier archaeological museum of the Ancestral Puebloan (Anasazi) and other Native Cultures of the Four Corners region. The museum features:
Permanent exhibits on archaeology, local history and Native American cultures
Two 12th-century archaeological sites
Special exhibits and events
Educational resources for teachers
A research library of archaeology and anthropology resources
A research collection of more than 3 million artifacts and records from archaeological projects in southwest Colorado
A picnic area, a half-mile nature trail and a gift shop