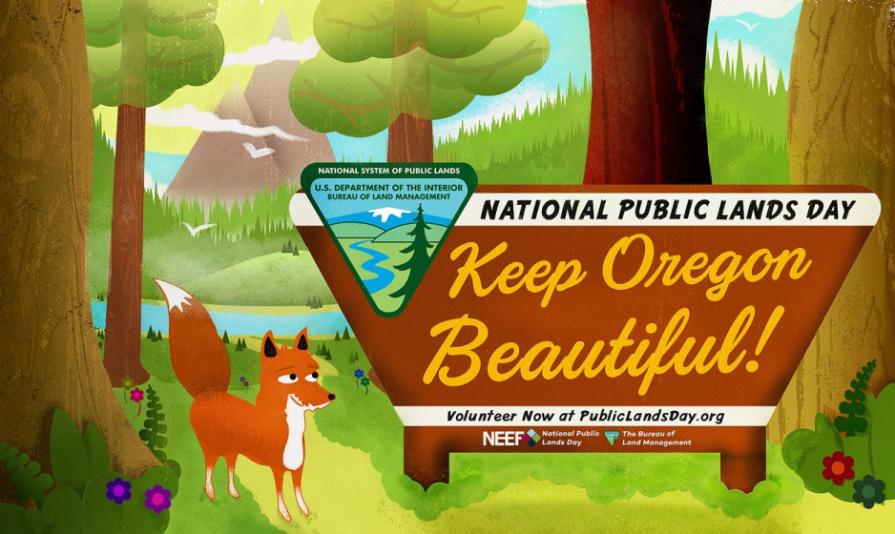 Oregon/Washington National Public Lands Day
Our nation's public lands have been the beneficiary of tens of thousands (yes, tens of thousands) of volunteers contributing their time and energy to help make a difference! Once a year, at the end of September, the Bureau of Land Management has the distinct pleasure of hosting numerous National Public Lands Day events across Oregon and Washington. All ages and abilities get involved helping to restore, beautify, and improve the wild lands and recreation areas we all benefit from and enjoy. As the BLM is committed to providing opportunities for all of us to connect or reconnect with our nation's outdoors, National Public Lands Day continues to be a great way that we make sure we get it done.
The range and diversity of National Public Lands Day events over the last couple of decades has been immense! Over the years, nearly 500 BLM Oregon/Washington projects have accomplished important work, and included such great efforts as:
weed removal and trail maintenance at the Leslie Gulch Recreation site in southeast Oregon;
picking up trash and clearing brush from the Blue Ridge trail system in the Coos Bay area;
dozens of volunteers at Lopez Island in the San Juan Islands removed thousands of pounds of trash from the BLM national monument in Washington state;
Boy Scouts and local partners worked together to clean up the Stewart Pond area of the West Eugene Wetlands; and
the Lakeview High School, Oregon Natural Desert Association and a local Boy Scouts of America troop cleaned up miles of old fencing at Devils Garden Wilderness Study Area!
Since the event's inception decades ago, nearly 25,000 volunteers in the Pacific Northwest have come to lend a hand and help improve public lands. They've ranged from Girl Scouts and senior citizens to corporate executives and members of Congress, but they all have one thing in common: enjoyment and appreciation for our public lands! It should go without saying that many of these projects could not have been completed without the aid of the dedicated volunteers and BLM employees who are committed to making a difference for YOUR public lands.
For all of the National Public Lands Day events, BLM works to make sure volunteers have everything they need to get down to the business of beautifying YOUR public lands. Tools, safety equipment, and materials needed for each year's projects are furnished by the BLM. As a huge "Thanks" to our volunteers, anyone who pitches in at a National Public Lands Day project will receive a commemorative t-shirt and a "Fee-Free Coupon," good for free admission to any federal recreation site. These coupons can be used anytime during the following year at sites including those managed by the BLM, the National Park Service, U.S. Fish and Wildlife Service, USDA Forest Service, and the U.S. Army Corps of Engineers.
Public lands are the places Americans come to for outdoor recreation, education, and other enjoyment. These lands include national parks, monuments, wildlife refuges, forests, grasslands, marine sanctuaries, lakes, and reservoirs, as well as state, county, and city parks that are managed by public agencies, but that belong to and are important to everyone.
Volunteering on National Public Lands Day is a great opportunity to spend time with family and friends and enjoy the many benefits that come from connecting outdoors with nature.
To find a National Public Lands Day event near you head on over to:
or contact your local BLM office at:
www.blm.gov/office/oregonwashington-state-office
To see a full range of the types of National Public Lands Day opportunities, head on over to:
https://www.flickr.com/photos/blmoregon/albums/72157671033907184