Mineral Assessment of the Delta River Mining District, East-Central Alaska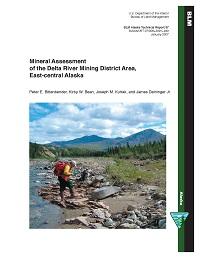 This report summarizes the Bureau of Land Management (BLM) mineral assessment of the Delta River Mining District study area in east-central Alaska. Between 2001 and 2005, the BLM examined mines, prospects, and mineral occurrences in the 2.9-million-acre study area. This investigation is part of the BLM's ongoing program of mineral assessments of mining districts in Alaska authorized by the Alaska National Interest Lands Conservation Act (ANILCA), 1980.
BLM investigators collected about 1,460 samples to evaluate 205 mineral occurrences and reconnaissance sites in the Delta River study area. A total of 252 mineral occurrences are recognized in the district by the BLM study. Of these, 205 were examined during the course of this study and about 110 are described in detail herein.
The main deposit types in the district are mafic and ultramafic-hosted nickel-copper-PGE deposits, skarns, volcanogenic massive sulfides, and placer gold deposits. Additional significant occurrences of varied deposit type are also present (e.g., basaltic copper, gold-quartz vein, porphyry, pegmatite-hosted). The only mineral production from the district is gold and minor platinum from placer gold deposits. Most of this production is from small-scale operations. Placer gold production began around the turn of the twentieth century and continues today. Millions of dollars annually are currently being spent by the international mineral industry to assess the mafic-ultramafic rocks in the southern part of the district for their potential nickel-copper-PGE deposits.
BLM investigators collaborated with other federal and state agencies to conduct the Delta River Mining District mineral assessment. A State of Alaska collaboration resulted in an airborne magnetics and resistivity survey that defines the mafic-ultramafic complexes in the southwestern part of the study area. A U. S. Geological Survey (USGS) collaboration resulted in a magnetotelluric and gravity investigation that allows modeling of the mafic-ultramafic complexes at depth, and suggests the presence of a dense, conductive body at the core of the largest complex in the area. Another USGS collaboration allows the BLM to present a modern stream sediment sample dataset from the southern part of the Mt. Hayes quadrangle that includes PGE analyses. The data suggest an eastward extension of the PGE potential in the study area.
Argon (40Ar/39Ar) isotopic age dating and petrographic analyses of mafic-ultramafic rocks from the southwestern part of the study area were compared to the southeastern part of the area where geochemistry suggests PGE potential, but where no lode occurrences are known. The dating indicates a Cretaceous mafic-ultramafic intrusive event in the southeast compared to a Triassic event in the southwest. Petrography suggests a possible sulfide association of PGE in the southwest and an oxide association in the southeast.
Files
Publication Date
Fri, 02/16/2018
Organization
Collection: BLM Library
Category: Report