From failed meet cute to forever; A life changing journey to Mustang Mania
Paula Cook, Special Contributor
If you met Kylie Rhodes (now Rice) a little over two years ago she would have told you she had it figured out. Returning to her childhood home near Missoula, Montana to live, she had her real estate license and was staying plenty busy with the growing influx of residents moving to 'open spaces' during and after the pandemic. 
"I was just fine, going along, growing my career, when suddenly people started bugging me about meeting this guy. I was not interested. I mean, when they start the conversation with 'How old is too old a guy for you to date?' you have to see where I would be reluctant!" she said wryly. (For reference, the age difference between the pair is just shy of ten years). For weeks family and friends worked in unison, putting together increasingly contrived scenarios to try to throw Kylie and the mysterious guy known around town as "Cowboy Bob," together. 
The harder people pushed the more Kylie dug her heels in. "I can be pretty stubborn when I want to be," she said with a laugh. 
What finally changed her mind? "I was invited to attend a Gospel Round Pen session," she said. Led by famed mustang trainer Joe Misner, Gospel Round Pen is part horse training exhibition, part church service and part testimonial. As a long-time horse lover, Kylie was intrigued enough to stop by the event, though with house showings already booked that day, she knew she couldn't stay long. Giving his testimonial in the Gospel Round Pen that day? Of course, it was none other than the much-touted Cowboy Bob. Suddenly Kylie had a new attitude about meeting the handsome guy people had been pushing her to date. "I listened to his testimony, and it was very refreshing," she said. "It was unfortunate too, because I had to leave immediately after he spoke." The two got together soon after though, and the relationship blossomed from there. 
Cowboy Bob, whose real name is Bobby Rice, learned to train mustangs while incarcerated in the California prison system, under the guidance of the same Joe Misner who led the Gospel Round Pen that day. The skills he learned in prison earned him a position working for Joe after his release, at Montana Reins of Hope where Joe was the Ranch Manager. In June of 2021, when Bobby and Kylie met, Bobby was in the process of training his own mustang, Keno, for the Oklahoma Extreme Mustang Makeover competition in August of that year. "I was there for most of the time Bobby was training Keno, and it was so rewarding to see the bond that formed between the two," Kylie said. 
With the young couple basically inseparable from that first day forward, Kylie was quickly drawn into the Wild 2 Ride Academy activities at Montana Reins of Hope. The summer of 2022, she was invited to participate in an open house exhibition for the academy, and as the only non-academy graduate participating, she felt honored - right up until she was assigned the horse she would be riding. Her mount for the performance was to be Tippy, a horse owned by the ranch and used off and on throughout the Wild 2 Ride Academy program. Nicknamed "Tippy Two-Guns" for her propensity toward double-barrel kicking at people, Tippy was a beautiful white mustang mare with black tips on each ear. While the horse had a reputation for being irascible, she seemed curious and gentle when Kylie first met her. That all changed the day of their first scheduled ride. "She is quite the firecracker," Kylie said. "The first day I rode her was just after she gave a magnificent show of how much horse she really was, bucking & snorting in a pretty elaborate display of defiance." 
If Tippy's performance gave her pause, Kylie didn't have much time to dwell on it. "Bobby laid a lot of the groundwork, and when he told me 'This is it, you have to get on or I do,' I put on my big girl pants and hopped on. She most often bucked people off while they tried to mount her, but she let me up like it was nothing. I think that was the moment it sunk in that these horses really need calm and patience and understanding. Just a few weeks later, she performed our drill perfectly in front of a crowd of people. We even coerced some of the other riders to go through a second time just to keep the experience going!" 
As a side note, Tippy did eventually buck Kylie off, but it was weeks later, on a calm day when there was nothing going on around them. "I'm convinced she just had something to prove," Kylie chuckled. "I do love that horse though!"
Kylie knew from her experience observing Bobby prepare Keno for competition and from bonding with Tippy that she wanted to train her own mustang one day. When she saw a Facebook post about the 2023 Mustang Mania event to be held in Nampa, Idaho, she was intrigued. "I toyed with the idea of applying but didn't think I'd have time with the wedding planning and a busy work schedule. As usual, Bobby was very encouraging, and I just decided to go for it. Quite honestly, when my dad said he didn't think it was a good idea, I jumped at it!" 
Remember that stubborn streak? And as for the wedding planning, well, you can just say it is obvious the Round Pen Gospel introduction was worth the effort of everyone who worked so hard to get the two together.
Kylie and Bobby traveled to Idaho in February to view the mustangs available for the competition, which were being held at the BLM's Boise Wild Horse Corrals. There were many tempting possibilities, but eventually Kylie settled on three choices to submit as her hoped-for partner. One of those choices was a beautiful 3-year-old red roan gelding, who just happened to have been gathered from the very same Herd Management Area in Nevada, the Delamar Mountains, that Bobby's Extreme Mustang Makeover horse Keno was from. 
Serendipitously, the blaze-faced roan was assigned as Kylie's mount, and she immediately knew the name she would give him. "I decided to name him "A Horse Named Mouse," after a close friend and her former au pair who had passed away earlier in the year. "We called her Jana Mouse, and I loved her. I knew she would love having Mouse named in her honor."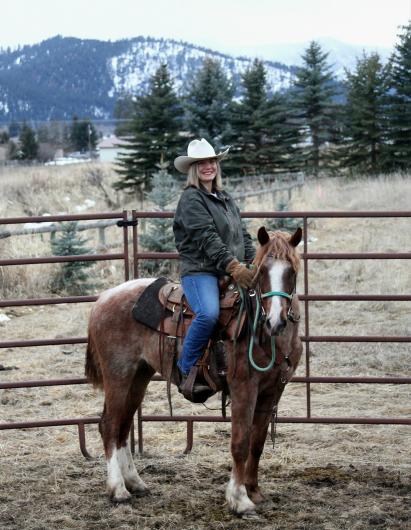 Kylie's parents traveled to Boise with the couple to pick up Mouse a couple of weeks later, driving the nearly 400 miles through an early March snowstorm to join the other 169 Mustang Mania participants who came to pick up their wild horses and burros over a two-day period. Despite his initial reservations, Kylie's dad was supportive of her efforts and happily made the trip to officially meet A Horse Named Mouse for the first time.  
Undeterred by the lingering Montana winter, Kylie wasted no time in building a bond with her new partner. She worked with him every day, first gentling him on the ground, then introducing him to a saddle and putting the first ride on him just a little over two weeks after bringing him home. Bobby was full of tips and advice about how to proceed with the process of training her new partner, but Kylie stood fast in her desire to do all the work with Mouse herself. At least at first. 
"When I started, I didn't let Bobby ride Mouse for a long time because I can still be a bit stubborn and I wanted to do the work myself, but I eventually let go of that and learned a lot from seeing them both work together. It was also really fun to see them bond! My mom and dad have both ridden him now too, so it's been great for the whole family! I had to be a lot more patient with Mouse than I've ever had to be with our domestic horses - it taught me a lot about myself and helped me to slow down and really focus on being intentional," she said.
Trail riding was a big part of Mouse's training regime, and Kylie and Bobby spent most weekends taking him out to explore different areas around the beautiful Montana country they call home. Kylie said Mouse took everything right in stride, from horses running on the other side of a fence, to dogs, to cars on the road nearby.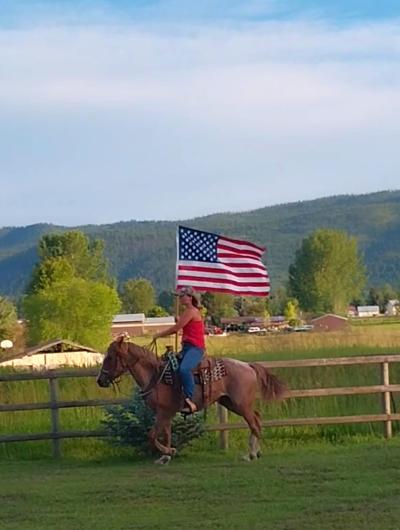 The Mustang Mania event was held June 30 through July 1, 2023, at the Ford Idaho Horse Park in Nampa, Idaho. Kylie and Bobby made the long drive to the competition with Mouse, arriving in the early morning dark of start day, just hours before the duo would be competing in their first class, Mustang Handling and Conditioning. Having never set foot in a show arena before, Kylie was understandably nervous, but she had some extra support in the form of accomplished showman, mentor, and matchmaker, Joe Misner, who traveled to Nampa with the team. 
Mouse performed all the maneuvers in his first class without hesitation, willingly following Kylie through a serpentine of orange cones, picking up his feet and loading in a horse trailer, among other tasks. "I am so proud of him!", a beaming Kylie said after they exited the arena. She didn't have long to rest on her laurels though; later that same day the pair had their first challenge in the riding portion of the competition. 
Though many of the horses entered in the event were old enough to be trained as saddle horses, Kylie and Mouse were one team out of just fourteen who were entered in the under-saddle competition. With just over 100 days to take a horse or burro from untouched wild animal to a willing participant in a full-fledged horse show, the added element of a riding component in competition is an unattainable goal for many.
That evening the duo competed in the trail course class, where horse and rider teams navigated a series of obstacles which included opening and closing a gate and crossing a bridge, among others. Once again, Mouse maintained his equilibrium, completing every obstacle presented and finishing just one place out of the ribbons. Confidence buoyed by Mouse's performance in trail class, Kylie looked forward to the next morning where they would compete in the reining portion of the event. The reining class would showcase each individual horse and rider team as they entered the arena under saddle and demonstrate how well each horse was trained as a willing partner by executing a series of prescribed riding maneuvers. Mouse was a gentleman throughout his reining pattern, even performing a flying lead change as he switched circle directions in the pattern at a lope. Kylie was understandably thrilled with Mouse's performance and demeanor in the big open arena, and it was easy to see how proud she was of her roan gelding.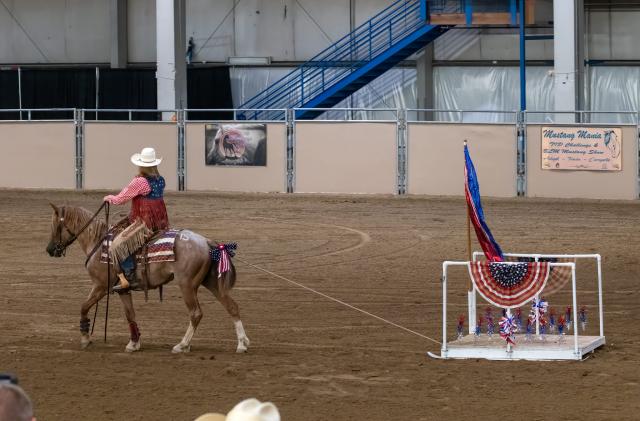 Saturday evening featured the grand finale of the Mustang Mania event, the Adult Riding Freestyle Competition, where the under-saddle competitors performed a routine of their design to music chosen by the rider. Props and costumes are always a big component of this competition, and Kylie and Mouse were no exception. The duo treated the audience to a moving patriotic performance to Lee Greenwood's "God Bless the USA," bedecked in red, white, and blue for both horse and rider. The pair delighted the crowd with their choreographed presentation, and the cheers were deafening at the end of the performance when the duo dragged their star-spangled bridge from the arena with the dally of a tow rope around the saddle horn. 
When all was said and done, Kylie and Mouse ended up placing in the top 10 competitors, earning a beautiful neck ribbon and other prizes for their combined efforts over the four phases of competition. Though Kylie was proud of the accomplishment, the real reward for her was the relationship she gained with the special young gelding from the Delamar Mountains.
So, what's next? Many of the horses and burros in the Mustang Mania event are re-homed after competition, with their trainers working toward the goal of placing each animal in a good, long-term, loving home. When Kylie started with Mouse she fully intended to put him up for re-assignment after the competition. As time went on though, it became obvious that Mouse was right where he was supposed to be.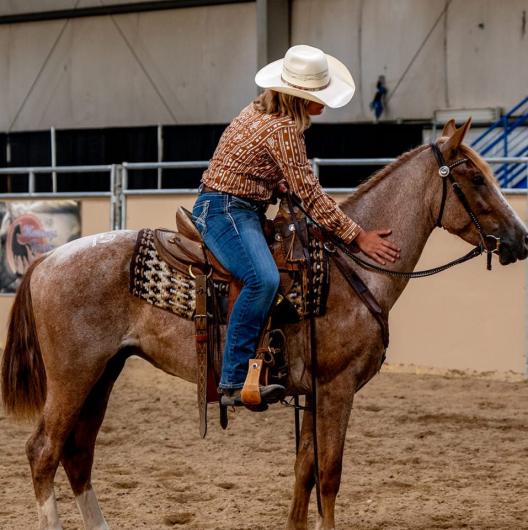 A couple of weeks before Mustang Mania Kylie said "I watched my family (even my dad, who of course was initially reluctant to let me do this) fall in love with a little wild horse from Nevada in a way I don't think any of us expected, and I can't imagine him going anywhere else. He's had a lot of interest (in adoption), but nothing felt quite right. He's found his people and his herd mates here, so we are going to be his forever home! He has lots of trail rides and pack trips in his future, and who knows...he may even make an appearance at our wedding!"
And as for future events? "Absolutely!" Kylie enthused. "I am definitely hooked, and you will see me back at Mustang Mania next year!" 
We'll look forward to it Kylie!