245 million acres of possibilities
Celebrating 75 Years of the Bureau of Land Management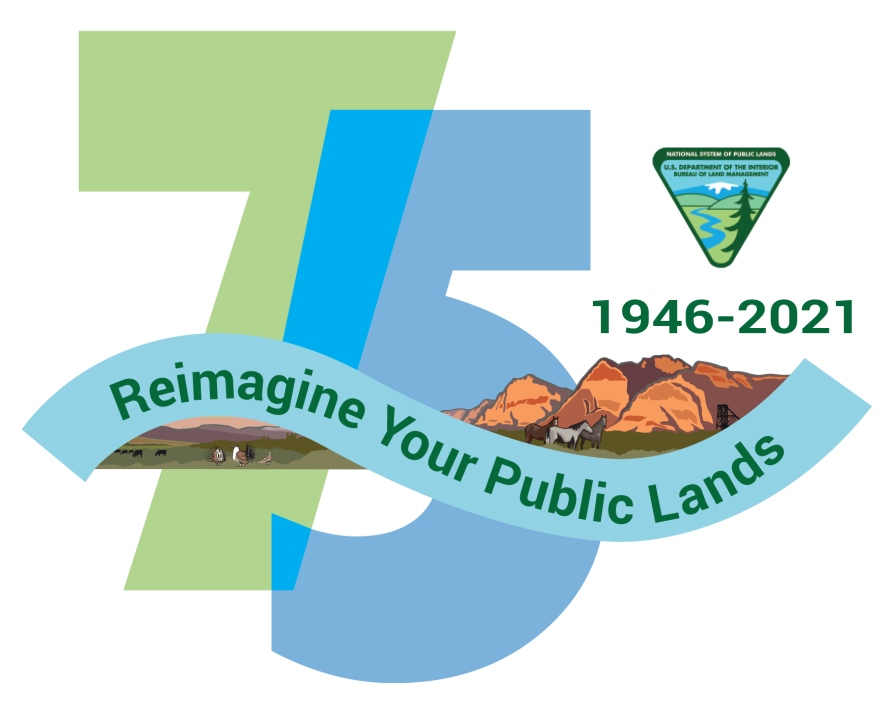 In 2021, the Bureau of Land Management celebrated 75 years. For over seven decades, the BLM has led the way in public land management. In 1946, President Truman merged the General Land Office and the Grazing Service to create the BLM. Today, the BLM proudly manages about 245 million acres of public landscapes for all Americans.
With historical roots dating back to the earliest days of the nation, the BLM administers the lands that remain from America's original "public domain."
In 2021, the BLM commemorated two milestone events: the 75th diamond anniversary as an Interior Department agency and the 45th anniversary of the principal law defining its mission: the Federal Land Policy and Management Act of 1976 (commonly referred to by its acronym of FLPMA). 
Over the last 75 years, the BLM has evolved and adapted to the nation's changing needs when it comes to public lands. Under the Federal Land Policy and Management Act of 1976, the BLM carries out a dual mandate of multiple use, accommodating a range of uses and values, and sustained yield, ensuring public lands are managed for future generations. The agency manages a wide range of uses, such as energy development, livestock grazing, mining, timber harvesting, and outdoor recreation, while conserving natural, historical, and cultural resources, including wilderness areas and national monuments, wild horse and wildlife habitat, artifacts, and dinosaur fossils. The BLM also consults with Tribes to ensure their rights and interests are addressed in management decisions. This promotes healthy and productive public lands that create jobs in local communities while supporting traditional land uses. 
What this means, on a practical level, is that land managers – except in areas specifically set aside for conservation purposes – must multitask to fulfill the multiple-use mission of the BLM. Nevertheless, consistent with the overarching goal of providing good stewardship of public land resources, "multiple use" does not mean every use on every acre. Using data and science, the BLM uses evolving methodologies to better encompass conservation and appreciation of all facets of the land. Throughout the vast history of 75 years of public land management the BLM has grown and changed along with the nation, as articulated through Congressional direction and legislation to reimagine how your public lands are preserved and maintained for you.
For more than 75 years, the Bureau of Land Management has served as the nation's largest public lands steward. Its multiple-use mission – encompassing conservation, recreation and commercial uses – is complex and honorable. Science has and continues to be a platform in steering sound practices and methods for responsible land management decisions. Science alone is not enough. Developing a national land and sea ethic based on Native American values and through honoring our commitment to our Tribal partners is vital in ensuring all land management decisions are made to benefit all Americans.
"Stewards must have a clear set of core values based on a widespread consensus that guides the way we look at the land and the ocean as a society." – Walter Echo-Hawk
Words from BLM leaders
"For the last 75 years, the BLM has managed this nation's landscapes for the benefit of Americans. As we look toward the future, public lands will continue to play a key role in our efforts to battle climate change while supporting local communities and economies. We are so fortunate as Americans to have access to millions of acres of public lands. I look forward to working with the BLM to ensure those public lands are around for many generations to come."
--Department of the Interior Secretary Deb Haaland
"As a multiple-use agency, it's important to remember that the BLM is for everyone. Whether you are a rancher who relies on federal grazing permits or a recreationist who finds peace and solitude on the awe-inspiring landscapes managed by BLM, our public lands are important part of American's lives. And, on this diamond anniversary year, I invite everyone to reimagine your public lands and the 245 million acres of possibilities they offer from conservation, to recreation, and commercial."
-- Nada Culver, Deputy Director of Policy and Programs