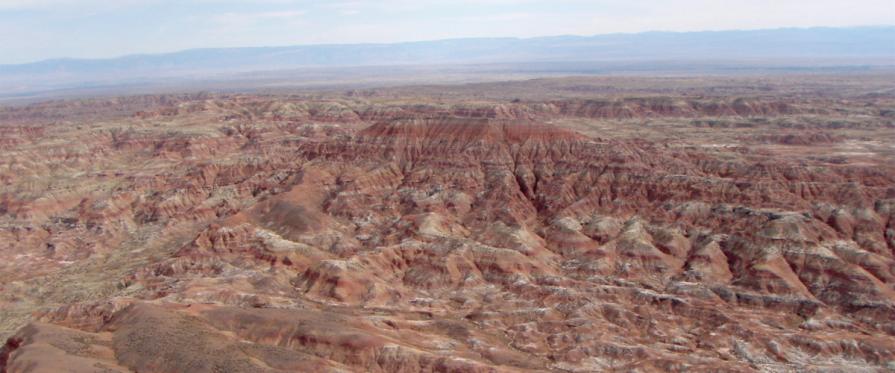 RED BUTTE WILDERNESS STUDY AREA
Values
The WSA contains bare, rugged badlands created by peaks and ridges broken by irregular, sharply cut drainages. Red Butte dominates this central terrain at an elevation of 5,185 feet. The northeastern portion of the WSA exhibits less rugged badlands intermixed with a series of small, bench-like terraces overlooking Fivemile Creek. This area exhibits a moderately dense cover of sagebrush-grass vegetation in contrast with the bare, red-hued badland ridges. In the western portion, the badlands open up to broad, shallow drainages and flat-to-rolling plains.
Visitation Information
From the north, take Wyoming State Highway 30 (which leads west out of Basin or north/south through Burlington) to County Lane 42?, and go south on Dorsey Creek Road for approximately 13 miles. Head east on a two-track road for approximately 1.5 miles. Also from the north, access is from either from the east using US Highway 16-20 and turning southwest via Five Mile Road (BLM Road 1101), and head south-southwest for approximately 12 miles. From Worland, take Fifteen Mile Road west for approximately 20 miles to Dorsey Creek Road. Go north for approximately 4 miles, then head east on a two-track for approximately 1.5 miles. Or, head west out of Worland on 15-Mile Road for approximately 19 miles, and turn northeast onto Ten Mile Road for approximately 1 mile. 4-wheel drive is strongly recommended for these two-track routes.
Visitor Advisory
Access to wild lands inherently requires good navigational skills and four-wheel drive or high-clearance vehicles. Visitors should be prepared for adverse weather and road conditions. The WSAs in the BLM Field Office are primarily accessed by unnamed or unsigned two-track roads that in many cases may be difficult to find without sufficient navigational skills and equipment.
Wilderness Study Areas
WSAs are undeveloped federal lands that retain their primeval character and influence, without permanent improvements or human habitation, and are managed so as not to impair their suitability for preservation as wilderness. Backcountry recreation is a common use along with Leave no Trace Outdoor ethics. Please be advised these areas are restricted and do not allow for the use of motorized and mechanized equipment.