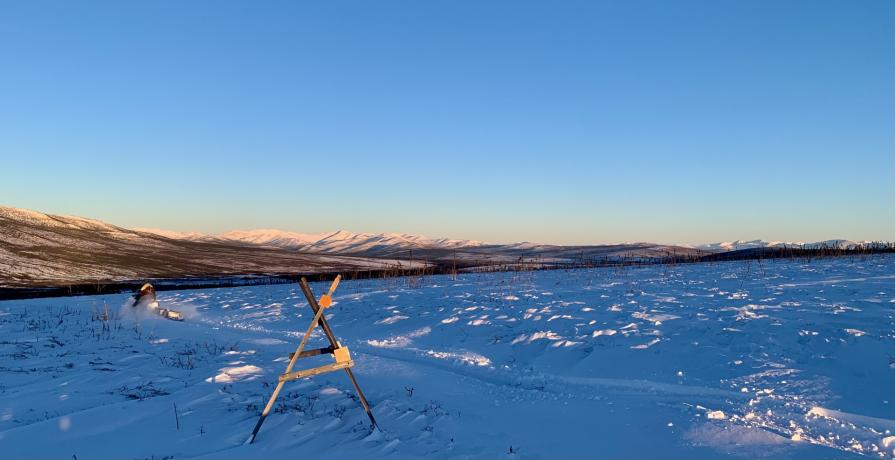 White Mountains Trail Conditions Report
Updated Friday, December 7, 2023
BLM recreation staff maintain several multi-use trails for winter recreation and to create access to 12 backcountry public use cabins. We maintain this report throughout the winter to provide information about trail maintenance efforts and to share trail condition reports from the trail crew. These reports are generally updated on Fridays to share the work the crew has done each week.
Wheeled off-highway vehicles (OHVs) are not allowed on the White Mountains National Recreation Area's winter trails during the winter travel season, October 14 - April 30.
Current Conditions
Extreme caution should be used when traveling in the backcountry of the White Mountains and all users should have the proper tools and abilities to self-rescue in any situation. Open water, thin ice and low snow conditions continue to be a theme this season with most trails in the White Mountains having some snow coverage. Some areas continue to have rocks and soil exposed making travel difficult. As the winter progresses, we will update the trail list below as the recreation staff sets and maintain trails. More snow is still needed to fill in bumps and gullies along the trails. Travelers can expect bumpy conditions, steep gully crossings, wind drifted snow, and hazardous stream crossings due to open water and thin ice.
This week from the Elliott Highway staff groomed the Colorado Creek trail and Windy Creek Trail to the Windy Gap Cabin. From the cabin, they went about two miles up the Cache Mountain Divide Loop Trail and shoveled more snow into the gully to continue working toward breaking the trail from both sides. From the Steese Highway, the recreation staff groomed McKay Creek to Lower Nome Creek and Bear Creek Trails to Richards Cabin.
Snow conditions vary from 6 – 15 inches depending on location.      
Elliott Highway Trails 
Colorado Creek Trail – 12/5/2023 Report: Fair with Rough Conditions.  For the first 9 miles, the trail has around 4 – 6 inches of snow

and is rough with difficult gully crossings.  As you climb up to the boundary of the White Mountains National Recreation Area toward the Colorado Creek Cabin the snowpack was around 10 inches deep with some areas of drifted snow.  The crew broke the trail from the Colorado Creek Cabin to Wolf Run Cabin.  Snow conditions were variable with winds exposing tussocks in open areas. The Beaver Creek crossing before Wolf Run was solid but was rough with jumbled ice.
Wickersham Creek Trail – 11/29/2023 Report: Groomed and Good Condition. The trail has about 13 inches of snow and is groomed for 21 miles to the Borealis LeFevre Cabin. The trail is packed from the junction up to Eleazar's Cabin.  Ice is starting to form across the trail past the Wickersham Trail Shelter. Gullies continue to be a challenge in some areas. Beware of open water and thin ice at most crossings including Beaver Creek at Borealis LeFevre Cabin.  Winter travelers need to use caution if crossing Beaver Creek and should only be attempted by experienced backcountry users.
Ski Loop Trail – 11/15/2023 Report: Fair Condition. The trail has 13 inches of packed snow with some brush sticking up in the trail on the connector section near Wickersham Creek Trail.
Steese Highway Trails 
McKay Creek Trail – 12/5/2023 Report: Good Condition. The trail has between 8 – 11 inches of snow and is packed and groomed to the junction with the Trail Creek Trail and packed on to Cache Mountain Cabin. Beaver Creek crossing is still open and not recommended at this time.
Backcountry Trails 
Trail Creek Trail – 11/30/2023 Report: Fair Condition. The trail is packed from Wickersham Creek Trail to just past the Beaver Creek crossing, but conditions are rough due to uneven terrain and lack of snow with dirt and rocks exposed. Ice is forming on the trail around 9.5 miles from the junction with Wickersham Creek Trail. Beaver Creek crossing was solid and crossable.  The crew replaced the small ramp at the slough past Beaver Creek and broke the rest of the trail to Cache Mountain Cabin.
Lower Nome Creek Trail – 12/5/2023 Report: Fair / Rough Condition.  The trail needs more snow to fill in gullies and ruts from summer OHV use, but is getting better with new snow.  The Nome Creek crossing is solid. 
Bear Creek Trail – 12/5/2023 Report: Poor Condition. The Recreation Staff was able to pack the trail and access Richard's Cabin but the trail was challenging due to low snow coverage (8 - 11 inches) and deep ATV ruts left from summer use.  The trail is tough to ride and hard on machines, but the trail is passable. Bear Creek was mostly frozen at the crossing before the cabin, but caution should still be used.
Big Bend Trail – No Report
Cache Mountian Divide Trail – 11/29/2023 Report: Trail partially broken in. From the Windy Gap side, the trail crew managed to break trail about two miles to the large gully, then shoveled snowed into the gully crossing to improve access. The Fossil Creek crossing was finally frozen over and passable. There is still approximately 8 miles of the trail unbroken.  From the Cache Mt. Cabin side the crew made it to the divide with roughly 15" of snow and fair conditions.  There are still many open leads of water on most creek crossings.
Fossil Creek Trail – 11/29/2023 Report: Not recommended.  Packed and rough with open water and thin ice at all the creek crossings. The trail crew made it all the way to Windy Gap Cabin but it was challenging.  Access from the Fossil Creek Trail to Caribou Bluff Cabin is packed, but Fossil Creek was wide open at the crossing.  Travel not recommended until the creek freezes over.
Fossil Gap Trail – 11/21/2023 Report: Not recommended. The crew broke about 4 miles of the trail from the Colorado Creek side to Beaver Creek. The trail has 4 – 8 inches of snow with less in the wind prone areas.  The Beaver Pond had thin ice; the crew was able to cross but broke through on the way back.  Beaver Creek still has an open lead at the crossing heading towards Caribou Bluff cabin.  Travel on this trail is not recommended at this time. 
Moose Creek Trail – 11/29/2023 Report: Tracks observed. While traveling past the junction of the Wickersham and Moose Creek trails, the crew noticed snowmobile tracks coming across the Moose Creek Trail.  No details at this time.
Windy Creek Trail – 12/5/2023 Report:  Packed, but rough.  The trail crew broke out the trail from Wolf Run to Windy Gap Cabin, but conditions are rough with exposed tussocks, low snow and some icing across the trail. The crew also constructed a small retaining wall along the sidehill, about four miles from Wolf Run Cabin, to help improve access along that steep section.
For more details, please call BLM to speak to one of the White Mountain National Recreation Area trail crew at (907) 474-2200 or toll-free at 1(800) 437-7021.  
Safety Recommendations
Trail reports provide information useful to planning and preparations, however trail conditions can change rapidly and there are many other risks associated with using winter trails. Visitors use trails at their own risk and should be prepared for any situation and extreme weather conditions.
Practice #KnowBeforeYouGo principles: 
share a trip plan (State Troopers form) with family or friends before you head out
check the weather (National Weather Service Fairbanks) before you head out
check the highway conditions (511.alaska.gov) before you head out
download the winter recreation map onto your phone for off-grid use.
bring more water, food, and fuel than you should need for your trip
bring a satellite communication device, more than one if possible
plan for mechanical breakdowns and weather conditions to deteriorate rapidly
if you become stranded, do not separate from your party 
Alaska is Bear Country:  No matter the season, always remain bear aware. Don't leave food or garbage in cabins or shelters.
Please check back here for winter trail condition updates and follow our Facebook page for regular and emergency updates.
Trail Maps
 The travel and transportation limitations switched from summer to winter on Sunday, October 15. 
During the winter season, October 15 – April 30, the entire White Mountains National Recreation Area is open to the use of snowmobiles weighing up to 1000 pounds curb weight and up to 50 inches wide. 
Web Map: The new interactive Alaska Travel Management web map includes information on routes and cross-country travel areas. Toggle on- and off- layers for winter or summer, scroll across Alaska and zoom in to get detailed information. You can even create custom georeferenced PDF maps for use in the field by selecting print PDF. 
Georeferenced PDF maps: these digital maps are designed for use on smart phones and tablets. With a free app the map shows your current location even if cell coverage is not available. Learn more about how to use these free digital maps and browse the full collection of BLM georeferenced PDF maps. 
The BLM's new Winter Recreation Georeferrenced PDF Map includes information about winter access and BLM recreation facilities.
Brochure: The White Mountains National Recreation Area Winter Map & Guide for an overview of the trails and public use cabins. This brochure also includes a handy mileage chart. 
Cabin Reservations and Information
For cabin reservations and permits, visit the Recreation.gov website or call toll free:
1-877-444-6777. Search the site for "White Mountains National Recreation Area."
Cabins must be paid for in advance and the permit carried with you to the cabin. 

Trail shelters are free of charge and used on a first come, first served basis. Cabins may not have firewood stocked for the woodstove; plan to carry some with you or cut some along the way. As a courtesy, replace the firewood that you use. 
Detailed cabin descriptions are available on the Recreation.gov website and at the BLM office in Fairbanks. A map of areas open to motorized vehicle use is also available.