Center Content: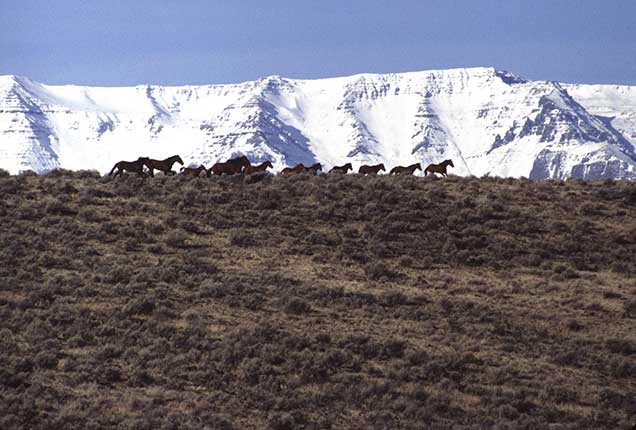 Challis HMA
The Four Mile wild horses are known to be of excellent size with good conformation and color. This is the result of the influence of released Thoroughbred and Quarter Horse studs to the herds periodically up to 1978. It is also suspected that horses bred for Cavalry Re-Mounts may have also influenced the herd. In addition to the typical colors of bay, brown, and black, the wild horses include many chestnuts, pintos, paints, roans, grays, duns, grullos, and a few Appaloosas.  Population 111.
Location: The East Fork of the Salmon River. The herd area is bordered on the north by the Salmon River, on the west by the East Fork of the Salmon River, on the south by the ridgeline between Herd Creek and Road Creek and on the east by U.S. Highway.
Size: 167,848 acres
Topography/Vegetation: Elevations range from 4,600 feet to nearly 8,000 and reach slopes up to 80 percent. High ridges with patches of Douglas fir and wide sagebrush basins, dissected by drainages with active riparian areas containing willows, birch and aspen.
Wildlife: Wildlife living in the area include elk, pronghorn, mule deer, sage grouse as well as many rodents, birds of prey and songbirds. The HMA also provides critical winter range habitat for big game species, as well as large predators like mountain lions, bears and wolves.
AML:  185 – 253