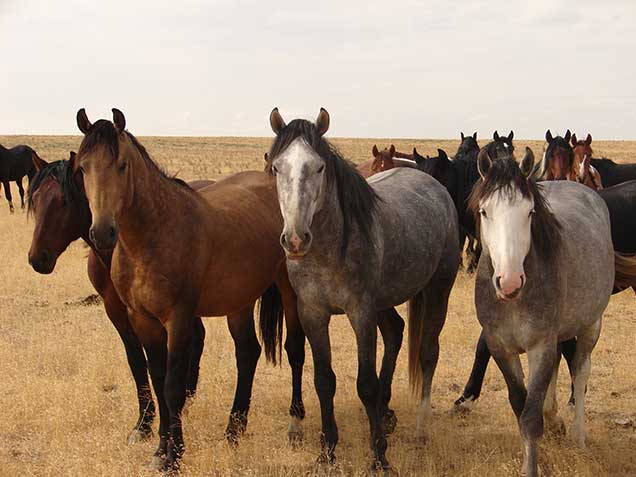 Saylor Creek HMA
This herd includes pintos, sorrels, roans, palominos, bays, browns, blacks and grays generally around 14-16 hands and 900-1000 pounds. It is believed that the Herd's foundation originated from mares captured near Challis, Idaho by a group of horse runners from the Wendell, ID area. According to local history, several mares were transported into the Saylor Creek Area in the early 1960s. A registered stud was then purchased and turned out with the mares. Until the passage of the Wild and Free-Roaming Horses and Burro Act of 1971 (P.L. 92-195), the group of horse runners would capture as many colts as possible in annual roundups. Population 76.
Location: Approximately 15 miles south of Glenns Ferry, ID in Owyhee County, ID and Elmore County, ID
Size: 101,876 acres
Topography/Vegetation: Topography varies from relatively flat to gently rolling top prominent buttes and ridgelines which dominate the landscape. Native vegetation for the HMA includes three major ecological range sites: Wyoming big sagebrush and Needle and threadgrass, Basin big sagebrush and Indian ricegrass, Wyoming big sagebrush and Thurber needlegrass. However these sites have been significantly altered by repeated wildfires; few of the native range sites remain intact. The majority of the HMA has been seeded to crested wheatgrass. Elevation ranges from 3,000 - 4,000 feet.
Wildlife: Wildlife living in the area include pronghorn, mule deer, and upland bird species.
AML:  50