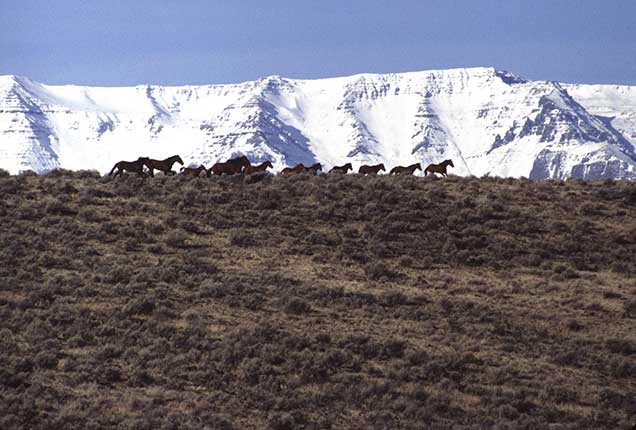 Challis HMA
The Challis Herd is comprised of hardy stock that are generally larger than most wild horses that live in rugged, steep mountainous regions. Herd genetics are very diverse, containing traces to New World Spanish breeds, followed closely by North American Gaited breeds as well as Heavy Draft and True Pony breeds. The dominant colors for the HMA are gray, black and bay generally around 14-16 hands and 900-1000 pounds. Mature horses average approximately 1000 pounds. Conformation is considered good with the large stature being the greatest trait of the herd. It is believed that the wild horses near Challis originally started from the livestock miners and ranchers brought to the area around 1870. John Bradbury is the first person known to have introduced horses into what is now the Challis wild horse area. Other early day ranchers frequently released stallions into the herd to improve or upgrade the quality. Additionally, several breeds of work horses were released into the area. Ranchers depended on work horses for their livelihood and therefore bred work stock among the wild horses. Population 264. 
Location: The East Fork of the Salmon River. The herd area is bordered on the north by the Salmon River, on the west by the East Fork of the Salmon River, on the south by the ridgeline between Herd Creek and Road Creek and on the east by U.S. Highway.
Size: 167,848 acres
Topography/Vegetation: Elevations range from 4,600 feet to nearly 8,000 and reach slopes up to 80 percent. High ridges with patches of Douglas fir and wide sagebrush basins, dissected by drainages with active riparian areas containing willows, birch and aspen.
Wildlife: Wildlife living in the area include elk, pronghorn, mule deer, sage grouse as well as many rodents, birds of prey and songbirds. The HMA also provides critical winter range habitat for big game species, as well as large predators like mountain lions, bears and wolves.
AML:  185 – 253