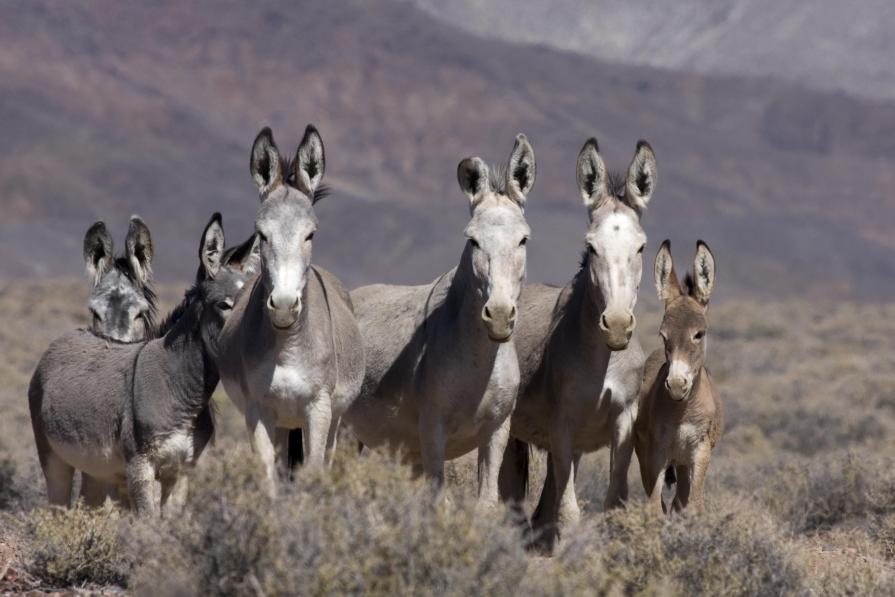 2021 Outside Lake Pleasant HMA: Private Lands Emergency Burro Gather
The Bureau of Land Management (BLM) is conducting an emergency gather of wild burros beginning June 2021.
Purpose of the Gather:
Nuisance burro removal.
Details of Gather:
The BLM will gather approximately 12-15 wild burros, and transport the burros to the BLM Wild Horse and Burro facility in Florence, AZ, where they will be prepared for possible adoption.
Public Observation:
None established for this gather. 
Background:
Location: The Lake Pleasant Herd Management Area (HMA) is located about 30 miles northwest of Phoenix, Arizona. 
Size: 
The Lake Pleasant HMA consists of 61,031 acres of BLM land and 42,441 of mixed Bureau of Reclamation, private, and state lands.  
Topography/Vegetation:
Wild burros freely roam throughout the entire Lake Pleasant HMA and surrounding lands which are characterized by rugged mountains, numerous small canyons and open rolling hills. The vegetation is very typical of the upper Sonoran Desert, where Palo Verde and mixed cacti are common. Temperatures range from freezing at night during the winter to over 100 degrees in the summer. 
Wildlife:
Wild burros share this habitat with the typical charismatic mega fauna of the Sonoran Desert including javelina, mule deer, coyotes, and others. Other animals in the area include small mammals, several species of rattlesnake, lizards, and several bird species.
Gather Details

Contractor: In House

Gather method: Bait trap 

Planned gathered (#): 12-15 burros 

Planned removed (#): 12-15 burros 

Planned mares or jennies treated (#): 0 

Current as of: July 8, 2021

Cumulative Totals

Animals Gathered

June 9
4 burros (males)

June 10-July 5
0 burros

July 6
22 burros (13 males and 9 females)

Animals Removed Cumulative Total (#): 26 burros

Total Deaths Cumulative (#): 0

Acute (#): 0

Chronic/Pre-existing (#):  0

List animal's age, color, gender and cause(s) of death: 

Facility Destination: Florence facility

 

Total Released Cumulative (#): 0