Idaho Hunting
Unless specifically prohibited, public lands managed by the Bureau of Land Management are open to hunting under Idaho Fish and Game Regulations.  An Idaho hunting license is required to hunt within the State of Idaho. 
Check on specific hunting season dates and permit requirements with the Idaho Fish and Game.  They publish hunting regulations that list all the season dates.
It is important to hunt only on lands where it is legally allowed. For more information, please visit the Idaho Fish and Game website for details on Idaho seasons and rules.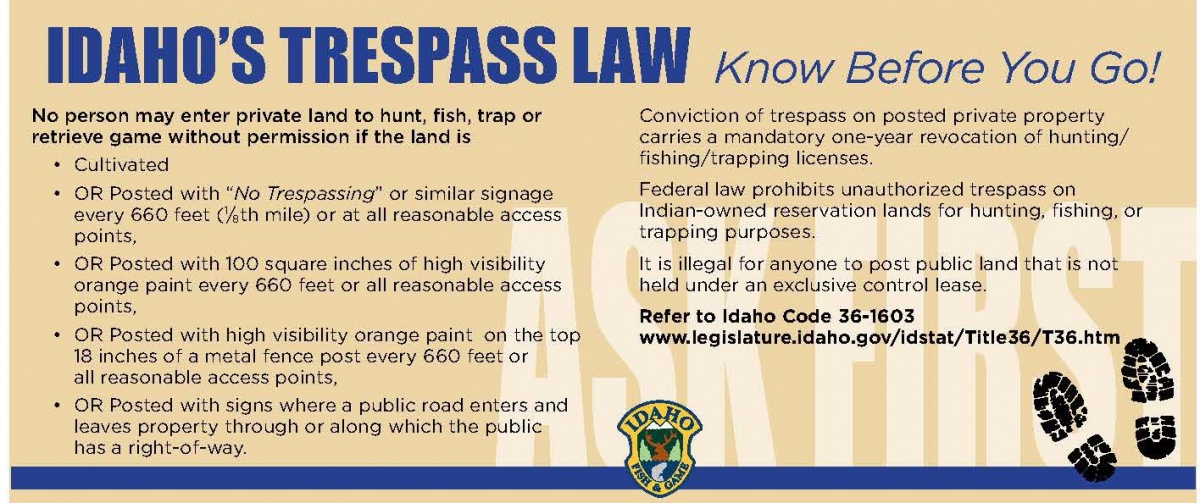 It is your responsibility to know of any hunting restrictions and where they apply. Idaho Fish and Game regulates hunting and fishing on all public lands. 
On most public lands in Idaho, you may not drive off existing roads and trails to hunt, even to retrieve downed game animals. If you are hunting with the aid of a commercial outfitter or guide, you should ensure that they are permitted by Idaho Fish and Game. You should also ensure that they are permitted by the BLM to conduct business on public lands.
Many hunting units in Idaho have a motorized hunting rule, which is enforced August 30 - December 31.  Big game hunters may use motorized vehicles only on established roadways which are open to motorized traffic and capable of being traveled by full-size automobiles.  
If you have questions on areas that may be appropriate for hunting, you are encouraged to contact the BLM Field Office having jurisdiction over the area.
Idaho Recreational Shooting
Please follow this guidance during your recreational shooting experience:
Never shoot from or over any road or highway.
Always use a safe backdrop.
Exploding targets are prohibited.
Do not use plastic pellets, tracer rounds, exploding rounds, or steel-core rounds.
Do not attach targets to plants or place targets against rocks, plants, or solid objects.  It is illegal to deface or destroy trees, signs, outbuildings, or other objects on federal lands.
Carry in your targets and carry out all litter, brass and shell casings.  All targets, shell casings, debris and trash must be removed.
Cross-country travel is not permitted outside of off-highway vehicle Open Area boundaries, so please stay on designated routes.
Idaho Fishing
The BLM manages over 130,000 miles of fishable rivers and streams and provides countless public recreational fishing access opportunities throughout the United States. BLM-managed lands are open for fishing unless specifically closed for specific resource protection purposes. Anyone 14 years and older must have a valid fishing license to fish in Idaho with the Idaho Department of Fish and Game. Consider using non-toxic tackle as inexpensive and ecologically sound alternatives to lead fishing weights.