Welcome to Your Public Lands
White Ridge Bike Trails Area and the Ojito Wilderness
Shooting and Hunting Information
---
Welcome
Tucked away in rugged and scenic country southwest of the community of San Ysidro, New Mexico, is the White Ridge Bike Trails Area and the Ojito Wilderness. Both sites are a short distance from U.S. 550. This region is known for its geological, cultural and paleontological resources, as well as for its scenic qualities. As multi-use land, this area offers opportunities for many types of recreational activities. A hike, bike or horseback ride to a gorgeous vista, can refresh the spirit like nothing else can! Outdoor recreation is one of the best ways to connect with nature and ourselves.
The bike trail crosses a landscape of spectacular beauty and exceptional geology, meandering through the Pueblo of Zia, State of New Mexico, and public land managed by the Bureau of Land Management (BLM). BLM has obtained rights-of-way from the Pueblo and the State to provide this biking experience. Although the Trails have been developed primarily for mountain biking, hikers are welcome on the entire trail system, and one segment is also open to equestrian use.
---
White Ridge Bike Trails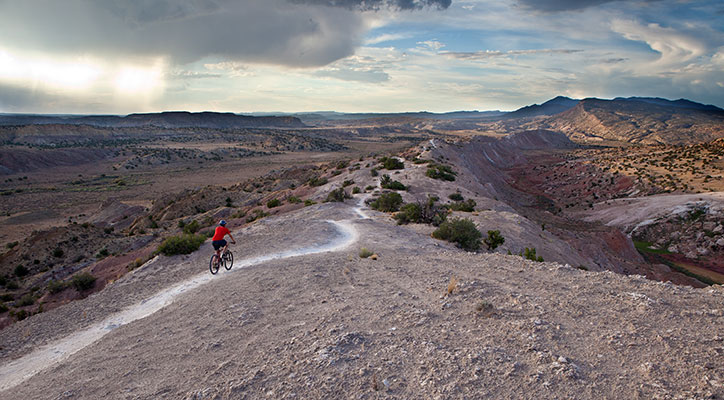 More information on the White Ridge Mountain Bike Trails
Download the White Ridge Bike Trails Trail Guide
The White Ridge Bike Trails are primarily designed for mountain bike use, but hikers are welcome on all trails and equestrian use is welcome on the far eastern trail. White Ridge is named for the color of the gypsum that forms much of the mesa and the majority of the bike trails. Gypsum is a white mineral consisting of hydrated calcium sulfate and is commonly used in cement, plaster and fertilizer. This gypsum formed as a chemical reaction from evaporation of an ancient water body. In other words, the Ojito area was once covered with water! At the western edge of White Ridge, the Tierra Amarilla Anticline forms high, narrow mesa ridges. This classic example of a plunging anticline is visited by several university field schools each year.
Activities
Although the White Ridge Bike Trails have been developed primarily for mountain biking, hikers are welcome on the entire trail system, and one segment is also open to equestrian use. Different stretches of trails provide users varying levels of difficulty depending on their experience or thrill seeking needs.
White Ridge Bike Trails – Trail Difficulty Levels:
"Green" trails are rated - Beginner and Equestrian
Even though these trails and characterized by easier terrain, they can still provide a scenic and challenging ride. Horses are welcome on this "green-rated" trail only.
"Blue" trails are rated – Moderate
The southernmost moderate trails come from the west parking lot.
Moderate trails may be old roads or narrow trails with some uneven ground, deep sand, or moderate slopes.
"Red" trails are rated – Difficult
The east leg of the inner loop is challenging but less extreme than the west leg.
"Black" trails are rated – Severe
These trails are suggested for advanced/expert riders.
For an exhilarating ride with amazing views along high, narrow gypsum ridges with steep drop-offs and numerous obstacles, try these trails.
Facilities
There are no facilities in the White Ridge Bike Trail Area. San Ysidro, NM, offers the closest facilities and services – approximately 6 miles away from the White Ridge Bike Trails area.
Location / Access
Traveling northwest toward Cuba on US 550 from Bernalillo, the drive is approximately 20 miles. Before San Ysidro (about two miles), turn left onto Cabezon Road (County Road 906) at the intersection of Cabezon Road and US 550. Follow the left fork. Travel 4.4 miles to the gravel parking lot.
During the peak summer months this area can become quite hot, so if you plan to bike or hike make sure you take plenty of water.
---
Ojito Wilderness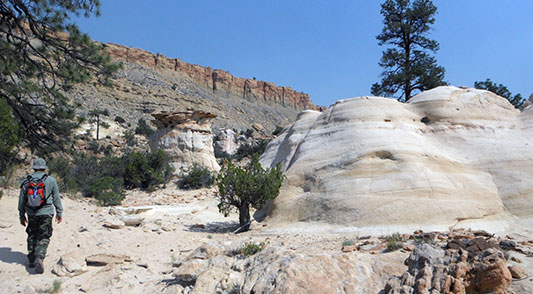 More information on the Ojito Wilderness
This is a Wilderness Area, which means that it is closed to motorized vehicles and mechanical forms of transportation (bicycles are considered 'mechanized').
The Ojito Wilderness was designated by the United States Congress in 2005. Ojito Wilderness has a desert landscape comprised of badlands, multi-colored shale, sandstone and limestone cliffs, and unusual hoodoos (weathered rock in the form of pinnacles, spires, cap rocks, and other unusual forms).  Piñon and juniper are dotted throughout the Wilderness, and rare stands of ponderosa pine can be found tucked into shady recesses.
Historically, several human cultures have tried to carve a living from Ojito's resources. Although there are several types of ruins within the area, including those of the prehistoric Puebloan, Navajo, and Hispanic cultures, few historic records exist concerning their lives here. The rugged terrain, rocky soils, and scarce water supply must have made their daily life very difficult. The ruins and artifacts left by these residents are the clues that archeologists use to tell the story of their existence here. They should be left undisturbed where you find them so future visitors can also enjoy them, and future archeologists can study them. Archeological remains are protected by the Archeological Resources Protection Act and other laws.
Fossil remains of rare dinosaurs, plants, and trees have been discovered in Ojito. They are found in the Jurassic-age Morrison Formation (about 150 million years old). The erosion process has exposed large segments of petrified trees and the bones of huge dinosaurs, including one of the largest dinosaur skeletons ever discovered – that of a Seismosaurus. Because these fossil remains of plants and animals provide important information about life during this period it is important that, like the archeological remains, they are left undisturbed until they can be collected and studied by professional paleontologists. Collection of these fossils is prohibited by law unless authorized by permit.
Fossil remains of rare dinosaurs, plants, and trees from the Jurassic period are located in the Morrison Formation. Natural erosion processes have exposed the bones of huge dinosaurs and large segments of petrified trees. These fossils are approximately 150 million years old! Paleontologists and geologists use the discovery of these great varieties of life to construct geologic timelines and interpret climate changes over the earth's history. Please leave historic objects where you find them.
Seismosaurus Trailhead (About 2 miles round trip)
The longest dinosaur ever recovered, Seismosaurus, was discovered only a few miles west of the bike trails area in what is now the Ojito Wilderness. The Seismosaurus bones are now on display at The New Mexico Museum of Natural History in Albuquerque, NM.
Parking for this trailhead can be found on the south side of Cabezon Road about ¾-mile west from the Ojito Wilderness Portal Sign. The trail leads north, across the road from the parking area, and through a pedestrian gate, into the Wilderness.
Hoodoo Trailhead (About 2 miles round trip)
A developed parking area is located about 1¾-mile west of the Seismosaurous Trailhead on the south side of the road. From the parking area, walk about 400 feet to the east where a trail leads north into the Wilderness.
---
Shooting and Hunting
Recreational hunters are one of our public land stakeholders.  Respect their lawful recreational use of public lands by giving them a wide berth and disturbing their hunt as little as possible.
Shooting is also allowed on public lands unless otherwise signed, marked, or stated in law. Be cautious that a shooter or hunter is aware of your presence near them (perhaps wear a brightly colored vest during heavy shooting/hunting season).  
Hunting Seasons:
Primary hunting season for multiple species extends from August to January, and from April through May.
Unprotected species such as coyote and feral hogs are hunted year round.
Recreational shooting takes place year round.
Hunting seasons for different species overlap and are set up for certain areas at certain times. You can find out more information on hunting seasons on the New Mexico Game and Fish website (http://www.wildlife.state.nm.us/).
Be a Responsible Shooter
Shooting and possession of firearms is allowed on most public lands managed by the Bureau of Land Management.
Be aware of shooting laws and restrictions for the area that you are in.
Remove litter, refuse, or abandoned personal property.
Remove spent shells and any items used as targets.
Shooting glass is prohibited.
Damaging or destroying natural features, native plants, cultural resources, historic structures or government and/or private property is prohibited.
The use of tracers and explosive material is prohibited.
Always use ear and eye protection while shooting.
Use a tarp to catch spent shells and dispose of them properly.
Select a Safe Shooting Location
Shooting is not permitted in state parks, State Trust Land, or nearby Zia Recreational Trust Land.
Do not shoot on private lands without the owner's permission.
Be aware of where other people may be recreating.
Know your target and what is beyond it. A spot with a large mound, hill, or cliff directly behind the target is an ideal backdrop.
Firearms must not be discharged within 150 yards of residences, buildings, campsites, occupied areas, recreational areas or domestic livestock.
Shooting across a road, trail, or wash is not permitted.
Shooting from a vehicle is not permitted.
When driving to your target shooting location, stay on designated routes.