Alaska Fire Service Jobs
There are many diverse career opportunities with BLM Alaska Fire Service (AFS). If you like working outside and in a rewarding career with the opportunity to protect and manage some of the most beautiful landscapes in the country, working with the BLM AFS may be for you. Many BLM AFS employees began their career working as a temporary employee and progressed to become permanent employees with the organization. Temporary employees normally work from May through September. Career seasonals work a minimum of six months – April through September. Career seasonal employees accrue sick and annual leave plus are eligible for retirement bene. They are also eligible for health and life insurance, even while in non-pay status during the off-season in the winter. Permanent full-time positions are year round.
Employees may be stationed in remote field camps for up to two weeks. Payroll deduction is offered to pay for housing at the BLM barracks for temporary and career seasonal employees and meals are available at the BLM Dining hall, both located on Fort Wainwright. Fireline positions require completing the Work Capacity Test at the arduous level. Fireline positions also have additional fitness requirements specific to the position.
Employees get a locality pay (31.32% in 2023) and Cost of Living Allowance (2.01% in 2023) for being based in Alaska. There's also opportunity for overtime and hazard pay for many employees. 
Working in Alaska is unique and has is challenges. Learn more about Fire Duty in Alaska.
Learn more about each of our organization's jobs in the BLM AFS Hot Careers Brochure and below: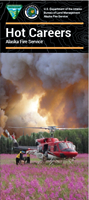 Fire Operation Positions:
Fire Support Positions: