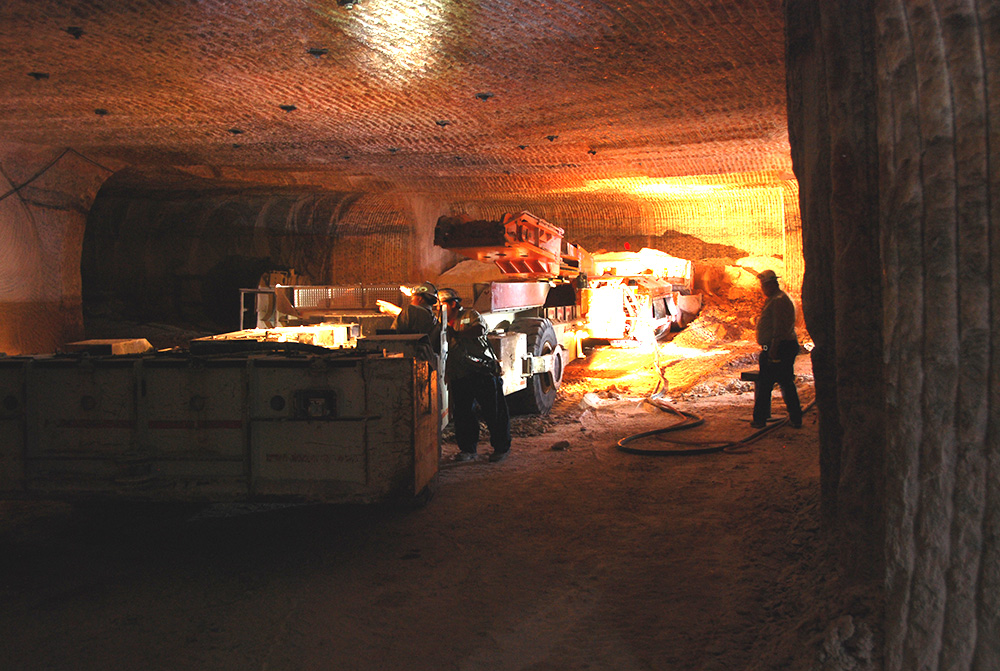 Potash
Potash is a trade name for potassium bearing minerals used for fertilizer.  The two potash  minerals mined in New Mexico are Sylvite (potassium chloride) and Langbeinite (potassium-magnesium sulfate).
The principal use of potash is as an agricultural fertilizer (plant nutrient) because it is a source of soluble potassium, which is one of the three primary plant nutrients required for plant growth.  Potash, and byproduct salt, is produced from Federal leases in southeastern New Mexico.  New Mexico ranks first in U.S. production of potash, amounting to 75 percent of domestic production.  In 2012, potash mining provided about 1,500 jobs in New Mexico, generating a payroll of over $98 million.  Two companies in the area operate  three active conventional potash mines and one solution underground mine. 
In 1939, the Secretary of the Interior established the Secretary's Potash Area (SPA), under the authority of the Mineral Leasing Act.  Initially, the SPA withdrew approximately 43,000 acres from oil and gas leasing and development for the express purpose of potash development.  In 1951, the SPA was expanded, and the management policy was changed to one of concurrent development by the oil and gas and potash industries.  Today, the Designated Potash Area (DPA) covers a total area of 497,630 acres, includes 350,617 acres of BLM managed surface acres, and operates under the 2012 Secretary's Order, authorized on December 3, 2012. 
The 2012 Order provides procedures and guidelines for more orderly co-development of oil and gas and potash deposits managed by the United States within the DPA through safe, concurrent operations.  Industry uses drilling islands within a development area from which all new drilling of vertical, directional, or horizontal wells that newly penetrate the potash formations are allowed.  The BLM establishes development areas within the DPA in consideration of appropriate oil and gas technology, such that wells can be drilled from a drilling island capable of effectively extracting oil and gas resources, while managing the impact on potash resources.