BLM hosts Kansas Wild Horse Youth Challenge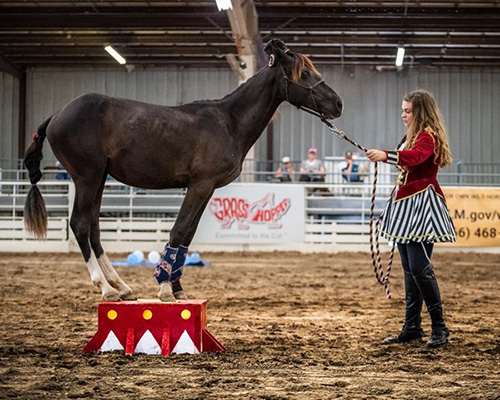 In September, the BLM co-hosted the Wild Horse Youth Challenge along with the Kansas State Fair and a group of volunteers. The event featured eighteen youth, ages 10-17, who began gentling and training yearling wild horses in May of last year. The youth competed in three in-hand events, a showmanship class, a trail class around obstacles, and a freestyle class.
The youth were able to develop their horsemanship skills and create a memorable bond with the yearling horses that were gathered from Nevada public lands a few months before the pickup event. The pickup event was held at the Hutchinson Correctional Facility in Hutchinson, Kansas, where the horses were loaded into stock trailers as untrained wild horses. When the horses arrived at the Kansas State Fair four months later, they were gentle and following their youth trainer around the fair. Several of the youth dressed their horses in costumes for the freestyle class with tutus, feathers and capes on the yearling horses.
After the show, some of the trained yearlings were available to qualified buyers by silent bid. Any amount above $25 was retained by the youth trainer. If the youth trainer wanted to keep his or her horse, then the horse was not offered in the silent bid. Six youth decided to offer their trained yearling horses for sale. The highest amount paid for a trained yearling was $425 and the average was $300. Eighteen yearling horses were placed into private care through this event.