Santa Rosa and San Jacinto Mountains National Monument
The Santa Rosa and San Jacinto Mountains provide a world-renowned scenic backdrop to the desert communities of the Coachella Valley. The National Monument serves as a model for community based support and creation. This monument reflects the vision of the local jurisdictions that assisted in the designation.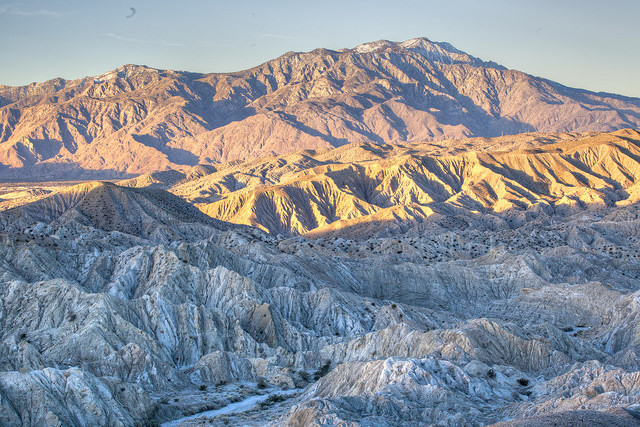 Safety
Many areas of the Santa Rosa and San Jacinto Mountains National Monument are remote and challenging. You cannot always depend on a signpost or a ranger to get you out of a fix. Bring appropriate equipment so you can be prepared for weather changes and can take care of yourself, if necessary, overnight.
Do not recreate alone. Or leave an activity plan with friends, family, or a ranger that detail where you will be and when you expect to return.
Have a communication plan. Cellphones do not get signal in all parts on the National Monument; a radio, personal locator beacon, satellite phone, or signaling mirror can be crucial in a time of need.
Carry and drink as much water as you can. At least one gallon per person per day is recommended. When half of your water is gone, turn around and head back.
Protect yourself from the sun. Dress in layers, Wear a hat, sunglasses, protective clothing, and sturdy footwear. Use sunscreen. Bring warm layers and a waterproof shell on longer hikes – the weather can change quickly.
Know your trail. Carry a map and pay attention to the terrain so you can find your way back.
Beware of dangerous flora and fauna. Watch where you put your hands and feet. Cacti, ocotillo, rattlesnakes, and bees (to name a few) may pose danger to visitors.
Keep children near you and stay on the trail.
Recreation
To help you decide which of the many trails to take – especially if you're a newcomer – we have divided the National Monument into three areas: the San Jacinto Mountains west of Palm Canyon divide, the Northern Santa Rosa Mountains between the Palm Canyon divide and Highway 74, and the Southern Santa Rosa Mountains from Highway 74 to the Monument's border with Anza Borrego Desert State Park. Each area has its own personality. Along with the trail areas listed above, these are some of the more popular trails in the Santa Rosa and San Jacinto Mountains National Monument.
Trails are rated as easy, moderate, or strenuous in accordance with the following criteria*:
Easy – Generally a leisurely walk, but don't expect the trail to be flat.
Moderate – A serious hike, but not difficult for those in reasonably good condition.
Strenuous – Some trail segments require being in very good condition and/or the trail is long and requires stamina.
*Difficulty ratings are based on one-way trips. When assessing how difficult a trail may be for you, consider whether you plan to return on the same trail, thereby doubling your distance, or by using another trail which also adds mileage and difficulty. Be aware that using two moderate trails to complete a loop may result in a strenuous hike.
The best time of year for enjoying lower elevation trails is November through April; for higher elevation trails, the best time is May through October.
Many trails are open to all forms of non-motorized travel – hiking, horseback riding, and mountain biking – but not all trails are open to everyone. Mountain bikers are prohibited in designated wilderness areas, in the Indian Canyons, on certain trails near Murray Hill, or on any part of the Pacific Crest Trail. Check with the appropriate agency if you don't know the rules.
Be safe and enjoy!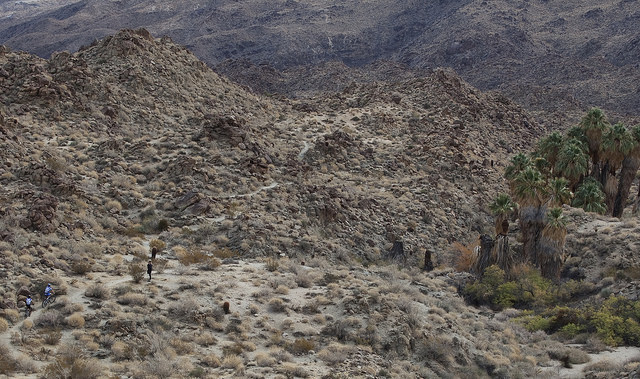 Dogs at the Monument
Dogs are not allowed on most trails in the National Monument. At lower elevations, this prohibition is enforced for the protection of endangered Peninsular bighorn sheep, which react to dogs as they would to coyotes, a natural predator. In the San Jacinto Mountains, which are usually accessed via the Palm Springs Aerial Tramway or from the alpine community of Idyllwild, dogs are prohibited in Mount San Jacinto State Park and Wilderness. Dogs are also prohibited in the Indian Canyons.
Dog Friendly Areas:
One of the limited opportunities for taking your dog on mountain trails in the Monument is available on the loop connecting Homme Adams and Cahuilla Hills Parks in the City of Palm Desert. From Homme Adams Park, follow the Homestead Trail to the Hopalong Cassidy Trail, then south on the "Hoppy" to the cross or north to the Gabby Hayes which will take you down to Cahuilla Hills Park, or viceversa. Be aware, however, that dogs are prohibited on segments of the Hopalong Cassidy Trail that extend south of the cross and north of the Gabby Hayes Trail. At higher elevations, dogs are allowed on Forest Service trails, though be sure not to continue with your dog into Mount San Jacinto State Park and Wilderness or the Indian Canyons.

For details about where dogs are allowed and where they are prohibited, please contact the National Monument Visitor Center at (760) 862-9984.
FEES IN THE NATIONAL MONUMENT
Most Federally managed sites in the Santa Rosa and San Jacinto Mountains National Monument do not require fees. However, the USFS operates two fee-site campgrounds in the Pinyon Flat/Cactus Spring area: Pinyon Flat Campground and Ribbonwood Equestrian Campground.
Pinyon Flat Campground provides 18 first-come, first-served sites, with potable water and toilets available for $8 per night.
Ribbonwood Equestrian Campground provides potable water, toilets, showers, and two horse corrals per site. Sites are available for $15 per night. This campground is by reservation only, the USFS stipulates that reservations must be made at least 3 days in advance of your desired visit. Reservations should be made through the recreation.gov Ribbonwood Equestrian Campground webpage.
Other sites managed by non-federal entities, such as the Indian Canyons, Palm Springs Aerial Tramway, or Living Desert (to name a few) do require fees. Check with the appropriate agency prior to your visit for the most current fee information.
Email
Directions
The Santa Rosa Mountains Visitor Center located off State Highway 74 south of Palm Desert was dedicated in 1996 and open to the public. The Visitor Center address is 51-500 Hwy 74, Palm Desert, CA 92260 and is 4 miles south of the intersection of Highway 74 and Highway 111 in Palm Desert.